Serves 4-8 (makes 20)
This is a delicious variation on traditional stuffed grape leaves we see in supermarket salad bars. The Armenians make stuffed grape leaves without an intense vinegar brine. Instead, earthy cinnamon and currants carry the flavor. Just wonderful!
Ingredients:
1 16 oz jar grape leaves
6 Tbsp olive oil
1 onion, diced (about a cup)
1/2 cup basmati rice
2 Tbsp tomato paste
3 Tbsp dried currants
1 Tbsp lemon juice
3/4 cup water
salt
1/4 cup pine nuts
1/2 tsp sugar
1/2 tsp ground allspice
1/2 tsp ground cinnamon
4 Tbsp chopped fresh parsley
Method:
1. Boil grape leaves for 1 minute. Rinse under cold water and drain.
2. Saute onion in olive oil in a large skillet over medium heat. After they begin to turn golden about 5 minutes), add rice, tomato paste, currants, and lemon juice. Cook for one minute longer.
NOTE: Currants are like tiny raisins
3. Add water and salt and bring to a boil. Reduce to a simmer and cover. Cook until just cooked, about 15 minutes.
4. Turn off heat. Add pine nuts, sugar, allspice, cinnamon, and parsley.
5. Stuff leaves in the following manner: Place leaves dull side up on a flat surface. Add 1 tsp filling on stem end. Turn the sides in and roll up into a burrito shape. Press leaf end into the roll. Refer to photos below for more details on how to stuff grape leaves.
6. Coat the bottom of a lasagna pan with grape leaves to prevent sticking. Fill with grape leaves, going up 2-3 layers as necessary. Refrigerate overnight if desired.
7. Place grape leaves in a skillet. Weigh down with a plate. Add enough boiling salt water to cover. Simmer for 30 minutes.
8. Remove from water carefully. Cool completely. Serve room temperature or chilled.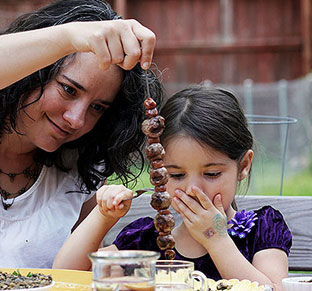 Hungry for more?
Be notified when National Geographic releases my memoir.
Simply fill in your details below.