Serves 8
This dense cake has a muffin like texture. Depending on how coarse you grind the nuts, you can experience quite a bit of "crunch."  Serve chilled or room temperature with vanilla ice cream.
Ingredients:
For syrup:
1 cup water
3/4 cup sugar
2 Tbsp honey
2 pieces cinnamon stick
2 lemon slices
3 Tbsp brandy
For Cake:
4 large eggs, separated
1/2 cup sugar
3 Tbsp vegetable oil
1/4 cup greek yogurt
1 cup flour
1 1/2 cups toasted, skinned, ground hazelnuts (you can grind them up in a food processor)
1/3 cup ground walnuts
1 1/2 tsp baking powder
1 tsp ground cinnamon
1 orange, zested
1 lemon, zested
optional garnish – hazelnut halves
Method:
For the syrup:
1. Combine all syrup ingredients in a small saucepan. Bring to a simmer and cook for 5 minutes. Let cool.
For the Cake:
1. Preheat the oven to 325F. Grease a 12 x 9 pan with vegetable oil.
2. In a large bowl, beat egg yolks with sugar until light yellow and a ribbon forms. Add oil, yogurt, flour, hazelnuts, walnuts, baking powder, cinnamon, and zests. Stir to combine. The mixture will be very coarse and thick.
3. In a clean dry bowl, beat egg whites until stiff peaks form. Fold egg whites into the batter and pour mixture into pan. Spread evenly.
4. Bake 30-35 minutes or until an inserted toothpick comes out clean.
5. Pierce cake all over with the toothpick. Ladle syrup over the cake slowly, giving the syrup time to absorb into the cake before adding more.
6. Cool the cake completely, cover with plastic wrap, and refrigerate overnight.
7. Cut the cake into circles or diamonds and decorate with a hazelnut.
This recipe was adapted from Please to the Table by Anya von Bremzen and John Welchman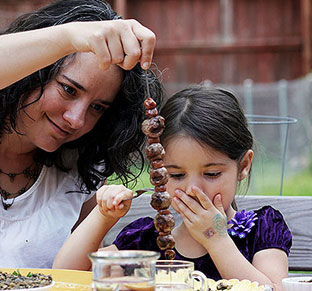 Hungry for more?
Be notified when National Geographic releases my memoir.
Simply fill in your details below.