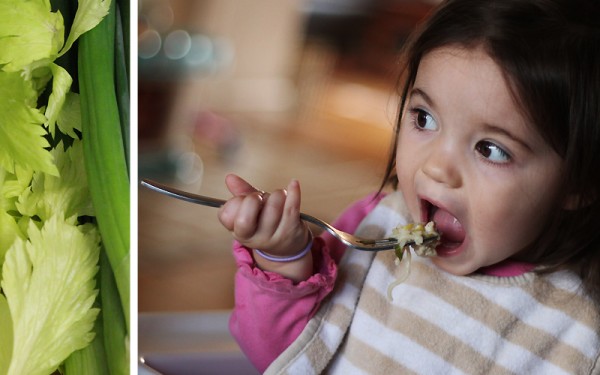 Far, far away is a country called East Timor.  Everything seems so different on that side of the world and yet, with hardly any exotic ingredients, we easily brought the flavors of this distant nation into our kitchen.  No specialty stores. No expensive grocery bills. Hurrah!
Meanwhile, in other news, Ava has eating with a fork down pat. As in, she no longer needs our help to eat yogurt, apple sauce, or even Bakso Noodle Soup. Amazing! But… now what? How do I fill my time?
Chicken Bakso (Chicken Meatballs) [Recipe]
Seasoned with sautéed shallots and garlic, these mild chicken meatballs add oomph and variety to standard chicken soup or pasta.
Deep-fried Tofu [Recipe]
Extra-firm tofu dredged in rice flour and deep fried until a crunchy outer skin forms. Provides much needed texture in soups and on salads.
Bakso Noodle Soup [Recipe]
This famous soup is popular in East Timor and Indonesia. Our version is layered with ramen noodles, bok choy, celery leaves, chicken Bakso, and deep-fried tofu. Finish it of with a blast of hot chili sauce.
Grilled Tuna Steaks with Butter & Garlic [Recipe]
Karen Coates first told me about this dish and, in an effort to recreate her dream dinner, we prepared the tuna two different ways. First, with garlic butter brushed on the tuna steak, then grilled. Second, with garlic butter slathered on and grilled in foil. Both versions are finished with a generous spattering of sea salt for crunch and bright flavor.
Tune in on Monday for our meal review with photos, recipes, and video from Ava's Corner.