I had a dream that my pillows and blankets were made of warm, snuggly food. (Snuggly?) What does it all mean? Call me crazy, but if there ever was a time to snuggle up with a meal, this would be it. Our menu from Cyprus is loaded with comforting, roasted dishes, as well as a "sweet as apple pie" dessert.  Perfect for chilly weather.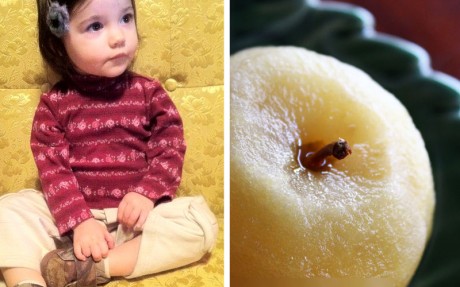 Cypriot Red Wine Potatoes (Potatoes Afelia) [Recipe]
Small fingerling potatoes roasted with loads of olive oil and red wine, then topped with a dash of ground coriander.
Roast Lamb from Cyprus (Ofto Kleftiko) [Recipe]
Celebrate the holidays in style with tender lamb shanks roasted with cinnamon, ground coriander and olive oil.
Roasted Veggies (Briam) [Recipe]
Eggplant, zucchini, potato, and tomato sauce cook together with plenty of olive oil. This vegan side dish popular throughout Cyprus and Greece.
Whole Apples simmered in Light Syrup (Firikia Glyko) [Recipe]
Small apples simmered in syrup with cinnamon sticks, and cloves. Add brandy if desired!