My husband about climbed the walls with excitement when he found out we were making Groudnut Croissants (well, there was a five second delay, until he realized that by "Groundnut Croissants" I meant croissants spread with ooey gooey peanut butter). Who wouldn't? Peanut butter rolled up into a steaming croissant? Yes please!
Our Cameroonian menu represents a crossroads of cultures and traditions. With elements of West African and French cuisine, the simple recipes below are easy to prepare and full of flavor. Particularly that peanut-buttery croissant!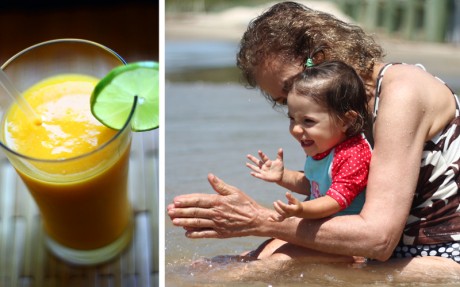 Fried Whole Fish [Recipe]
Fish is an affordable and readily available source of protein in Cameroon. Regional fish include Tilapia, Catfish, Carp, and Snapper.
West African Peanut Sauce [Recipe]
Peanut butter and cayenne pepper join forces to create a simple sauce for any dish.
Corn with Plantains [Recipe]
Fresh or frozen corn stewed with sweet plantain.
Peanut Butter Croissants (Groundnut Croissants) [Recipe]
Croissant dough spread with peanut butter, rolled up and baked until golden.
Mango Daiquiris [Recipe]
Fresh mango, lime juice, sugar, and rum.