My husband is the funniest guy I know. He also has a huge heart. Case in point? Every time it snows, Keith sneaks over to our elderly neighbor's house and shovels her drive (he's gone before she wakes up). He also lets me steal the blankets.
Keith was raised on meat and potatoes in Geronimo, a tiny town in rural Oklahoma. When I met him he'd never heard of eggplant and had never had fresh spinach before. He wore a Mountain Dew t-shirt the first time I took him to a farmer's market… pure irony. Predictably, his blood pressure was sky-high. But when I mentioned my idea to cook a meal from every country in the world Keith promised to try every dish – at least one bite. After a few months, he taught himself videography in order to document our daughter's experience with Ava Eats the World.
Today he loves veggie sushi, hummus, and Greek salad along with the occasional suya kabob – and his blood pressure is 20 points lower.
How has eating the world changed your life?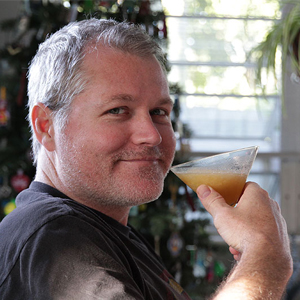 KEITH: I used to have a lot of anxiety when it came to trying new foods. I knew I wasn't doing my body any favors by eating the same three things day in and day out (hamburgers, bean burritos, and pork chops), but often the sight or smell of a new food would put me off. Worst of all, I knew I'd passed on this reluctance to my son (now grown with his own child).
I don't think pickiness is inherited – I think it's learned. Changing my eating habits has helped show my children another way. Ultimately, Sasha's patience and enthusiasm for cooking the world was contagious.
Today I look at food as an adventure, not an attack.
My Favorite global recipes are…
I always find time for…
Playing freeze tag with my daughter and hiking Turkey Mountain with my family.
I collect…
Superhero T-shirts. On any given day I could be Superman, Green Lantern, Captain America,  or The Doctor.