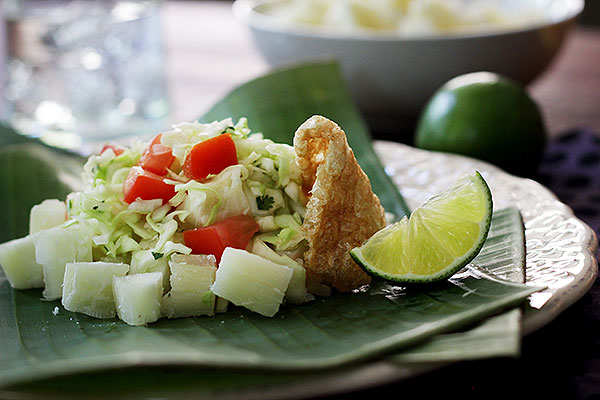 Today we're taking a bite of Nicaraguan sunshine. This is the kind of sunshiny soul food that satisfies cravings. Bored cravings. Excited cravings. Lonely cravings. I'm ready for winter cravings. I miss my man cravings.  I wish I could sing cravings. It's like the fairy godmother of salads.
This sunshine is magic.
So what is it?
Vigoron. A heaping mound of comfort, nestled on top of deep green banana leaves. This is Nicaraguan street food, designed to make your mouth happy. First comes cubes of boiled yucca, tender like a potato. On top of that sits the cabbage slaw – seasoned with zingy lime juice, fresh tomatoes, onion, a touch of jalapeno, and cilantro. It's like… salsa and slaw mixed in the most refreshing way.
Wait. Scratch that. Thanks to the happy helping of salt it's a lot like … a margarita salad.
The perfect margarita.
Traditionally Vigoron is served with fried pig rinds, or chicharones. I tried this and it was fine, but I really enjoyed it with a vegan version I stumbled across at the Hispanic market down the street, labeled "wheat duro chicharones." There are ones that look rectangular, like tubes, and others like wagon wheels. I brought several varieties home to sample and ended up loving the heavily spiced rectangular ones.
I highly recommend going to the market and hunting down a few varieties to try. Let people sample what they'd like. This makes for fun conversation, as people discuss what they enjoy most.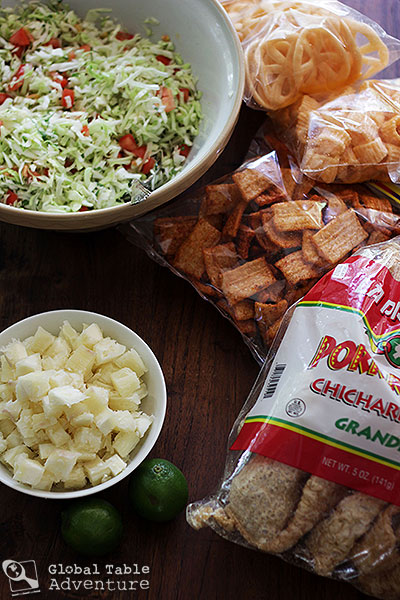 Serves 4-6
Ingredients:
1 small head cabbage, sliced thinly (about 10 cups)
2-3 tomatoes, chopped
1/2 an onion sliced thinly
2 limes, juiced plus extra wedges for garnish
2 tsp salt
handful cilantro, chopped
jalepeno pepper, diced, to taste
2 lbs yucca
chicharrones, to taste (either traditional pork rinds or vegan/wheat-based)
Method:
Let's go to Nicaragua. Gather your veggies and find yourself a little waterfront kitchen.
This is simple and yet so fresh.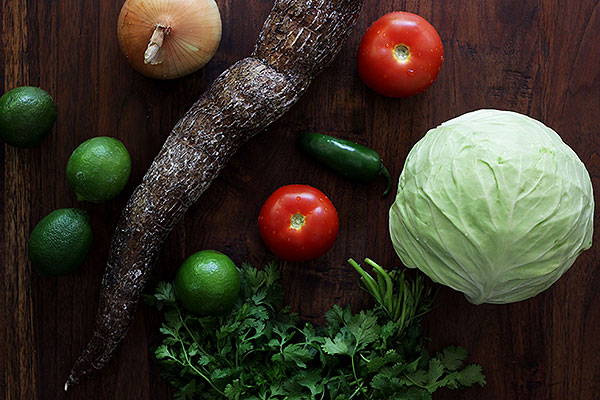 First, cut the yucca into 3 inch pieces, then peel off the thick waxy skin with a knife or vegetable peeler. The flesh should be pretty and white. Any brown or black spots indicate age and should be cut off. This one is perfect…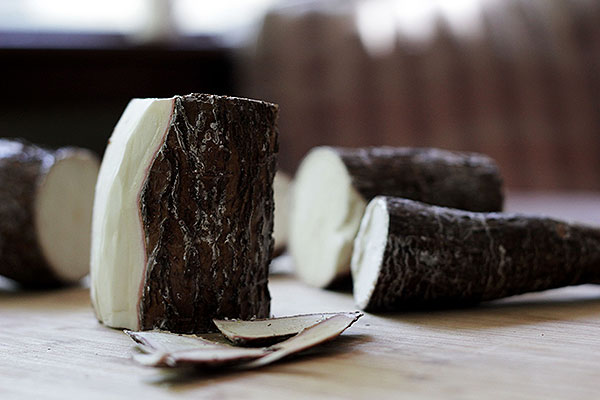 Next, simmer the yucca in salted water until tender. Cooking times will vary, as yucca comes in all sizes.
For a neat demonstration on how to prepare the yucca, check out Immigrant Kitchens. 
In this picture, you'll see the one on the left is a little underdone (I can tell because it has some opaque, white flesh in the center). When it's done cooking it'll be more creamy/translucent in color. Break them open and remove the woody string in the center. Cut into bite sized pieces. Refrigerate until needed.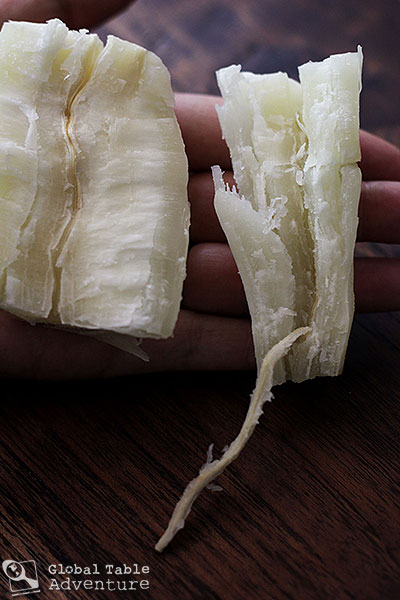 I found it easiest to prepare the slaw while the yucca bubbled away on the stove.
Slice the cabbage and onion as thinly as possible, in quarter moons.
Be sure to add plenty of salt… with all the lime juice the salad really drinks it up, just like a margarita.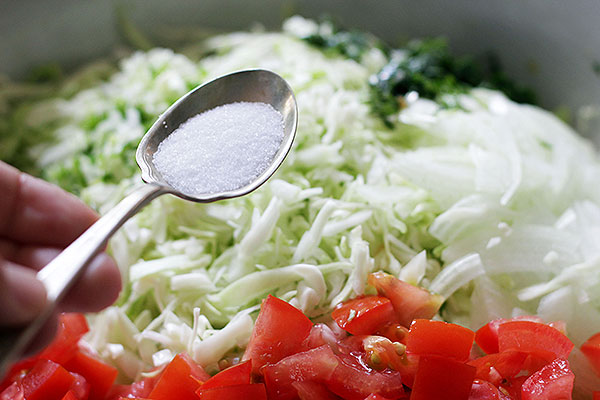 Toss the whole happy concoction with the cilantro, tomatoes, and lime juice. Let mingle for thirty minutes. Toss again before serving.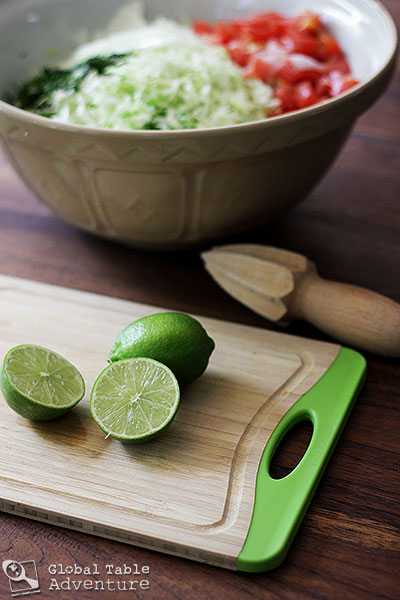 Here we are – ready for dinner. Note the several varieties of chicharones, three of which are vegan.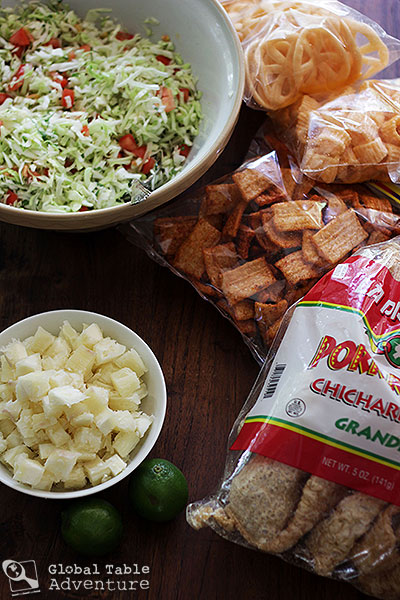 To assemble your meal, start with banana leaves (if you have them), then add a mound of yucca.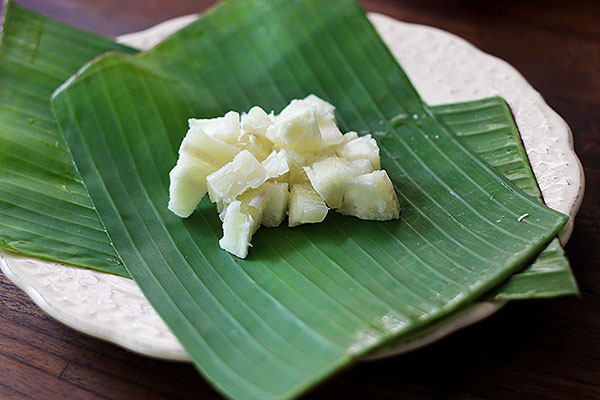 Next, pile on the slaw, with your chicharones of choice and a lime wedge.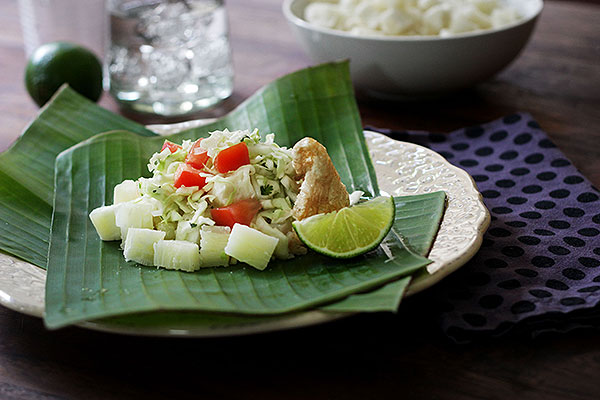 This street food is typically enjoyed without silverware, so dig those fingers in with a smile!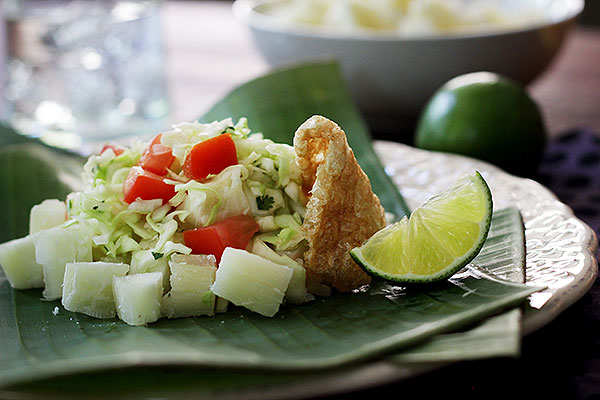 I'm going to make this again very soon. Just looking at it I can taste that zingy lime juice and the soft, comforting yucca.
(Hurrah for another yucca dish that is not a disaster)
Super sunshiny grand.
Share with friends, friends of friends, and not yet friends.
This is summer-livin' at her finest.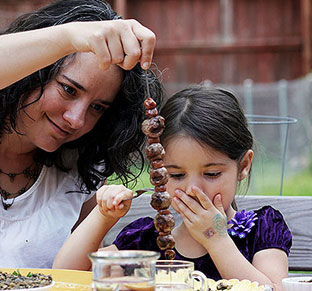 Hungry for more?
Be notified when National Geographic releases my memoir.
Simply fill in your details below.