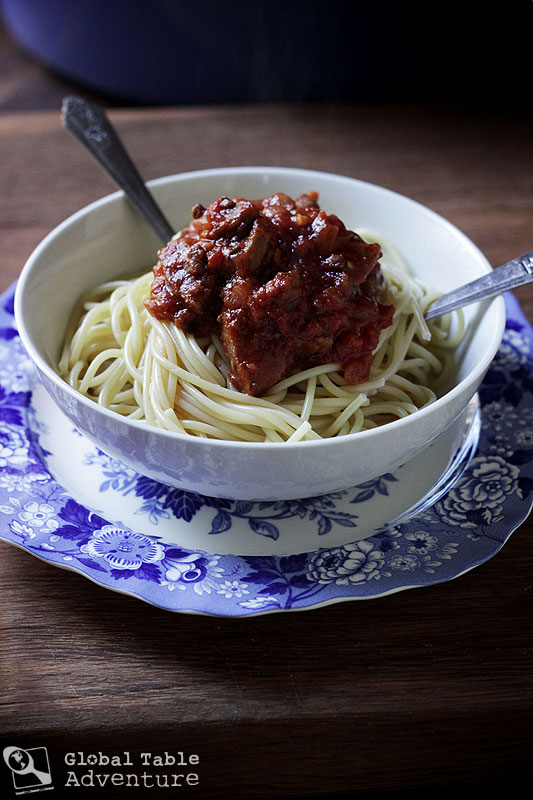 When I ask my mother how I'm related to Cousin Alfred, the answer usually goes:
"Well…" and then there's a  contemplative silence. I can see her running through all our different relations, high up on the family tree, doing mental gymnastics to connect one branch to another.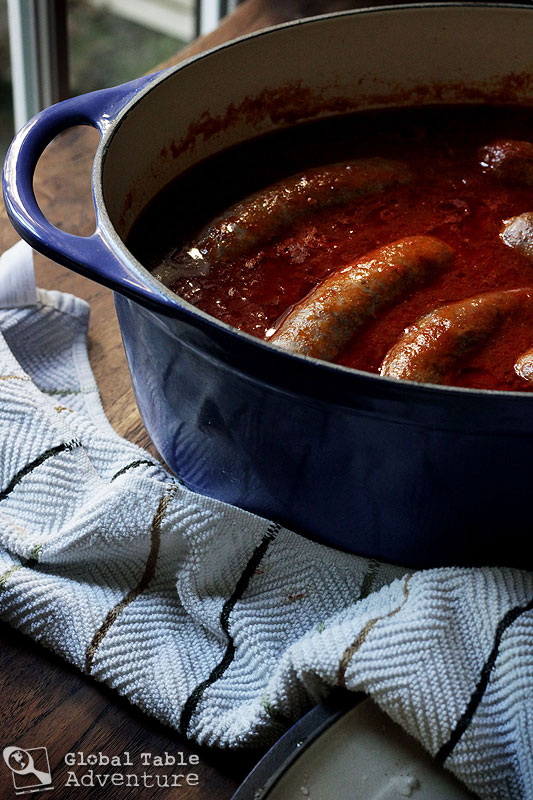 Eventually, she comes out with "I think he's my mothers, mother's cousin's"… and then, either she trails off, or my attention span wanes because, really, all that matters is that he is family, one way or another.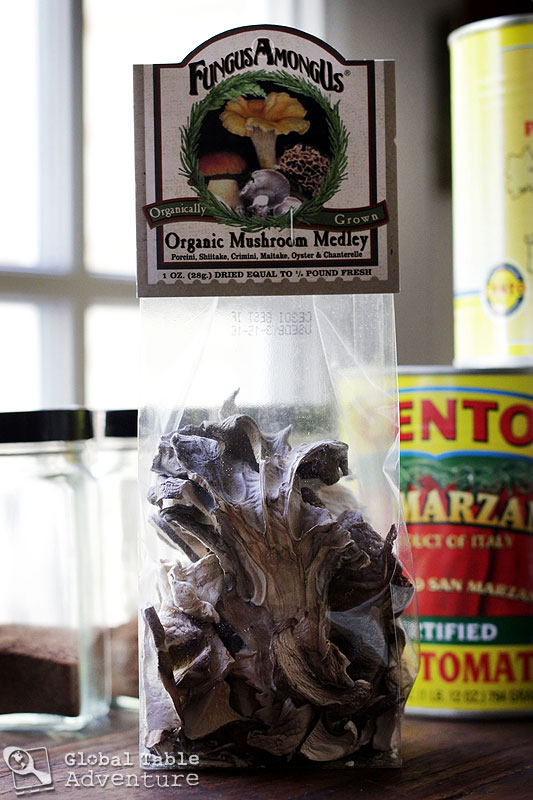 Alfred lived until he was 104 years old. I think much of his long life was due to making homemade ravioli and meat sauce. He taught me when I was about Ava's age, or maybe a little younger.
We made his spinach & pork ravioli for Italy and, today, we continue to keep Alfred's memory alive with this sauce.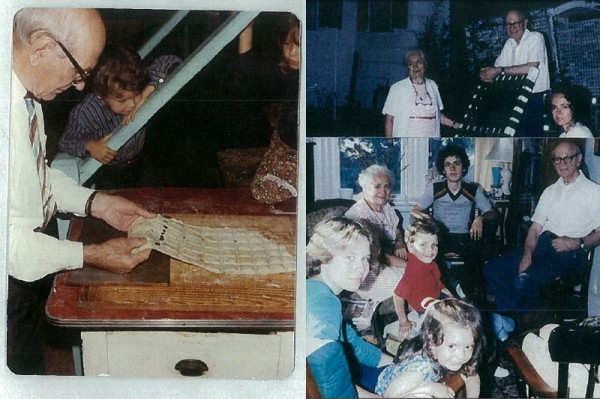 Mom made sure to write down his recipe for meat sauce. But the title "meat sauce" doesn't do it justice. This is meat sauce, yes, but it's also filled with a half dozen sweet Italian sausages, beautiful minced mushrooms (the fancy kind), and the best tomatoes Italy has to offer. There's also a richness that comes from the best olive oil you can muster and sweet, sweet onion.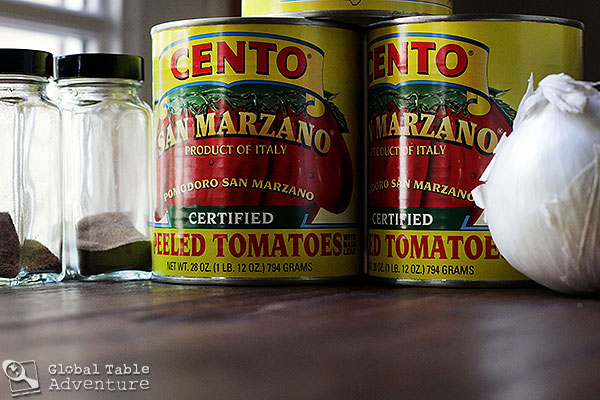 In the end, all these beautiful ingredients cook down into a rich, hearty sauce – enough to fill a very large pot.
Case in point? This represents 1/3 of the sauce over 2 lbs of spaghetti: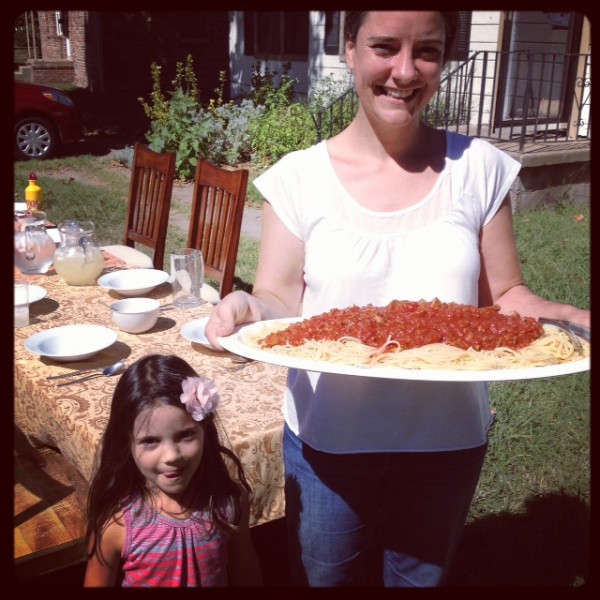 Look at Ava! She's already licking her chops in anticipation!
We shared Alfred's legacy with our neighbors… guys we've affectionately dubbed "the beards." (We don't call their girlfriends that, though.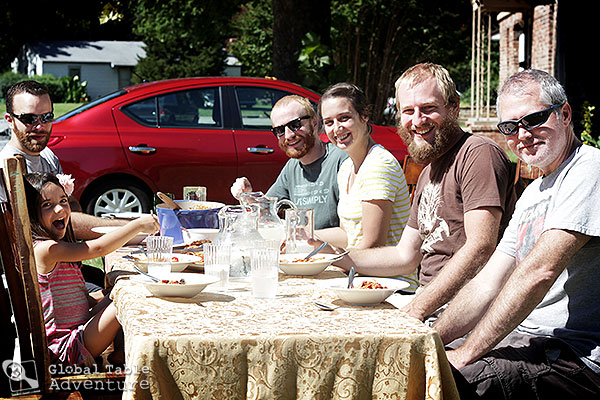 This sauce is a great crowd-pleaser.
Robert here said, upon tasting it, "this is the best thing that has ever happened to me."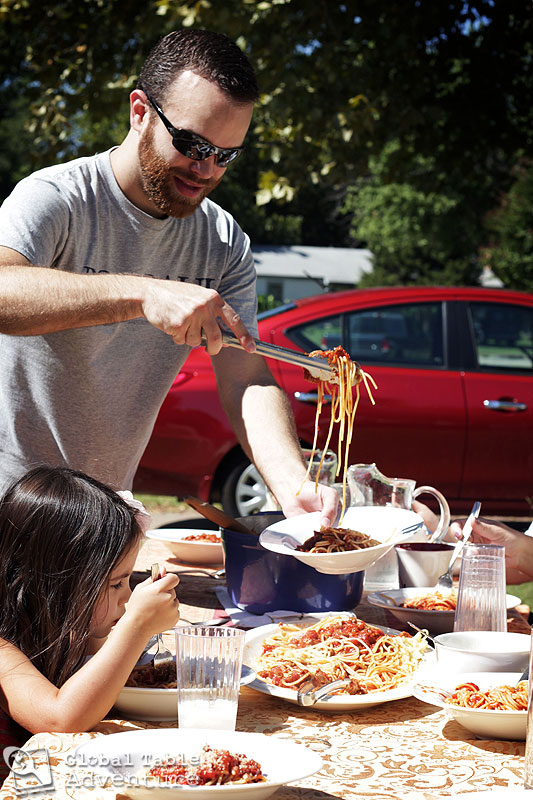 Even Ava agrees (Pssst…leave a comment if you see what's wrong in the picture below!)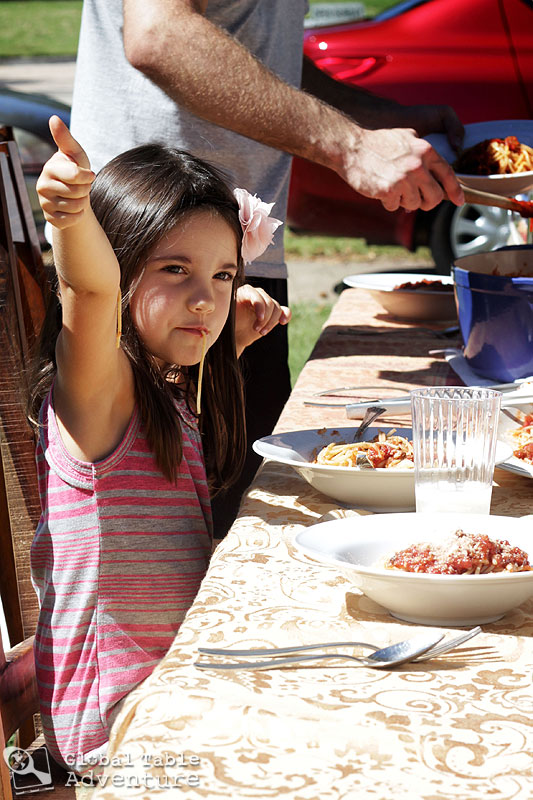 Note: There's something humbling about the fact that I have less motivation than a 104 year old man. Alfred made this tomato sauce with muscle. In those days, the basil leaves were whole in the canned tomatoes, and he plucked them out by hand after simmering. He pureed the tomatoes with a food mill. He ground the meat with a meat grinder. This sauce was an exercise in love, as all cooking is, but more than that, it was his heritage – his taste of the old world. Of Italy.
This is my modernized version. One that relies heavily on a wooden spoon and pre-ground meat.
Makes about 4 quarts
Ingredients:
1/2 cup olive oil
2 Bermuda onions, chopped
3/4-1 lb lean ground beef
3, 28 ounce cans of San Marzano Peeled Tomatoes
2, 6 ounce cans of tomato paste
1 ounce dried mushroom blend (porcini's if available), reconstituted in 1 cup hot water
1/4 tsp nutmeg
1/8 tsp allspice or cloves
salt & pepper
6-8 sweet Italian sausages
Method:
Fry the chopped onions in a 1/2 cup of olive oil until soft and sweet, then add in the beef and brown it.  While I'm sure you could use whatever onions you want, Alfred specified Bermuda, and we loved their sweet flavor in this recipe.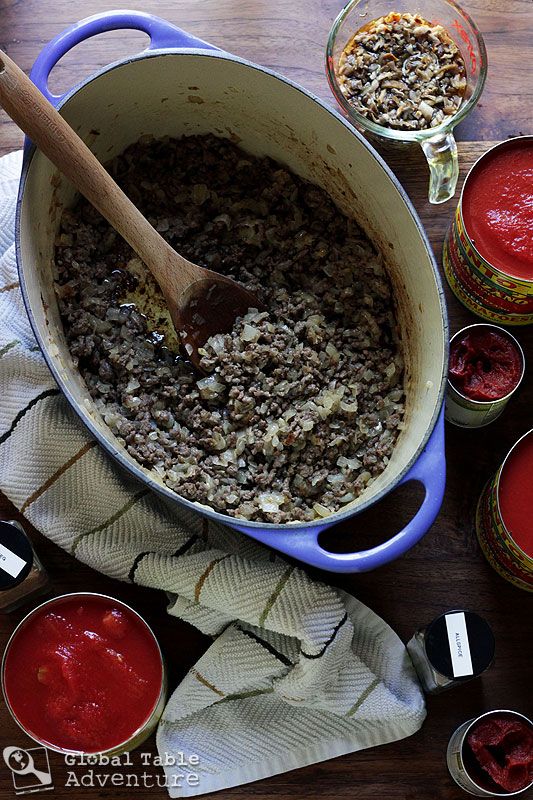 Pour on the canned tomatoes, the tomato paste, the chopped mushrooms, allspice, and nutmeg.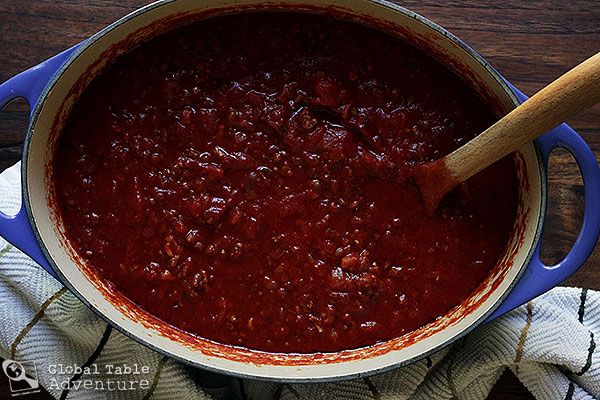 Give everything a stir, then top with the raw sausages. Just plunk them in whole. Alfred says so.
Cover and simmer for 4 hours.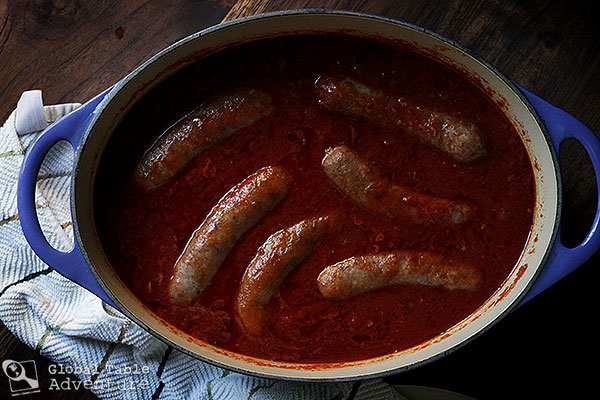 Remove the sausages and, when cool enough to handle, slice into half moons. Break up the tomato chunks, if there are any, and stir the sausage back into the sauce.
Ideally, Alfred says you should wait to eat this until the next day so the flavors have time to mingle.  He left his batch of sauce covered, on the counter overnight. I think this would encourage bacterial growth, so I suggest you refrigerate your sauce overnight.
The next day you'll have a love story between pasta and sauce.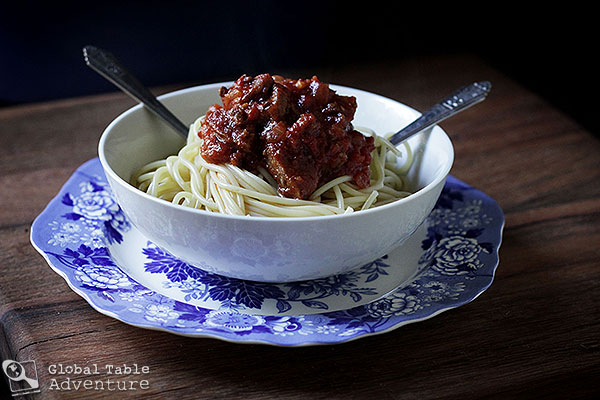 Oh. And the Parmesan cheese, while purely optional with a sauce this good, is a nice touch.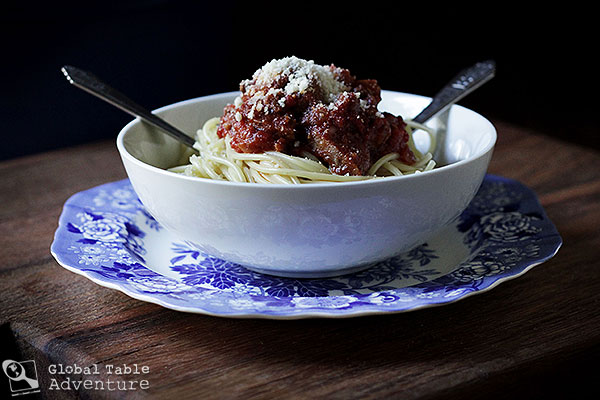 Enjoy, friends.
Remember to twirl, twirl, twirl that spaghetti.
As round and as beautiful as this stairway.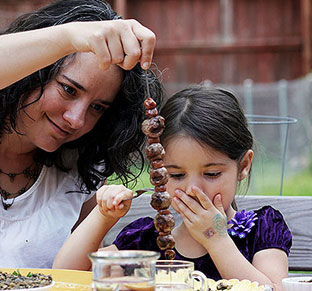 Hungry for more?
Be notified when National Geographic releases my memoir.
Simply fill in your details below.