Serves 8
Hot Algerian Lasagna blends traditional Italian lasagna with chickpeas, potatoes, ground lamb, and a healthy dose of cayenne pepper. Make this unusual dish once and you will crave the flavors for life.
NOTE: Cayenne pepper's heat is rated in "heat units." This recipe was made with a 35,000 cayenne, which is on the low-end of the scale. If you have a 90,000 cayenne, you only need 1/3 of the cayenne pepper for the same kick. The label on your spice jar should give you this information.
Ingredients:
1 pound ground lamb or chicken
1/2 cup olive oil
1 medium onion, diced
salt and pepper
1 Tbsp harissa
1 clove garlic, crushed
2 tsp cayenne pepper (or 1 tsp to make it mild)
1/2 tsp ground cumin
1/4 tsp ground caraway
1 Tbsp tomato paste
2 cups tomato puree, plus a half cup
1 can drained, rinsed chickpeas
1 cup water
3 medium potatoes, peeled and diced (about 1 lb)
1 lb no-boil lasagna sheets
15 oz ricotta
2 eggs
2 cups shredded mozzarella
2 cups shredded Gruyère
Method:
1. In a large skillet over medium-high, brown lamb meat in a little olive oil, draining fat as you go. Remove lamb from skillet and set aside.
2. Without cleaning the skillet, saute onions over medium until translucent and slightly golden in color, about 10 minutes. Add more olive oil if the pan seems dry.
3. Add Harisa, garlic, cayenne, cumin, caraway, and tomato paste. Stir to combine and cook for about 3 minutes, or until fragrant.
4. Add tomato puree, chickpeas, and water. Simmer uncovered for 10 minutes.
5. Add potatoes and lamb. Simmer, covered, until potatoes are tender.
NOTE: At this point you can serve the dish with cooked lasagna sheets stirred in. If you want a layered lasagna, continue with the next steps.
6. Preheat the oven to 350F
7. Let lamb mixture cool slightly.
8.  Meanwhile, in a small bowl, mix ricotta with eggs and 1 cup Gruyère cheese. Add salt to taste.
9. Assemble lasagna. Between each lasagna sheet, add ricotta mixture, lamb mixture and some mozzarella  cheese. Use up to 1 cup of mozzarella cheese for this part. Use extra tomato puree if lasagna seems too dry.
10. Top lasagna with 1 cup Gruyère and 1 cup mozzarella.
11. Cover with aluminum foil and bake 40 minutes to 1 hour.
12. Let rest about 30 minutes before slicing.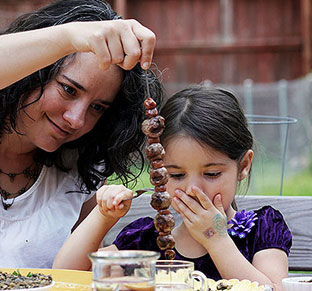 Hungry for more?
Be notified when National Geographic releases my memoir.
Simply fill in your details below.