Born in 2009, Ava ate the world well-before her 5th birthday. Today, she loves painting, playing with Mom's old dollies, and telling knock-knock jokes (just like her Papa). At school, her teachers say she's the first friend to help out another classmate, whether they're hurt or just having a bad day.
Ava didn't exactly have a choice when we began cooking the world – she was only 7 months old. But today she's the first to ask "What country are we eating?" during dinner.
Afghani chicken was one of her first solid foods. (The verdict? Success!) Soon after Ava's first birthday, she began helping cook the world by dropping blueberries in the blender, banging spoons on the counter, and giving a "thumbs up" when mama finally got her French omelet right. At two, Ava overcame her fear of sushi by adding her favorite veggies to the rolls. Today she can't get enough.
Tip: letting kids help out in the kitchen is a key to success.
Why cook the world with your children?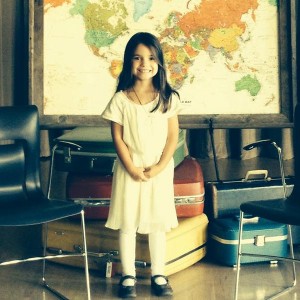 "Because we have to love each other… and it's fun!" – Ava
"By setting a place at the table for every country, the whole world becomes a part of our family." – Mama
I want my daughter to grow up feeling loved, with a deep sense of belonging. Enjoying simple meals from around the world gives Ava a tangible way to relate to children in other countries. We all have more than 7 Billion people in family tree – the recipes of our global heritage provide common ground.
This is an investment in our children's futures.
Once grown, our children will need to relate to their global neighbors in ways we can only begin to predict. It's already happening on social media and in digital classrooms. I might not be able to guide her every step of the way, but I'm happy to know that every time I serve one of these recipes, I'm modeling curiosity, love, and understanding (and all during dinnertime – something we have to do anyway!)
Kids will be kids
Ava is just like every other little kid. She has picky moments, too-tired moments, and just plain not-interested moments. But every country we dish up is like magic, transforming dinnertime into a story time (you should see how animated we get!). When in doubt, always remember…
Little kids thrive on fun.
Ava learned to love international food because we made a game of it! When we are excited, Ava's excitement ramps up.  In the early "baby" days she was completely open-minded – more so than the adults. The older she got, the more she wanted to help (and this could often make or break whether or not she was willing to try the meal).
Ava's Top 3 favorite Kid-friendly global recipes are…
These are the dishes Ava ate right away, without hesitation. She asks for them again and again – they're definitely a part of our mealtime rotation.
Ava's favorite Celebration Foods…
Egyptian Birthday Party:
Ava still talks about this Birthday party – she loved the food, the setting, and sharing her love of Egypt with her friends.
Swedish Princess Cake:
It's not just the name, this cake is royally delicious.
Scandinavian Ring Cake:
This was Ava's 4th birthday cake. Not only is the marzipan divine, but it's a fun one to make with kids.
Ava collects…
Rocks, shells, and chapter books. She adores The One and Only Ivan and Mary Poppins.
Ava's sidekicks are…
Her two cats, Malky and Pouf. She's carries them around even though they're still bigger than her.