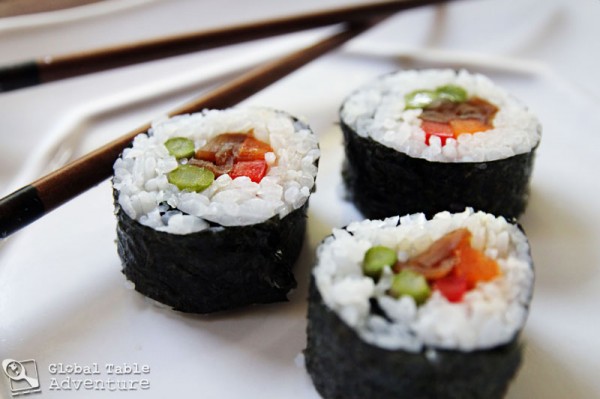 Makes 6 rolls (on 1/2 sheet nori seeweed) – serves 2
Do you have a yearning to be creative? An artist? Do you want to release your imagination into the wild?
Are you also hungry?
The answer is sushi.
While sushi making is an art that requires years of training to master, everyone can play the game. It's like I tell my husband – you don't have to be Michelangelo to paint a personal masterpiece. Similarly, you don't have to be a sushi chef to fill your belly with satisfying sushi.
Today we're tackling futomaki. Futomaki is a large sushi roll, typically filled with vegetables and/or cooked fish. I thought this was a good place to start for those of us who don't have refrigerated work spaces for handling raw fish. After all, let's be honest. This is all about fun. Not tummy troubles.
So let's get our art on and make some sushi. Once you get the hang of it, I highly suggest having a sushi themed small dinner party.
It's super sushi fun.
Here's what you need:
Neta (fillings):
Use all sorts of sliced veggies – feel free to fill in your favorites.
1/2 avocado
1/2 cucumber
1/3 yellow pepper
1/3 red pepper
1/3 orange pepper
1 small can Makizushi no moto (sweet gourd strips)
6 steamed asparagus
Other stuff:
1 batch prepared sushi rice  [Recipe]
nori (I find the half sheets easier to work with as a novice)
soy sauce
wasabi
pickled ginger
Materials:
chopsticks
bamboo rolling mat(s)
cutting board
sharp knife
bowls of water to keep hands moist
Method:
Let's get started!
First, cut up all your veggies into long sticks, or batons. Refrigerate  until needed. Then prepare the rice (recipe will be up by Monday).
If you want extra bonus points, also include a can of Makizushi no moto, or seasoned gourd strips with mushrooms. This is my all-time favorite sushi neta (filling). It's sweet, salty, and tender. Look for it in the Japanese section of the Nam Hai, or your local Asian market.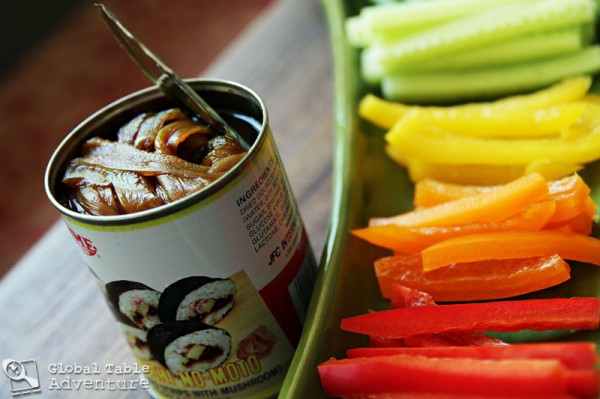 Next, lay out a piece of nori. Top with rice. Moisten hands and press the rice down into an even layer, leaving one end clear (for about an inch). Place veggies a couple of inches from the other end. Use your artist sensibilities to pick lovely color and flavor combinations.
So pretty!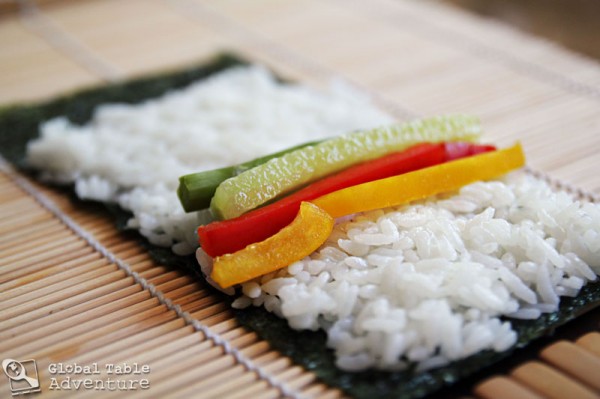 Use the mat to firmly press the ingredients together and roll up the sushi tightly. Visualize rolling up a t-shirt into a tiny tube so you can fit it in your already over-packed suitcase. Use two hands (I had to take the picture with my other hand).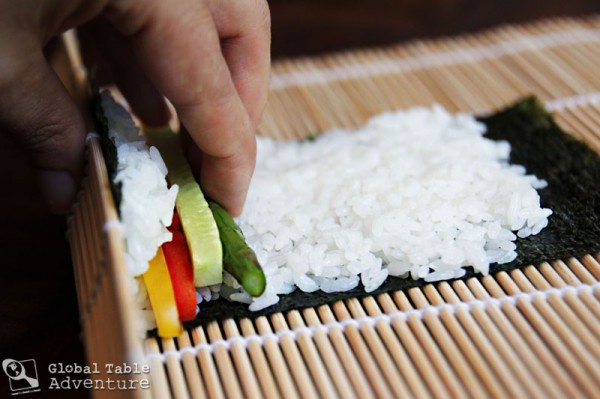 By keeping lots of pressure, you'll end up with a nice tight roll that is easy to slice and won't fall apart. Practice makes all the difference. You can fold the mat behind the roll as you go.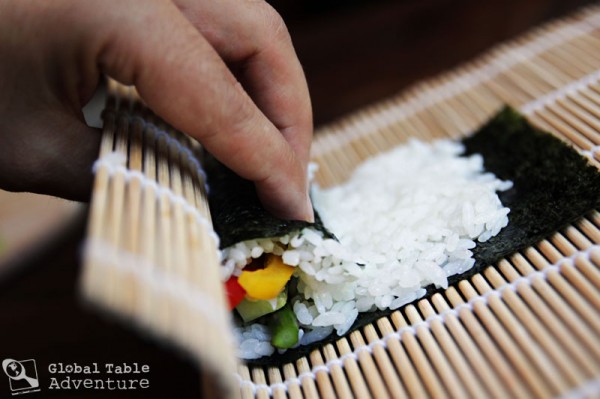 The day before spring, at the Setsubun festival, the Japanese serve futomaki in a long roll, just like this.
More typically, however, they slice each roll up into even sized discs, revealing the art within.
The half sheets slice best into 4 pieces.
Serve with wasabi, pickled ginger, and soy sauce.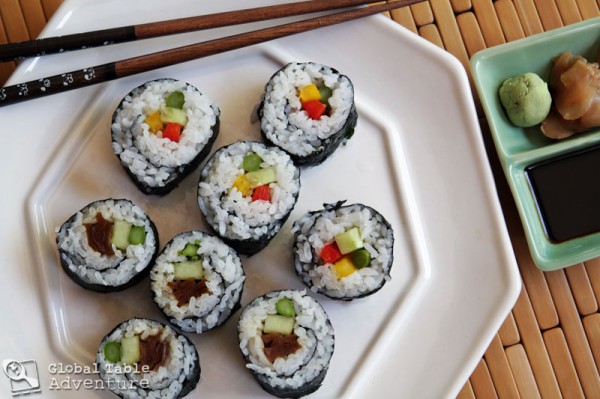 I find it's easier to make them all before eating, as your hands get quite sticky as you make them.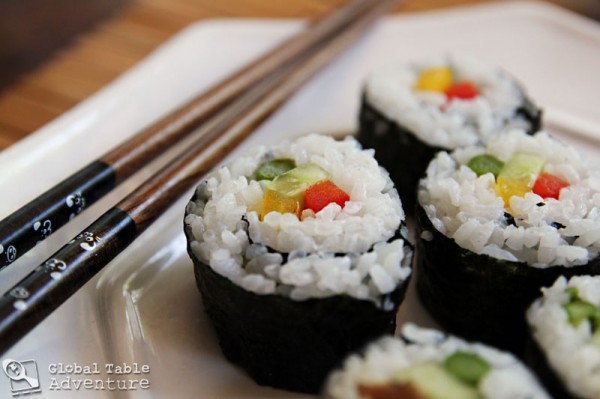 But not everyone could wait…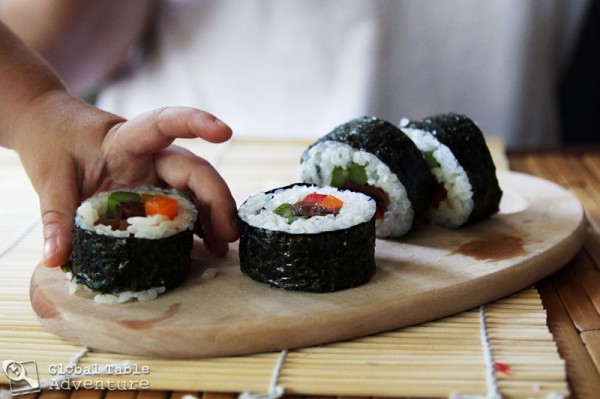 Veggie sushi – a rainbow of beauty.
Even for newbs.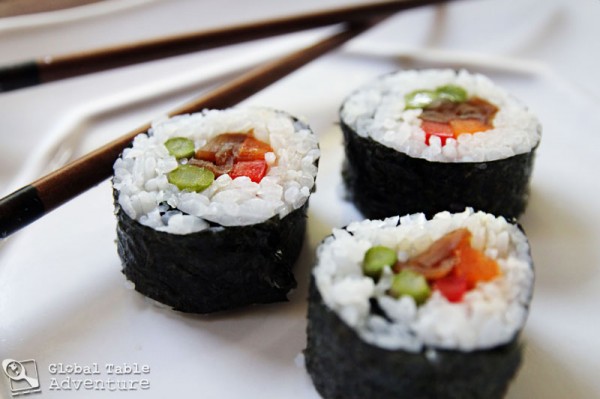 Enjoy with a bright, bursting smile.
You did it – your own personal masterpiece!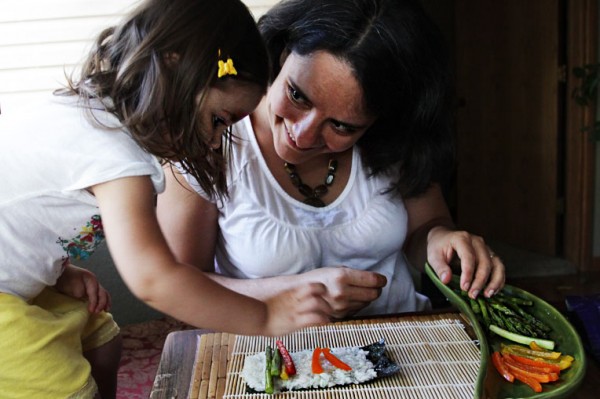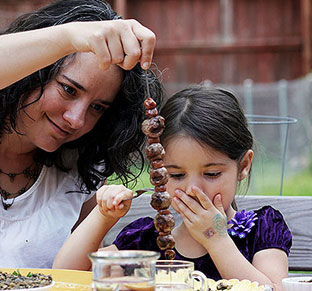 Hungry for more?
Be notified when National Geographic releases my memoir.
Simply fill in your details below.