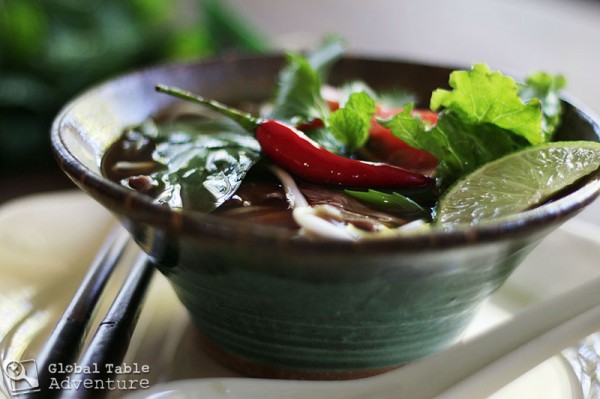 It's time we take back the expression "Have it your way" from that mega corporate burger joint and put it back where it belongs – into our homes, onto our own homemade-with-love meals. Take this soup from Laos, for example. Traditionally served for breakfast, but great any time of day, Foe is a celebration of individuality, creativity and having it exactly how you want it – without chemicals, junk and gunk.
Foe is a rice noodle soup from Laos, typically made with beef, pork or chicken. In Laos you might find funny organs floating in your soup and other delectables, but the real star is the bouquet of herbs, sauces, and spices which each person adds to taste, making each person's soup bowl totally unique. Today we serve the simplest version of all – thinly sliced raw beef which cooks under the heat of the boiling broth and then topped how you'd like it.
Inspired to try this soup because of the words in "Big soup, Big Love."
Serves 4
Ingredients:
For the broth:
2 quarts beef broth
1 stalk fresh lemongrass, bruised
1-2 inches fresh ginger, cut in chunks
1-2 inches fresh galangal, cut in chunks
4 keffir lime leaves
fish sauce, to taste
For the toppings
3/4 lb sirloin, cut paper thin
1 lb rice noodles, cooked according to package instructions and stored in cool water until needed
Garnish ideas – torn or chopped to taste:
mint, cilantro, lettuce, thai basil, green onion, lime wedges, chopped tomatoes, Thai chilies, fish sauce, sprouts, etc.
Method:
First, let's turn plain ol' beef broth into a fragrant, bubbling vat of Lao goodness.
Simply add the broth to a medium pot and toss in the ginger, galangal, lemongrass and keffir lime leaves. Bruise each ingredient with a mortar and pestle to maximize the flavor. Simmer covered for 45 minutes or until the house smells like "good." Splash in fish sauce to taste – it'll give the broth a great salty kick.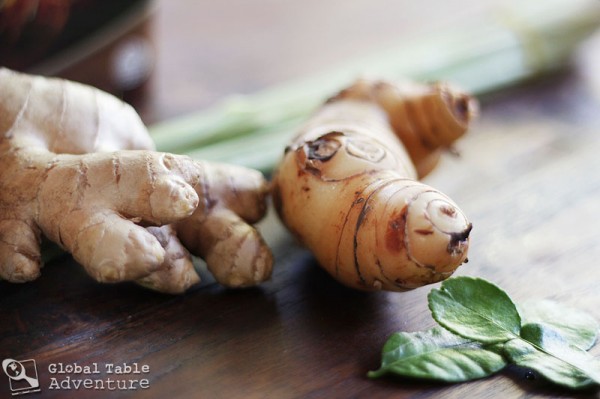 Meanwhile prepare the rice noodles according to package instructions and place in bowl of cold water until needed.
Next, thinly slice the beef, trimming any excessive fat as you go. Refrigerate until needed.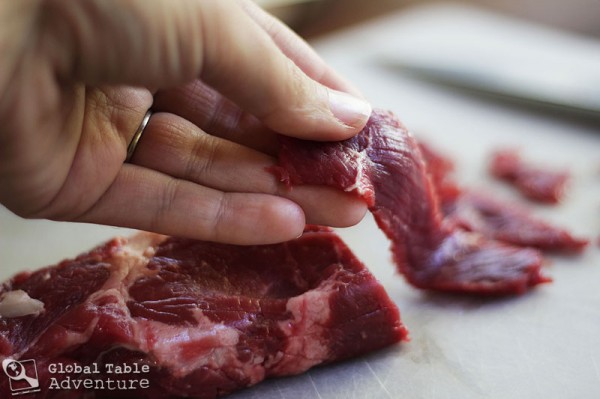 Rinse and gather all the toppings. Pretty, pretty, pretty. And, in case your wondering, this platter smells like "crazy wonderful."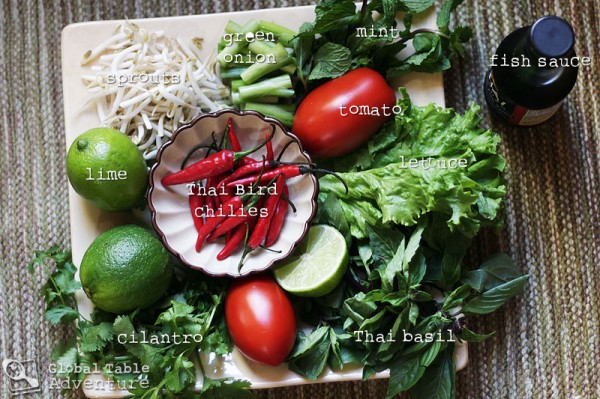 Now… the time has come. Put on your smile. Gather your hunger. Assemble your bowl.
First, add a mound of cooked rice noodles …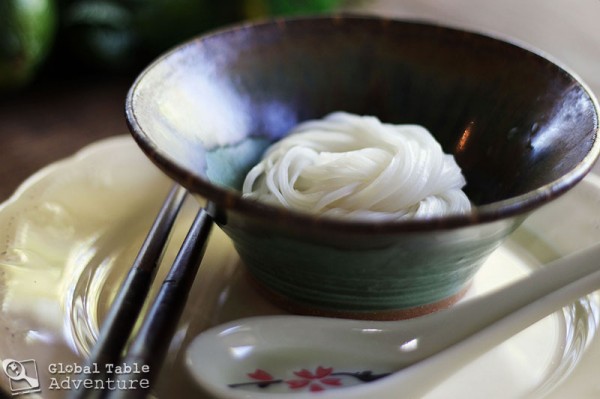 … top with raw beef… (feeling epic yet?)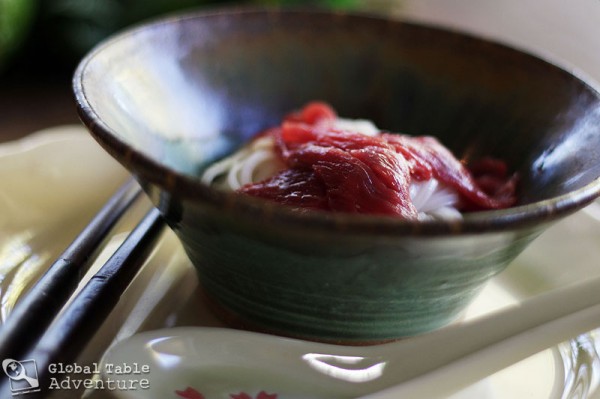 … and ladle boiling broth on top of beef. The meat will immediately turn gray as it cooks in the heat. The result will be bite after bite of oh-so-tender meat.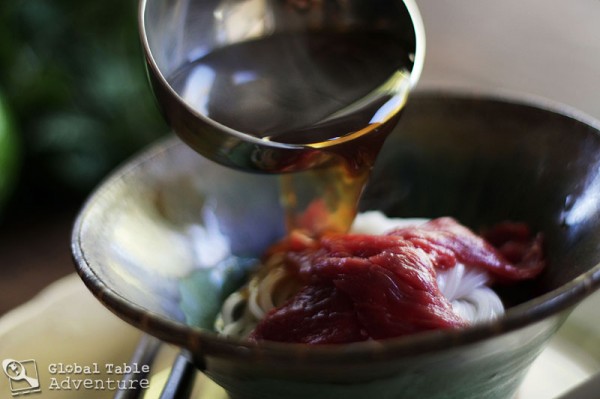 Add as much herbage and toppings as you'd like. In my soup I literally had some of everything and am so glad I did. Definitely don't skimp on anything, especially the hot peppers and fish sauce.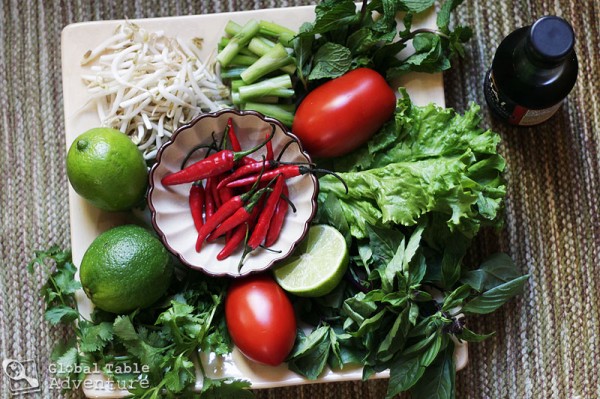 Traditionally you'd eat the noodles with chopsticks and slurp the broth with a spoon.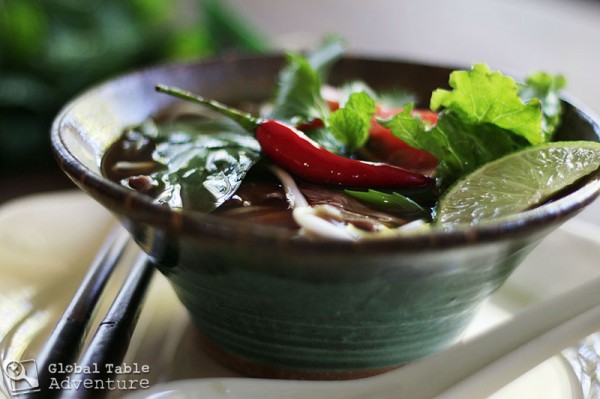 No matter how you sip it, though, I'm here to tell you this is the bees knees on a chilly November day.
Share with old friends, new friends, and not yet friends at a very cool house.
Thank you, Laos.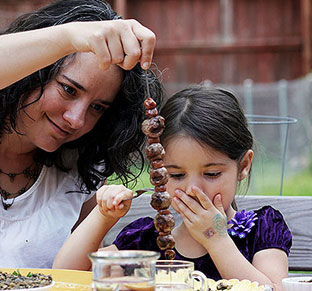 Hungry for more?
Be notified when National Geographic releases my memoir.
Simply fill in your details below.