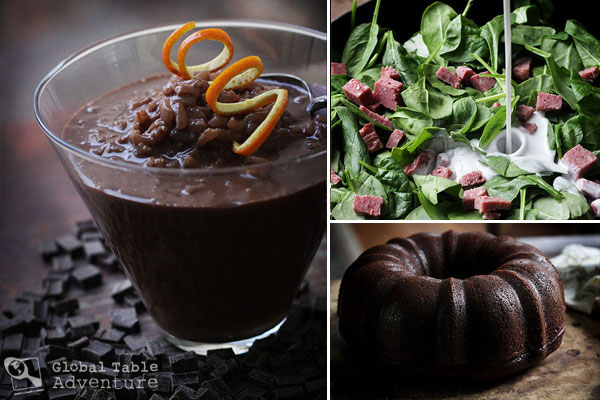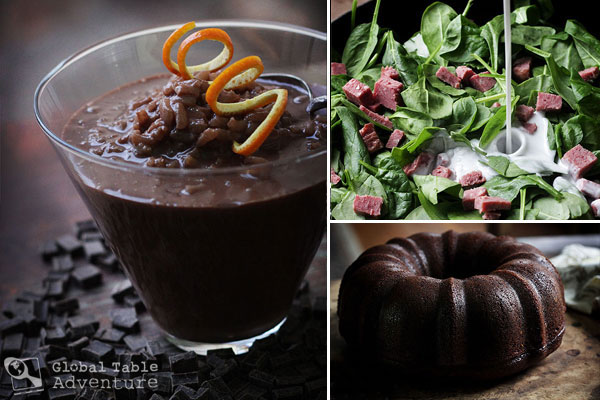 "E tuai tuai, ta te maʻona ai."
This Samoan proverb states that food which takes a long time in the oven will be satisfying. It's the equivalent of "good things come to those who wait." You see, much of Samoan dinners were traditionally cooked in underground ovens made with hot stones and covered with dirt and leaves. My mom said that was just about all there was in the late 70's. Today, electricity takes much of the guesswork out of when dinner will be done but there's still satisfaction in enjoying traditional favorites.
For our menu, I went with yet another festive holiday spread. Bring that Palusami to your next holiday potluck. As for the rice and the puligi? Yes, yes. Definitely.
Special thanks to Soraya, a lovely Samoan friend of Brian (longtime reader who always leaves the neat musical selections). She was kind enough to message with me about all kinds of good, traditional eats (especially the Palusami).
All recipes and meal review will be posted throughout the week.
Coconut Creamed "Spinach" | Palusami [Recipe]
Our riff on a Samoan staple, made with just four ingredients: spinach (in place of hard-to-find taro leaves), coconut milk,  onion, and … wait for it… canned corned beef. (A vegan option is just as delicious without the corned beef)
Samoan Steamed Spice Cake | Puligi [Recipe]
Steamed spice cake made with burnt sugar, cinnamon, nutmeg, and cloves. Serve with vanilla custard sauce.
Chocolate Rice Pudding with Sweet Orange Peel | Koko Rice [Recipe]
Wake up like a Samoan with this dessert-for-breakfast made with rich, creamy coconut milk. While they like to add an orange leaf to their simmering mixture, I've substituted more readily available orange peel.
THE GIVEAWAY
I've been doing that dangerous thing… browsing the web for beautiful things. I put everything I love in a Global Gift Guide for 2012. For this giveaway, go check it out, pick one thing you'd like to get this holiday season and list it in the comments here.
If you are selected, you'll win what you ask for. (One winner will be chosen at random)
Here's a sneak peek of the goodies (there are 21 total):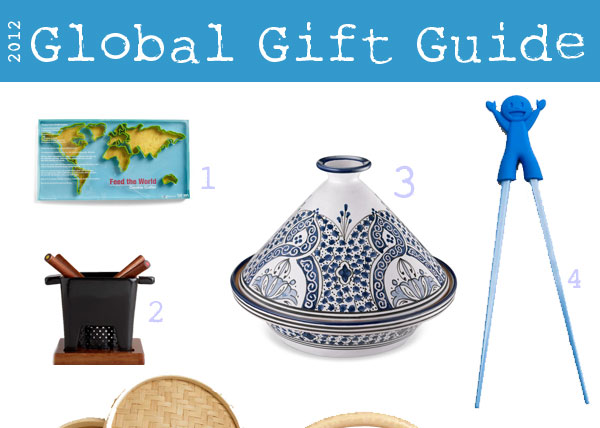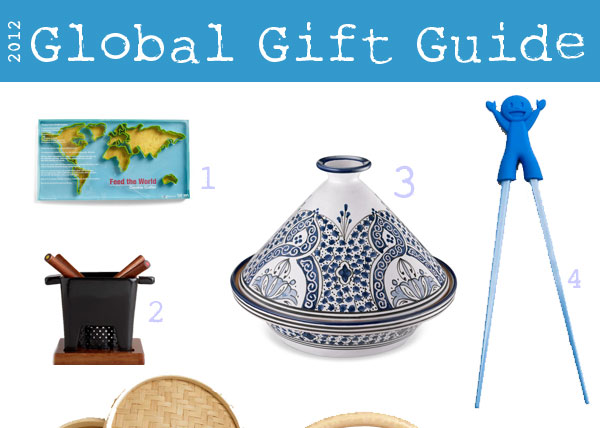 That's it!
Bonus entries will be provided for those that tweet this giveaway with hashtag #globalgiveaway and/or share it on Pinterest and Facebook.
Leave your choice in the comments below. One winner will be chosen at random and announced in the Monday Meal Review on December 10, 2012. Prize must be claimed by December 17, 2012. There are no sponsors for this giveaway. I simply wanted to share some global love with you. Enjoy!
UPDATE: Giveaway Winner
Congratulations to SFAnetta who says:
Ohhhh My!

I would so love the Molcajete Mortar and Pestle!

I love introducing people to the joys of spices and one of the ways I do it is to create spice blends. In 2013 I intend to launch my website TheSpiceAlchemist.com introducing people to the history, culture and lore of spices. I would love to introduce people to the amazing world that they live in through the exploration of spices, showing them how to integrate spices into their daily lives and introducing them to the sciencebbehind their amazing healing powers as well.

The Mortar and Pestle with it's beautiful ergonomic handle would be a a featured centerpiece piece of kitchen equipment in my videos and blog. It would be so loved!

PS ~ I love your blog, I normally silently lurk in the background enjoying your posts, but I wanted to let you know your enthusiasm for global exploration and writing style have really inspired me. Thank you so much Sasha!
 Enjoy your mortar and pestle SFAnetta! Contact me by December 17, 2012 to claim your prize!