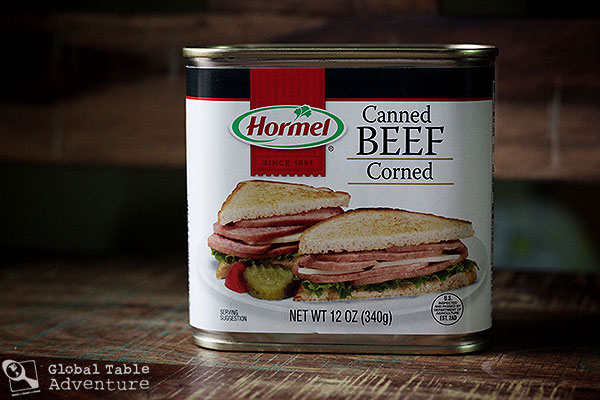 Oh, boy. I honestly never thought this would happen.
Me.
Canned meat.
Together at the table. At the Global Table.
When I decided to cook a meal for every country in the world, I had visions of exotic spices laced throughout grand feasts of epic proportions. I imagined a variety of fresh herbs, carefully plucked from a garden somewhere. Canned corned beef, never really popped up in these daydreams.
But, when Soraya the Samoan suggested I try Palusami, I quickly learned the time had come to eat canned shaped meat.
I sidestepped this challenge for as long as I could but throughout Polynesia, canned corned beef is a fact. A much loved staple. I could have cooked it for Fiji, or Nauru, or Kiribati, or Palau, and on and on. But I didn't. Some of you even egged me on. But I just couldn't face it.
Until now. Until Samoa. Today we finally cracked open a can for their version of creamed spinach called Palusami.
Coconut creamed spinach.
The irony is, of course, that the recipe is just as traditional without the corned beef (and is completely vegan), but making the dish with the optional corned beef was more about me challenging myself. And I'm so. glad. I. did.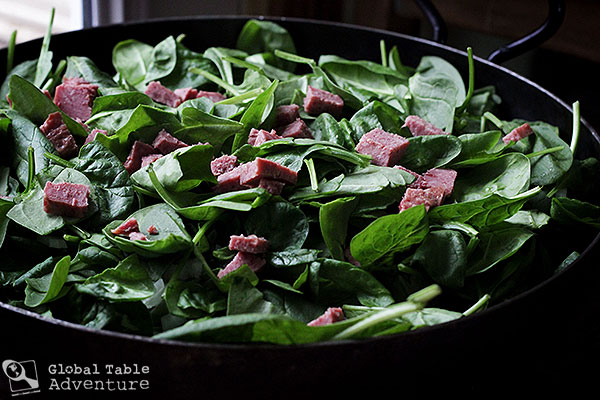 No, really. This dish tastes like coconut creamed spinach with a nice salty kick from the meat. It makes a great dip or side dish and a total conversation starter.
Who knew?
Oh, right. The Samoans. And the entire Polynesian community.
Thanks, guys.
P.S. In Samoa, corned beef is called pisupo – which is just means canned food.
P.P.S. The dish is traditionally made with young taro leaves and coconut cream wrapped in older taro leaves  (the end result looking like a little pouch), which is then baked in an underground oven called an imu, but Samoans who have immigrated to the USA have assured me that spinach makes a fine substitute and a casserole is great if you can't get the right leaves. As for the coconut cream, you can make this by shaving coconut flesh to produce the thick mixture, if you have time on your hands otherwise canned coconut milk (full fat please) tastes great.
Are you in?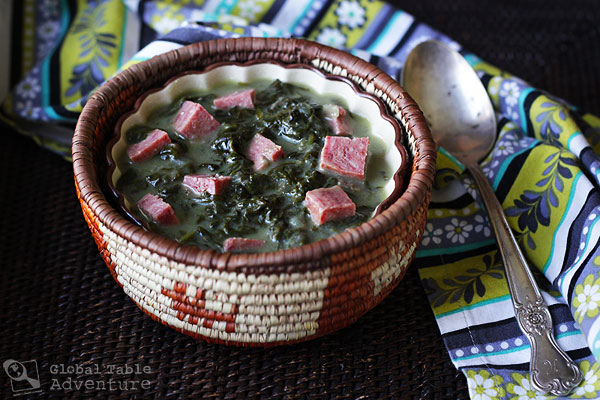 Serves 4-6
Ingredients:
lb spinach, cleaned (I used baby)
1 can coconut milk
1 onion, chopped fine
1 12 oz can corned beef, cubed
salt & pepper
Method:
Preheat the oven to 350F. Layer everything in a 13×9 casserole, or a giant ovenproof pot as I've done, alternating between spinach, onion, and cubed corned beef. You might need to really pack it in, depending on the size of your vessel.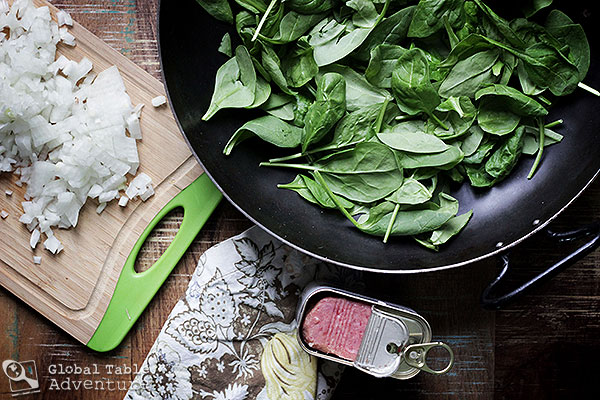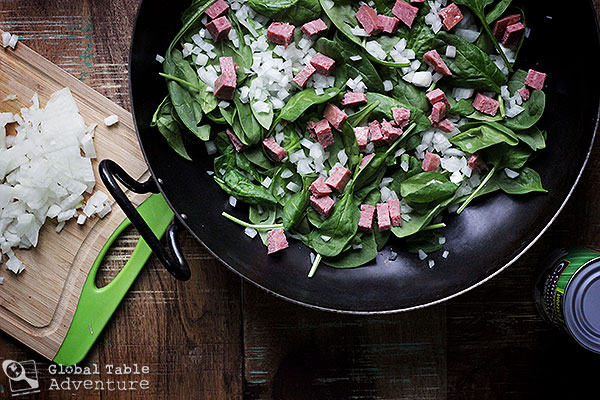 Top everything with a can of coconut milk, cover tightly, and bake for about 55 minutes.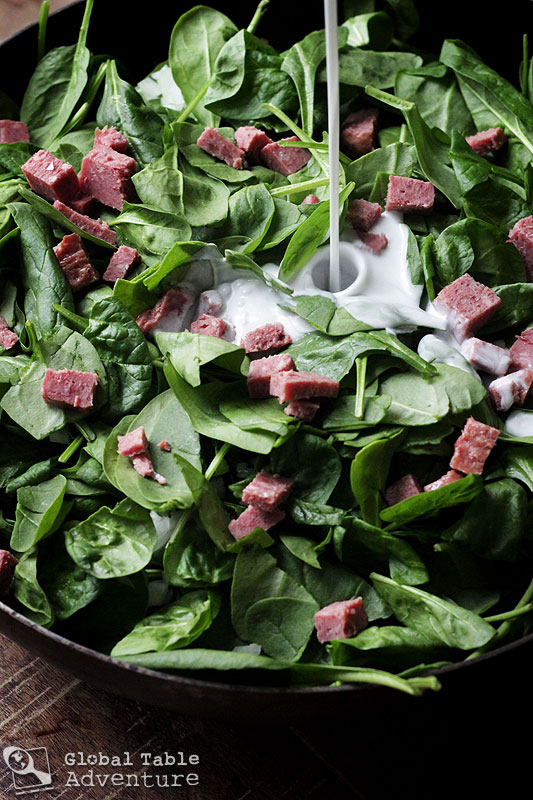 Meanwhile, write a love letter and seal it with a kiss and a spray of perfume.
The world will be a happier place.
When the Palusami comes out of the oven, give it a good stir… taste… and if it needs more salt or maybe pepper, go for it!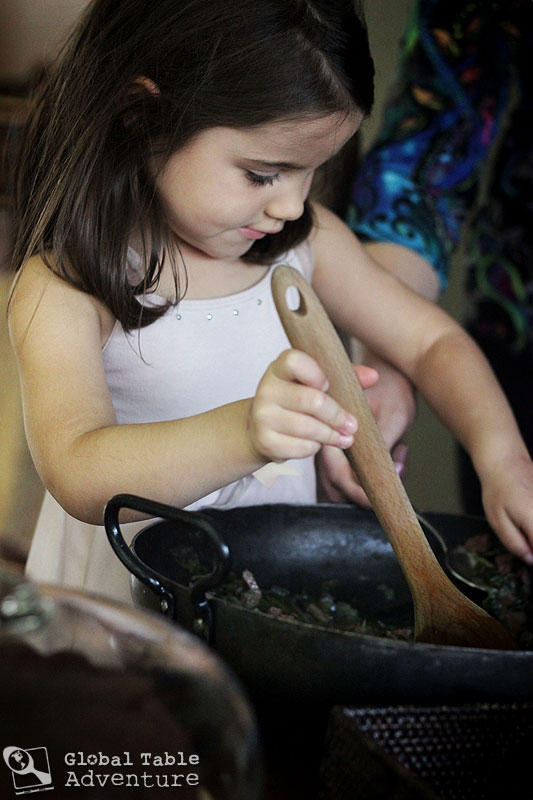 Enjoy with taro, rice, or potatoes.  Each bite will be coconut-creamy, a little salty, and all kinds of good.
Even the cat wants some.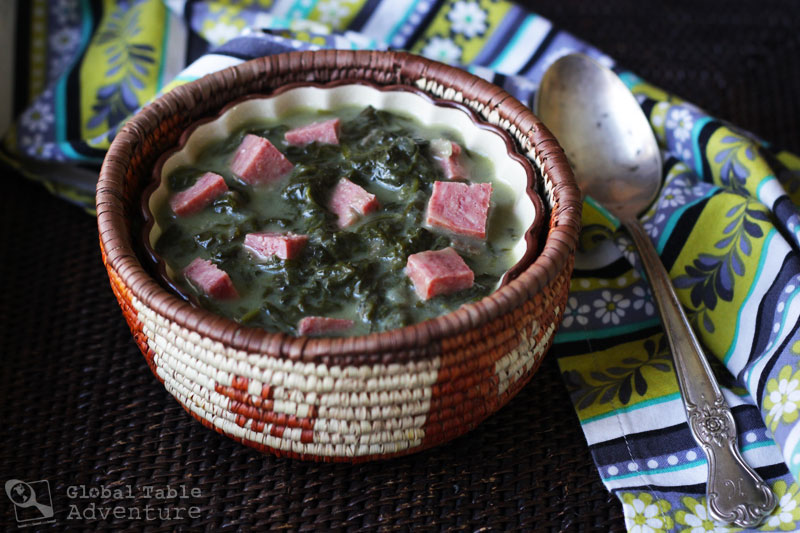 Enjoy with a very Samoan view…
I'm so glad I tried this Samoan staple… and didn't let my fear of canned meat get the best of me.
Seriously.
So what about you? Do you eat canned meat?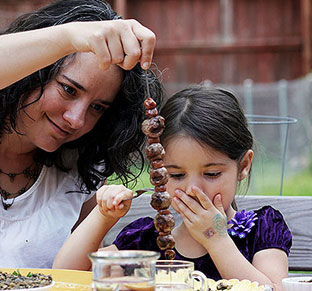 Hungry for more?
Be notified when National Geographic releases my memoir.
Simply fill in your details below.