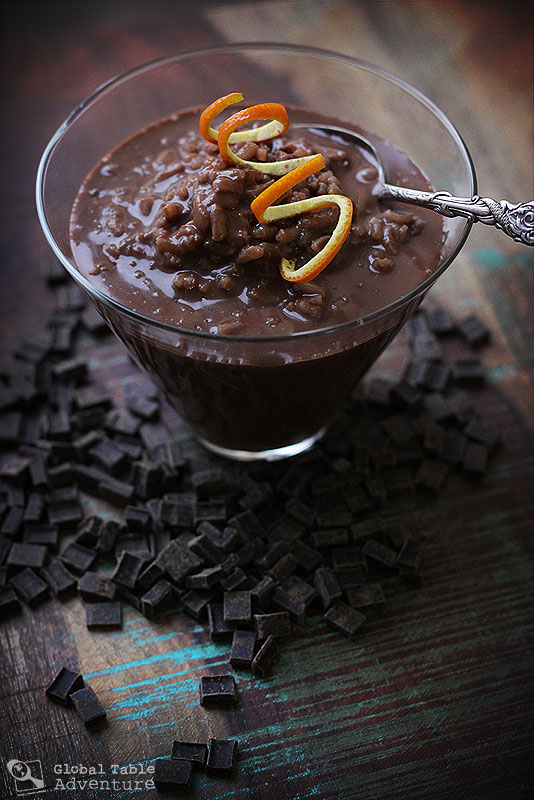 I used to say I wasn't a chocolate girl but, as the year's go by, I'm realizing that it's really more about finding the right time to eat chocolate. After dinner? Certainly. At 3pm? I'm game. For lunch? Maybe. Midnight? Definitely. 3 am? No way. I'm sleeping for goodness sakes.
But breakfast? Am I game for a chocolate breakfast?
Let's just say it's an arrangement I'm willing to get out of bed for and I know of at least two other people who are as well.
After all, who couldn't use a jolt of dark chocolate goodness to start the day out right?
(Hi, Vicky!)
Which brings us to today's Koko Rice from Samoa. I originally dubbed it "choconut" because I thought I was clever. Unfortunately, Google quickly informed me that I had not, in fact, invented a word so I had to go back to the much simpler, but wordier expression "chocolate and coconut."
Whatever you decide to call it, koko rice is a rich and creamy blend of chocolate and coconut milk with just the lightest hint of orange zest. Each spoonful feels like a gift.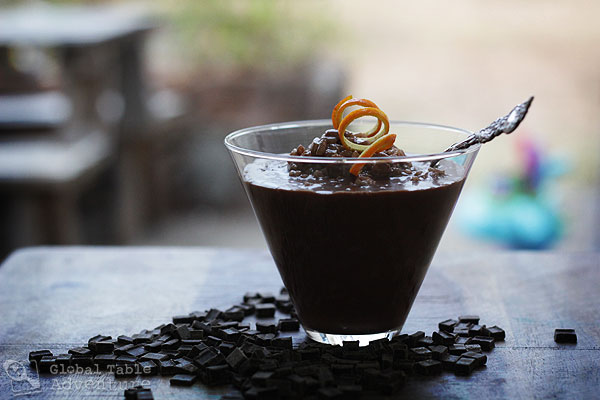 Lately, I've run into a lot of island folk who like to wake up to chocolate. And it's not like how we do it here, in the US. I'm not talking muffins. Or chocolate chip pancakes. But full on vats of Cocoa Tea (hello) in the Caribbean and this Koko Rice in the Pacific.
This is the closest we can get to taking a warm chocolate bath in the morning.
And, honestly, who doesn't need one of those from time to time?
A note on the ingredients:
The chocolate: Authentic recipes use koko samoa (A tower of chocolate which includes bits of cocoa nibs. Unfortunately I can't get koko locally). For me, I feel the best substitute is bits of real dark chocolate although cocoa powder is a possibility, too. Keep in mind, depending what you use, you'll have to play around with the quantities.
Here you can see some real "koko" as used in Samoa:
The orange: Traditional recipes float orange leaves in the simmering mixture (which I can't get), so I used an orange peel to approximate the flavor. You can grate the peel for stronger flavor, if you'd like, as the chocolate can tend to overpower it.
Recipe adapted from Saolelei.
Serves 4-6
Ingredients:
1 cup rice
4 cups water
the peel of one orange or an orange leaf
1 15 oz can coconut milk
3/4  cup dark chocolate chunks
1/2-3/4 cup sugar, or to taste
Method:
Let's sing Samoan music on the beach.
Wow. Really. On second thought, let's go swimming and then make the koko rice.
See you in 30.
..
..
..
Ok. Let's do this thing.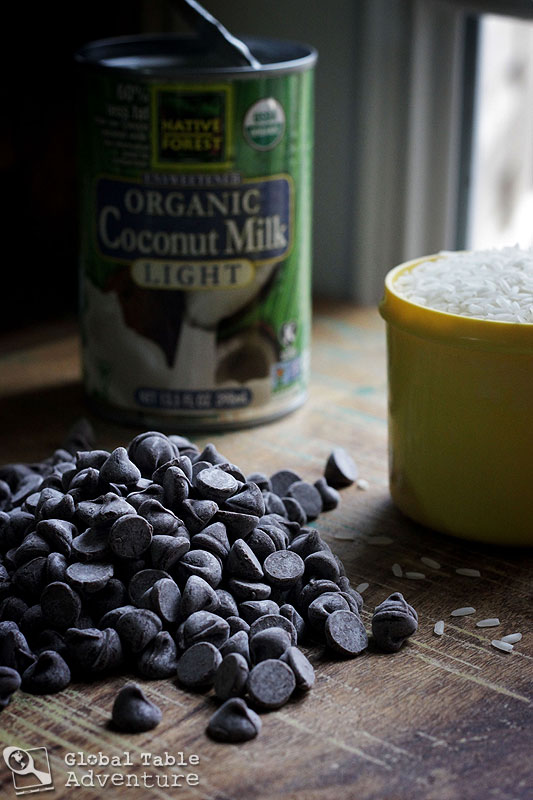 First, add rice, orange peel, and water to a pot. Bring to a simmer (uncovered, or it won't thicken!) and cook the rice for 20-25 minutes, or until very thick. Stir occasionally.
Remove from heat and stir in the coconut milk and the chocolate… plus as much sugar as you can stand.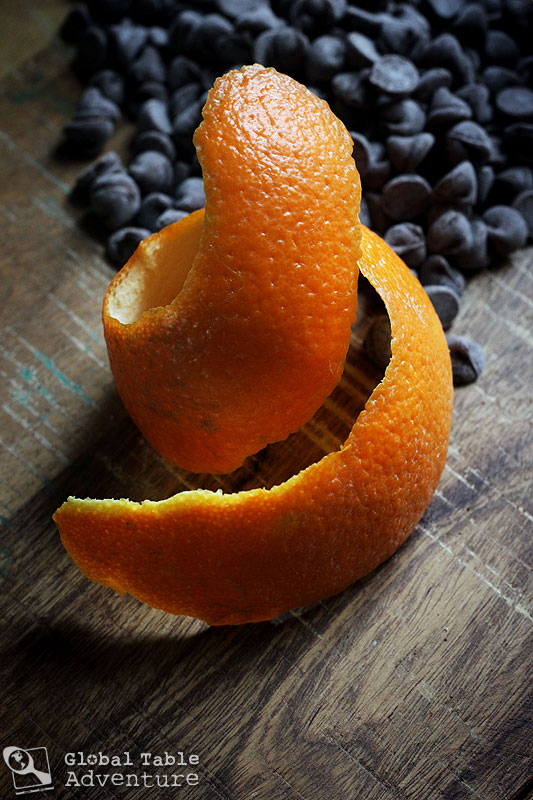 Note: At first the chocolate will melt unevenly. Give it a few minutes to sit in the hot rice. It'll smooth out.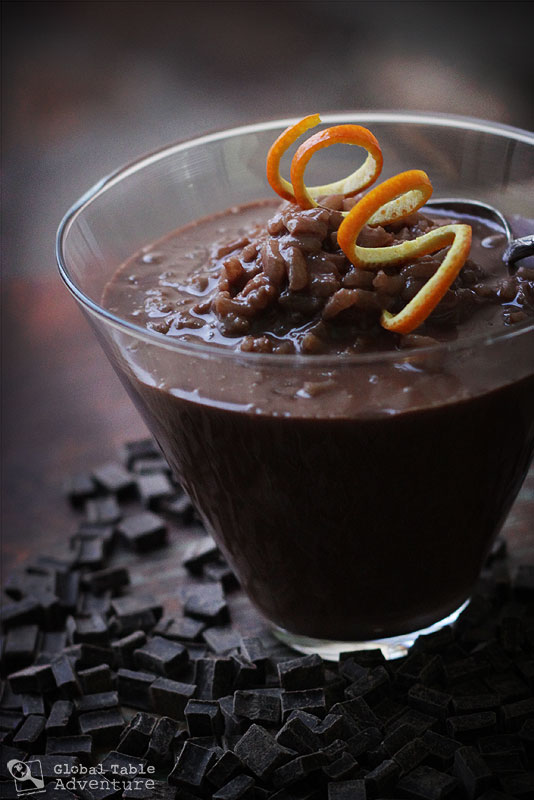 Serve immediately, with a little extra coconut milk if desired.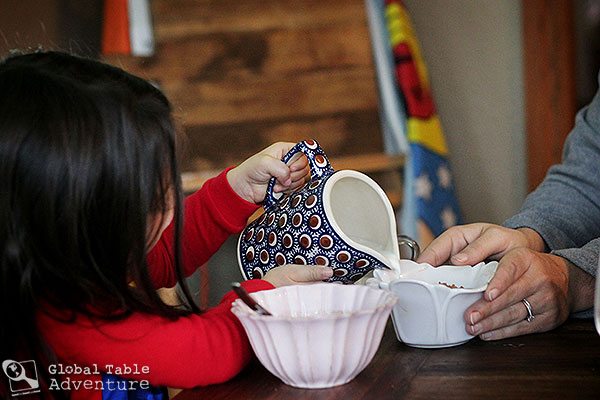 Oh my, yes.
<a moment of silence for the deliciousness to sink in>
Now that's a great way to start the day.
May all your days begin with chocolate.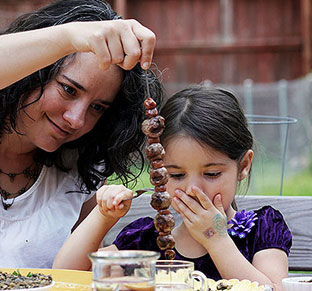 Hungry for more?
Be notified when National Geographic releases my memoir.
Simply fill in your details below.