Hi, friends. This year I've put together a lip-smacking collection of gifts with the stovetop traveler in mind. You'll find everything from kids chopsticks to a boozy liquor cabinet of global proportions.
All of it will help you eat the world better than ever.
Enjoy, enjoy, enjoy! xo
P.S. Be sure to FOLLOW THIS LINK to see if you won any item on this list in the first giveaway… and follow THIS link to enter our second giveaway!

1. Cookie cutter shaped like the world (I hope you're hungry)
2. Tapas Fondue Set (Retro fun. Love the star cutouts on the candle base)
3. Tunisian Hand Painted Tagine (I own & love this!)
4. Buddy Trainer Chopsticks (Set of 2 in orange and blue.. I'm getting these for Ava.)
5. Bamboo Steamer (10-inch)
6. Blue Koi Fish Teapot (Pretty, pretty)
7. Turkish Ibrik Coffee Maker (Coffee? Yes. Plus, who needs a microwave, when you can heat everything up in an Ibrik).
8. "Snow Globe" Spice Shaker Set (seriously!)
9. Ebelskiver Pan & Mix Set (something I've always wanted to try)
10. Fish Chopstick Rests (Set of 4)
11. Let's Make a Date Line Bulletin Board (keep track of your global menus)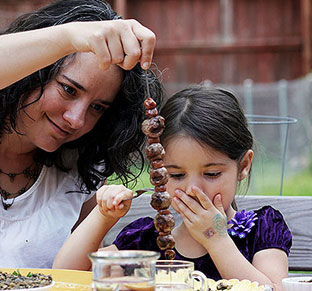 Hungry for more?
Be notified when National Geographic releases my memoir.
Simply fill in your details below.