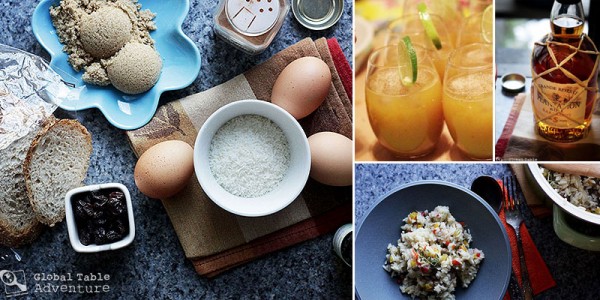 This week I flew from 80 degrees and sunny in Tulsa, to 35 degrees and windy in New York City. I wandered through a snowstorm in Manhattan, purchased a silk hat made in Tibet for $6,  and slept 50% less than normal.  I spent the week introducing myself to publishers all week: "Hello, I'm Sasha Martin. Let me tell you about a little dream of mine  …"
After all that excitement (I can't wait to tell you more), it was wonderful to end the week at my dear friend, Marina's apartment in Brooklyn and eat this incredible meal typical in Saint Kitts & Nevis. Everything about it is soothing, comforting and… well, there's rum glazed coconut bread pudding… need I say more?
P.S. That Killer Bees recipe? Marina found that one and she did an aces job.
All recipes and meal review will be available by Monday morning.
Peas n' Rice [Recipe]
 A hearty combination of rice, pigeon peas, peppers, onion, celery and thyme. (Psst – this would be perfect with the coconut crust fish from our Nauru Global Table.)
Rum Glazed Coconut Bread Pudding [Recipe]
Made with hot butter, rum, brown sugar, coconut milk, raisins, and … well, bread. This is the bees knees
Killer Bee Cocktail [Recipe]
Speaking of bees…  watch out, friends. This drink is the most alluring combination of passion fruit, honey, and a tingle of black pepper and fresh, grated nutmeg.
WEEKLY GIVEAWAY
UPDATE: Congratualtions to Christina B., whose My Global Table pinboard is filled with just so many yummies! Email me by November 26, 2012 to claim your prize. 
TO ENTER: 
Follow these 3 easy steps for creating your dream "My Global Table" Pinboard… and be sure to link to your Pinboard at the bottom of this post. That's it!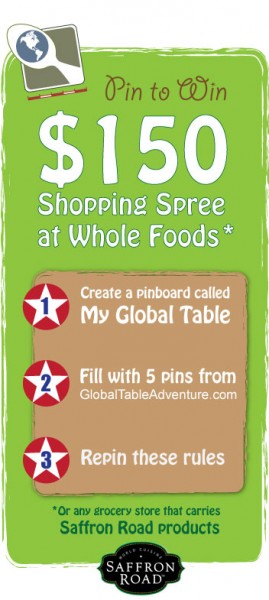 Note: You must be a member of Pinterest.com to enter, and you must be following Global Table Adventure's Pinterest pages . If you do not have a Pinterest account, you can sign up for one here . Please link to your pinboard in the comments below.
BONUS: You must create the Pinboard to be entered, but for extra entries, comment here how you'd spend the $150, share the contest on Twitter and on Facebook.
Easy peasy!
This contest launched August 22, 2012 and ends November 18, 2012 at Midnight.
A special word…
I'm proud to have Saffron Road as a partner, supporting our Adventure to eat the world. I love that we share similar values… just read what they have to say about the food they make:
We know that great food begins at the farm, so we source our ingredients from only the finest producers available. It's no coincidence that we buy from small sustainably run family farms. All of our livestock are humanely raised with 100% vegetarian feed and are never given antibiotics. Our halal tradition demands their proper care and welfare.
Glorious.
If you want to be a gem, you'll check out their pinterest pages, too.