Ohh, ok. Here we are. This is Morocco week at the Global Table (and the crowd goes wild!). To be honest I was pretty nervous about this week. As far as I'm concerned, Morocco is a culinary giant. This comes from growing up in France, where delectable Moroccan dishes make regular appearances on Parisian menus. As I got to reading, however, I quickly realized that the food – although filled with intensely fragrant, glorious spices like cinnamon, cumin, saffron, and ginger – can be wonderfully straightforward in preparation.
Three cheers for that!
Perhaps this has to do with living in a hot, mountainous country – energy is better preserved than squandered, even in the kitchen. Case in point: the other day I watched Anthony Bourdain enjoy a whole roasted lamb in the desert during one of his early shows. This epic feast amounted to no more than a hot fire, a good piece of meat, and time enough to cook it. Sometimes that's all we need.
Simple, simple, simple.
And then there's the national dish – couscous. Couscous can be made as complicated or as simple as you'd like (as in, add-hot-water-and-eat-simple). Not to say that anyone in Morocco would ever just add hot water to couscous. Nope. Making couscous is an art – a Moroccan cook's rite of passage. I tried my hand at it a few weeks ago when we made a steamed couscous for Mauritania. I called it "Rainy Day Couscous" and it's a great beginner's lesson for steaming couscous. The recipe would fit in just fine on the Moroccan table, as the method is identical. Even though steaming it sounds complicated, making couscous is really no different than steaming broccoli. The only difference is that you just steam the couscous 2-3 times instead of just once.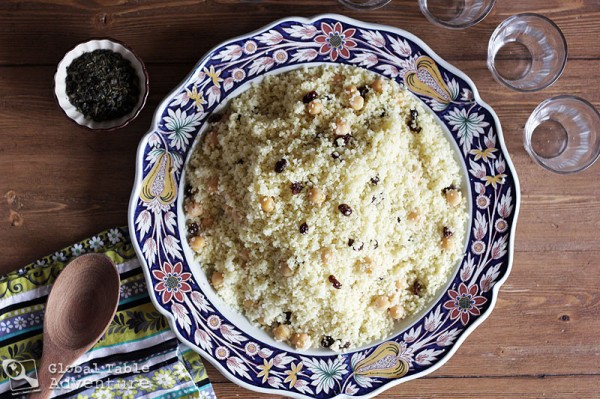 Then there's the tagines [Recipe]. These are the conical, clay cooking vessels which are used to slow cook meats, fish and even vegetables, creating dishes predictably called tagine. In this classic dish, the food braises in its own juices, concentrating the spices. Meat, such as lamb, is typically served with a smattering of dried fruit (like figs, apricots, or dates), while chicken is generally paired with preserved lemons and olives. There's nothing simpler than tossing meats with spices and letting it slow cook (most tagines don't even call for browning the meat). Tagine is served with rustic country bread or baguette and usually scooped up with the right hand in a piece of bread.
From what I can tell, Moroccans have quite the sweet tooth. Honey and sugar make their way into tagines, carrot salads [Recipe], semolina pancakes ("Beghrir") [Recipe], and – of course- the famous, outrageously sweet Moroccan mint tea. We also made this recently and loved it. When I was in Tunisia I was told that north Africans enjoy hot tea in hot weather because of – get this – the cooling effect it has. The hot tea causes tiny droplets of sweat to form on your forehead, which – in turn – catches the slightest breeze and cools you down.
It's rather brilliant.
Oh, how I'd love a cup of this right now…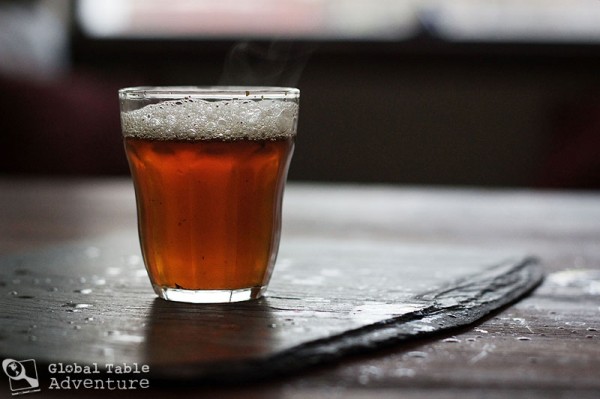 And, of course, there is so, so much more to Moroccan food than what I wrote here.
What are some of your favorite foods from Morocco?