Follow the rainforest trails, past the ancient and active volcanoes, through patches of arid desert and towering Mayan ruins, and pull up a chair to the Guatemalan Global Table. Just don't sit too close – you need room for your belly to grow.
And, I promise you, it will grow.
For starters, you'll be chowing down on pupusa – the awesome corn (masa harina) snack packet we made for El Salvador [Recipe].
Then there'll be a heaping portion of Guatemalan mole, called recado or pepian, often served over chicken [Recipe]. This clay colored sauce is made with a filling blend of pumpkin/squash seeds, sesame seeds, dried peppers, tomatoes, tomatillos, cinnamon and more. Another recipe that uses sesame and pumpkin/squash seeds is called Jacon – this dish is deep green thanks to loads of cilantro and tomatillos. Both will fill your belly right up!
If you can handle a few happy carbs (I'm always up for a good carb load), then you really should eat these dishes with rice or corn tortillas [Recipe]… the fresher the better. If you can make tortillas as well as this lady, you'll forever be my hero.
Speaking of corn tortillas, I should mention that Guatemalans enjoy many of the same foods that Mexicans and other central American peoples. Quesadillas, tortillas, flan , and rice cakes are all on the menu.
Guatemalans make all manner of dishes and drinks with coffee and chocolate [Recipe], thanks to the absolute perfect growing conditions. I have a feeling I'd be in big trouble in Guatamala – a total mess, constantly hyped up on caffeine and sugar.
Either that, or I'd get lost in the ancient ruins, looking for radishes.
Because, yes, in case you were wondering, Guatemalans eat a lot of radishes.
Who knew.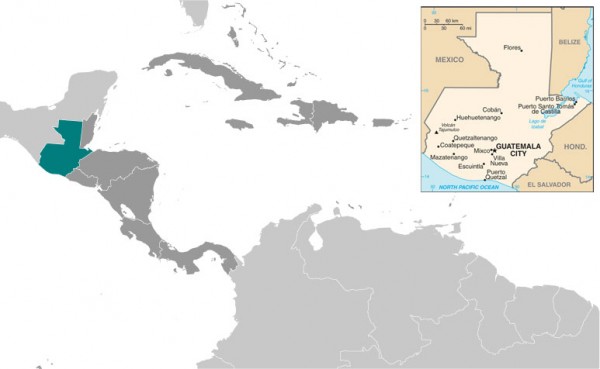 Photos: Chensiyuan, Andrea Rubio, Yogi, Gusjer, CIA World Factbook