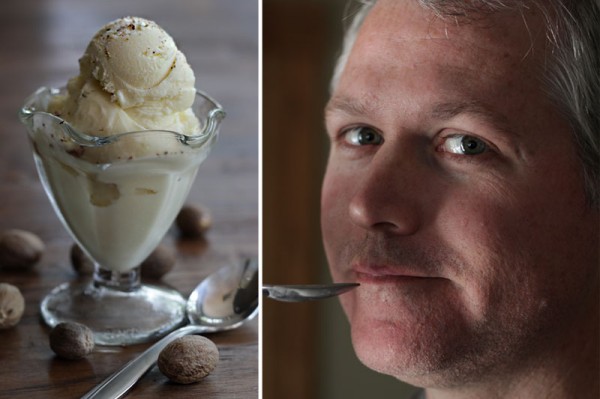 THE SCENE:
I was almost asleep when it hit me. My eyes popped open.
"Did you put the Oil Down away?" I asked.
"The what?" Keith replied, groggily.
"The Oil Down. The stew?" I waited, blinded by the piercing blue glow radiating from my alarm clock.
"No?"
I shut my eyes tightly and shook my head. Keith always answers my questions with a question when I'm upset.
"How long has it been out?" he asked.
I didn't answer.
"Is it still good?"
"No." I felt tears well up in my eyes even as I said it. I tried not to blink, hoping they would stay put.
This was a first. An entire dish, gone uneaten by Mr Picky and Miss Ava. Sure, I had sampled it earlier in the day, while flitting around the kitchen, but I had saved the bulk of the stew for later, for a time when we could all sit down together to eat as a family.
Here we were, hours later – in bed, almost asleep. Several urgent errands had left the Oil Down forgotten on the stove top. Even though we could all still sample the nutmeg ice cream (and we adults could drink the rum punch), there would be no Oil Down.
I thought about the hours. The chopping. The yucca. A few tears slid down my cheeks.
The yucca.
Of course things went wrong. As I lay in bed, staring at the fan's shadow swirling against the dark ceiling, the tears came down full force. This tuber was mocking me. Since I began cooking meals from around the world I have had zero success with yucca, and we're more than 1.25 years through the project.
The irony is this yucca dish tasted good – a little rich, but good. I thought the yucca and I were on our way to a new beginning. I thought I may have tamed this wild tuber.
Clearly, I thought wrong.
I wiped the tears from my eyes.
"Where are you going?" Keith asked, as I tiptoed out of bed.
"To eat some nutmeg ice cream."
THE FOOD:
Oil Down with Yucca (Vegan) [Recipe]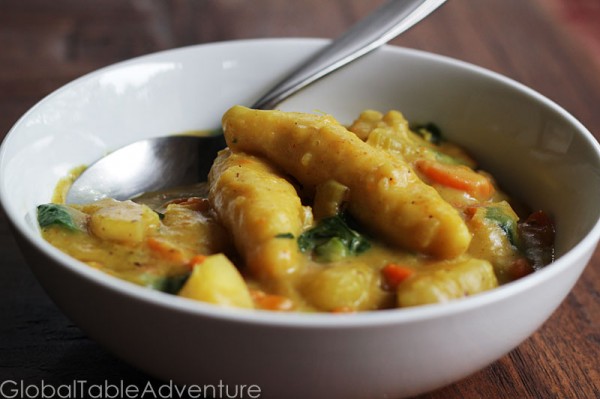 What I like most about this dish:
This thick coconut infused stew would be great stick-to-your-ribs ski food. If you're looking for a blend of Indian and Caribbean sensibilities, this is it.
What I like least about this dish:
The food sticks to your ribs a little too much. I think my waist expanded just thinking about it. Yes. Yes, it did. Next time I'll go for light coconut milk.
Spinners and Sinkers [Recipe]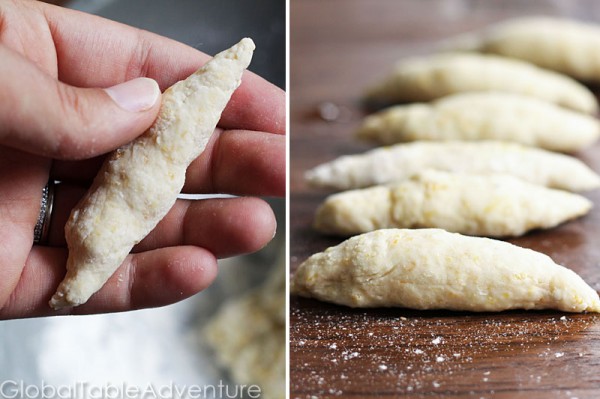 What I like most about this dish:
The new shape was fun to make. Will definitely be trying these again.
What I like least about this dish:
While the flavor was good, they came out surprisingly dense. Also, the coarse cornmeal, while adding an interesting textural element, was distracting. Next time I'll go with a fine grind.
Nutmeg Ice Cream [Recipe]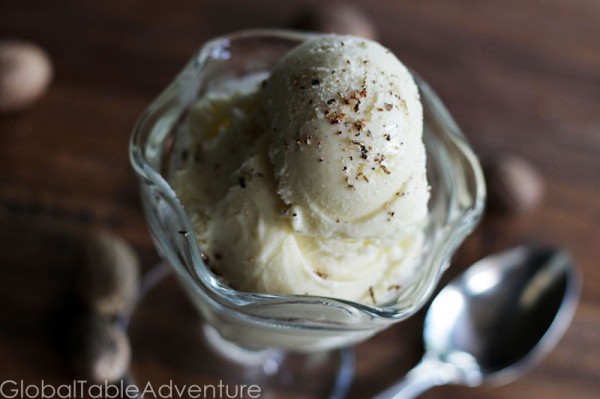 What I like most about this dish:
Nutmeg. Ice cream. Are you kidding? From the moment I read about this combination (and I had never heard it before cooking Grenada), I was in love with the idea. Upon sampling, it completely matched up with the dreams I had of this treat. I expect we'll have a long and happy life together. Oh, and this was Ava's first time eating ice cream. Success.
What I like least about this dish:
Us girls loved it. Mr. Picky was funny. He said "I like the topping but the rest tastes too gingery." I had no idea what he meant. I told him it was all nutmeg. "Oh," he said. "I thought it was ginger ice cream."
Caribbean Rum Punch [Recipe]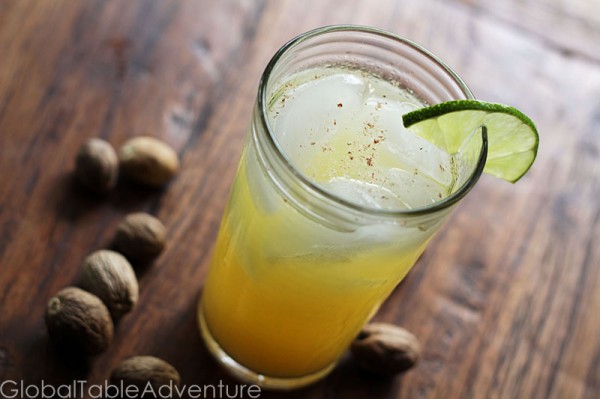 What I like most about this dish:
It's easy as 1234 (see recipe for clarification). Perfect for an impromptu gathering – everyone has juice, rum, and limes – right??
What I like least about this dish:
I would like it a bit sweeter.
Ava's Corner: