What are you in the mood for? Because, this week, we probably have it on the menu.  Choose between lobster or goat, mushrooms or plantains, a vegetarian sandwich or fish. While Keith gets nervous seeing all these options, I smile from ear to ear with gratitude. After all, dinner was so boring this time last year.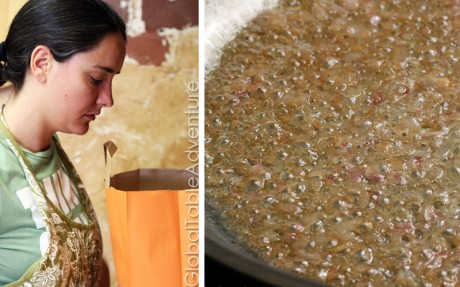 COMOROS
Lobster [Recipe] with Vanilla-Shallot Dipping Butter [Recipe]
Fresh lobster boiled and served with warm butter seasoned with shallot and fresh vanilla bean.
Comorian Sandwich [Recipe]
Baguette spread with a little mayonnaise and piled high with sliced cucumber, ripe tomato, and hard-boiled egg.
DEMOCRATIC REPUBLIC OF CONGO
Fish in Banana Leaves with Tomato & Onion (Liboké de Poisson) [Recipe]
Tilapia steamed inside a banana leaf packet with sliced tomato and onion. A little lemon juice brightens the flavor.
Congolese Mushrooms with Fresh Lemon Juice [Recipe]
A blend of shiitake, baby bella, and white button mushrooms cooked with oil and lemon juice.
REPUBLIC OF CONGO
Grilled Goat meat in Banana Leaves (Liboké de Chèvre) [Recipe]
Cubed goat meat marinated with peanut butter and cayenne pepper, then layered with poblano peppers and onion in a banana leaf packet.
Mashed Plantains [Recipe]
Steamed plantains mashed with butter.