Get your taste buds ready – this week's Chilean Global Table is going to be sweet. As in … full of sweets. I never had much of a sweet tooth… until I was pregnant with Ava. Then it was "give me ice cream" and "let me eat cake" nonstop for 9 months. Well, really 10 months, since I was two weeks late. Two weeks. Let's just say I haven't recovered. And neither has my swollen sweet tooth.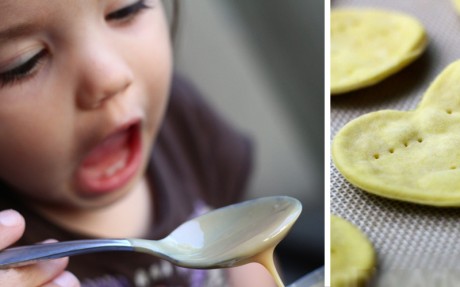 Chicken Pastel del Choclo [Recipe]
Shredded chicken tossed with onion, hardboiled egg, green olives, raisins, and spices. The entire mixture is then covered with smooth corn puree.
Pan Amasado (Chilean Rolls) [Recipe]
Rich, dense rolls made with yeast and lard.
Chilean Alfajores [Recipe]
Alfajores are popular throughout South America, but our version is typical to Chile. In Chile, Alfajores are soft, curled cookies- usually flavored with orange zest and/or liqueur. On their own they are doughy, rather than sweet – making the perfect base for an ooey gooey spoonful of sweet Dulce de Leche.
Dulce de Leche [Recipe]
Sweetened Condensed Milk cooked until caramelized.
Crema de Limon (Chilean Iced Lemon Sherbert) [Recipe]
Crema de Limon, sweet and tart, is made with frozen, whipped evaporated milk, condensed milk and fresh lemon juice.