This menu represents what I found most exciting about Algerian food: the flavors are intense, the spices are hot, and the foods are a blend of the proverbial melting pot.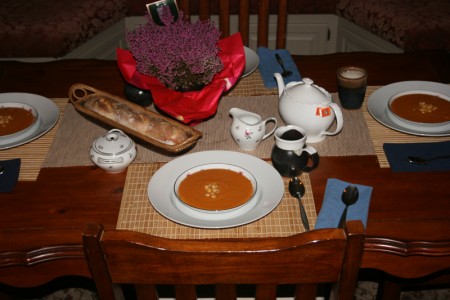 Hummus bi'l Kammun (Chickpea Soup) [Recipe]
Pureed chickpeas laced with garlic, cumin, paprika, and harisa.
Algerian Sunset Salad [Recipe]
Blood oranges, fresh fennel, black olives, and mint make up this unusual salad.
Hot Algerian Lasagna (Shakhshukha al-Bisakra) [Recipe]
This lasagna contains ground lamb meat, diced potatoes, chickpeas, and harisa. Two teaspoons of cayenne make this dish fire-hot. Gruyère cheese cools things down.
Algerian Green Beans [Recipe]
Seasoned with garlic, cumin, paprika, and cloves.
Slivered almonds give this dish bite.
Baguette (French Bread) [Recipe @KAF]
French bread is commonplace in Algeria.
The crusty bread soaks up flavor and helps diners pick up food without silverware.
Bil Zbib (Sweet Couscous) [Recipe]
Couscous is a staple of Algerian cuisine. My version of Bil Zbib contains dried apricots, plums, and golden raisins.
Llokume (Turkish Delight) [Recipe]
Since Algerians love Llokume, I am making this confection again so that I can perfect the recipe.
Harissa (Harisa)  [Recipe]
This chili paste is used in a lot of Middle Eastern cooking. In our menu Harisa is used in the Hot Algerian Lasagna and in the Chickpea Soup.