Makes approximately 50 pieces
Llokume was popularized in Eastern Europe and North Africa during the Ottoman empire. This recipe makes enough Turkish Delight to share. Bring the confection to a special friend or a party, and you will learn why Albanians are just one of many cultures that find this dessert delightful.
Ingredients:
For the candy:
4 cups granulated sugar
1 Tbsp real lemon juice
1 1/2 cup water, plus an additional 2 3/4 cups
1 cup cornstarch
1 tsp cream of tartar
1 Tbsp vegetable oil
1 tsp rose water
1 tsp orange extract
yellow food coloring
red food coloring
For the coating:
2lb bag confectioners sugar
1 cup cornstarch
Method:
SPECIAL NOTE: Be careful when cooking with boiling hot sugars. Only use glass or metal bowls/containers. No plastic.
Day One:
1. In a medium, heavy-bottomed saucepan combine sugar, lemon juice, and 1 1/2 cups water. Bring to a boil over medium heat, stirring until the sugar dissolves. Reduce heat and simmer until the mixture reaches 240F, or soft ball, on a candy thermometer. Remove from heat.
NOTE: Sometimes thermometers are slightly off. Because of this, my Turkish Delight came out rather soft. To avoid this, drop some of the sugar mixture into cold water. When it cools off, bite it. If it has the texture of a chewy ball, you are on track. Here's a video that might help. A few degrees over is better than a few degrees under.
2. In a large, heavy-bottomed saucepan combine 3/4 cups water with cornstarch and cream of tartar. Stir, removing all lumps. Add remaining 2 cups of water. Stirring continuously, heat the mixture over low until it bubbles, turning thick and glossy. A wooden spoon will stick straight up in the glue-like mixture.
3. Ladle a little of the sugar mixture at a time into the cornstarch mixture. Completely whisk  each ladle of the sugar mixture into the cornstarch mixture, until it is fully incorporated.  Your bicep will be burning when you are done, and the mixture will form thick ribbons when dangled from the whisk.
NOTE: Do not rush this process or you will get lumps.  If you get lumps, your llokume will not thicken up properly. Here is a photo of improperly prepared (i.e. lumpy) llokume:
4. Once the mixture is smooth and combined, heat on low for another hour, stirring occasionally. There should be no bumps.
5. Meanwhile, line 2 small casseroles (8×8) with oiled aluminum foil (parchment paper is okay, but it is harder to get to lay nicely in the corners).
Disposable tin foil pans with lids are good for this project since the mixture has to sit around for a day (I don't want bugs, how about you?).
OPTION: You can just use one casserole and layer your two flavors on top of each other. They will be twice as thick, however. I did this and really liked it.. here's a picture of orange and pink together:
5. Work quickly once the mixture is off the heat. Separate mixture into 2 small bowls.  To the first bowl: add rose water and one drop of red food coloring, making a pink hue. To the second bowl: add orange extract and at least 4 drops of yellow food coloring, making an orange hue.  6. Working quickly, pour one mixture into each casserole, making sure it flows evenly.
NOTE: If you go too slowly, the mixture will set up in mounds and there isn't too much you can do about it. I did make this mistake and managed to flip over my warm (not hot!!!) Llokume onto the uneven side. The weight of it flattened the bumps out.  Be careful if you do this and have someone help you.
7. Do your dishes. They are easy to do right away. Wait a day, or even several hours, and you just might pull your hair out.
8. Let sit, covered, for 24 hours. Do not refrigerate.
Day Two:
1. Unmold the candy onto a clean, odor free cutting board (or counter). Using an oiled knife, slice the Turkish Delight into bite size pieces, approximately 1″ x 1.5″.
2. In a large bowl, sift together cornstarch and confectioner's sugar.
3. Fill a large casserole (a lasagna pan will do) with the 1/2 coating mixture (confectioners sugar and cornstarch). Lay out the Turkish Delight carefully, leaving at least 1/4″ between each candy. Cover with remaining 1/2 of the coating mixture.
4. Now that the Turkish Delight is buried in the coating, let stand, covered, for 2 days. This critical step develops a crust that keeps the soft, moist interior from sweating outwards. If some candies do start to "emerge" from their sugary bed, just cover them back up.
Day Four:
Enjoy your Turkish Delight!
Store leftovers in the coating mixture. Do not refrigerate.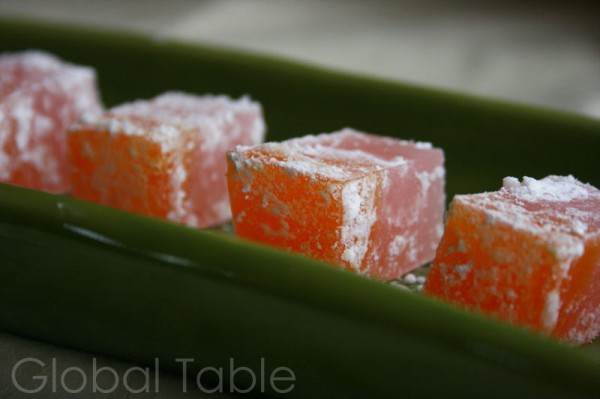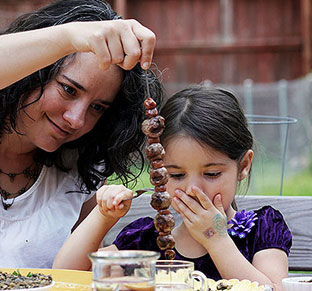 Hungry for more?
Be notified when National Geographic releases my memoir.
Simply fill in your details below.