Serves 2-4
Hummus bi'l Kammun is velvety smooth. The smoky blend of cumin, paprika, harisa, and garlic make this soup a wintertime treat. As a special bonus, this soup is vegan.
NOTE: Much like chili, our soup benefits from a day of rest while the flavors deepen. When reheating, thin to desired consistency with a little water.
Ingredients:
2 15 oz cans drained and rinsed chickpeas (or 3 cups prepared, dried chickpeas)
4 garlic cloves, crushed
1/4 cup olive oil
1 tsp ground cumin
2 tsp paprika
1 tsp harissa (or more to taste)
2 Tbsp tomato paste
1 quart cooking water
salt
pepper
Method:
1.     In a large pot over medium heat, add garlic, olive oil, cumin, paprika, harissa, tomato paste, salt and pepper. Simmer for 5 minutes. Add water and chickpeas (reserve ¼ cup chickpeas for garnish if using shallow bowls). Stir to combine and bring to a simmer.
2.     Use an immersion blender to make a coarse puree. Simmer gently, uncovered, for an hour. Stir occasionally.
3.     Puree again, this time getting the soup perfectly smooth (you may also use a blender). More water may be added until desired consistency is achieved.
4.     Ladle into serving bowls. Garnish with a drizzle of olive oil and, if using shallow bowls, reserved chickpeas. Serve with warm, crusty bread.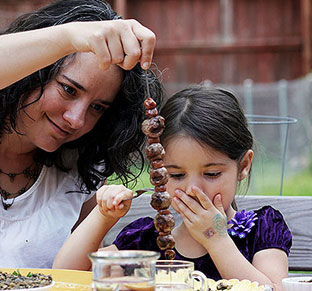 Hungry for more?
Be notified when National Geographic releases my memoir.
Simply fill in your details below.