Harissa (also Harisa) is chili paste used to flavor many north african dishes, specifically in Tunisia, Algeria, Libya, and western Sicily. The condiment can be made mild, medium, or hot.
For those who don't feel like making Harissa from scratch, middle eastern markets sell the paste in cans. Whole Foods sells Harissa in the spice aisle (you just add water and olive oil to make the dry mix into a paste).
The main components of Harissa:
2 ounces dried Guajillo chili peppers,
soaked for 30 minutes, seeded and stemmed


2 ounces dried Anaheim chili peppers, mild,
soaked for 30 minutes, seeded and stemmed
5 Garlic cloves, peeled
2 Tbsp water
2 Tbsp Olive Oil, plus extra
1/2 tsp ground caraway
1/2 tsp ground coriander
1 1/2 tsp salt
1. Combine all ingredients in a food processor. Pulse until mixture creates a paste.
2. Cover with extra olive oil and store in the refrigerator.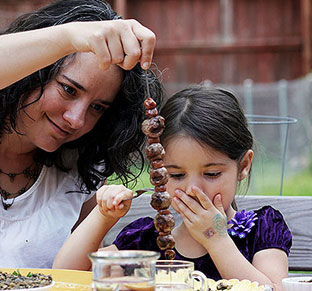 Hungry for more?
Be notified when National Geographic releases my memoir.
Simply fill in your details below.