Serves: 4
Bil Zbib is eaten for breakfast or dessert in North Africa.  Serve this sweet couscous warm in the winter and cool in the summer.
Ingredients:
1/4 cup golden raisins
4 dried apricots, diced
2 prunes, diced
1 1/2 cups water
1 1/8 cup dried couscous
2 tablespoons melted butter
2 tablespoons sugar
1 tsp cinnamon
1/8 cup powdered sugar
Method:
1.  In a small pot combine the raisins, apricot, prunes, and water. Heat until boiling. Add couscous, cover, and turn off heat. Let sit 5 minutes.
2.   Add butter, cinnamon and granulated sugar. Gently fluff the couscous; pile in a mound on a small shallow platter. Dust with powdered sugar.
3. Serve warm or cool.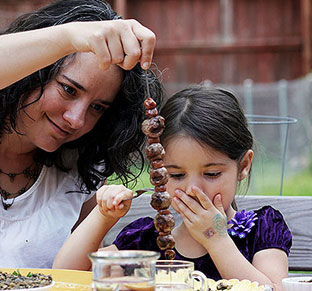 Hungry for more?
Be notified when National Geographic releases my memoir.
Simply fill in your details below.