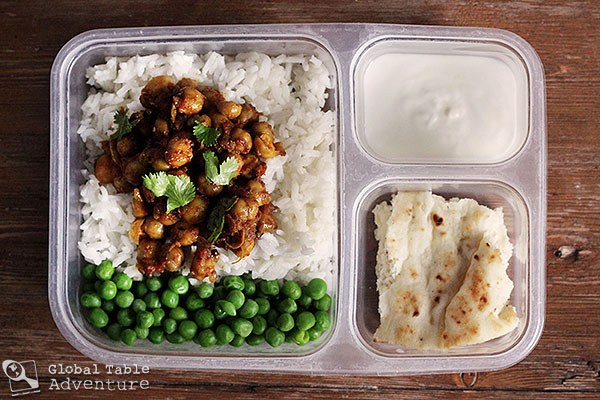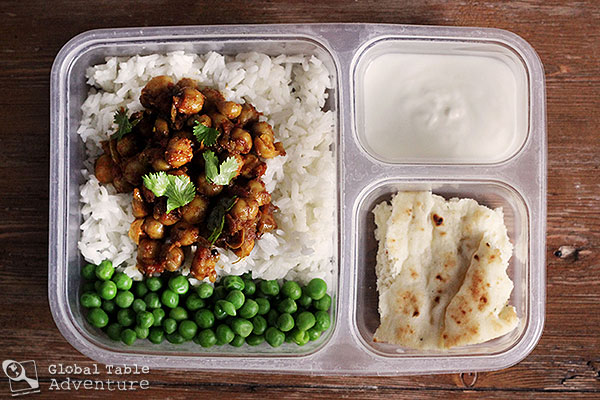 Ava's school encourages outdoor play – even when it snows. For this I am  SO grateful (if kids in northern climes like Alaska, Sweden, or Canada can go out to play when it's cold outside my daughter can handle it, too). But if she's going to face the elements, she also needs a hearty lunch to keep her furnace running.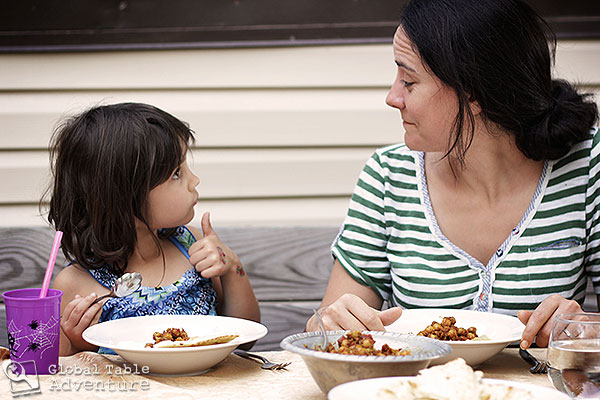 Curry is great for taking the snarl out of the winter air. This vegetarian chana masala warms with tomato cooked down into a bed of spices – cumin, coriander, turmeric, garlic and ginger. A healthy toss with chopped Serrano chilies will add pleasing heat, but it's easily left out of the dish for mild sensibilities.
As for the rest?
Like most kids (?) Ava loves rice. And a heaping spoonful of plain yogurt and soft naan balances any heat. Finally: green peas because, yum!
That's Ava's lunch. What's in your lunchbox?
Tips
Add a little salt to the plain yogurt to give it a savory quality little ones will really enjoy
While you can certainly make naan (I have a yogurt naan and a cumin naan from Afghanistan), there are several great brands available at the market nowadays – Ava loves the garlic naan (and her immune system thanks her).
If you want to mellow the spices in the curry, make sure to use ground cumin and coriander – the whole seeds can overwhelm young taste buds.
Why show you Ava's lunch?
Ava's Around the World Lunches began when I shared a few of Ava's globally-inspired lunches on Instagram and Facebook. Turns out a lot of people are looking for lunch ideas – whether for school or work.
In this weekly column, I share one of our Around the World lunches with you. I give you tips, like where to find ingredients or possible substitutions. If you have ideas for lunches you'd like to see or challenges you need help dealing with, let me know in the comments!