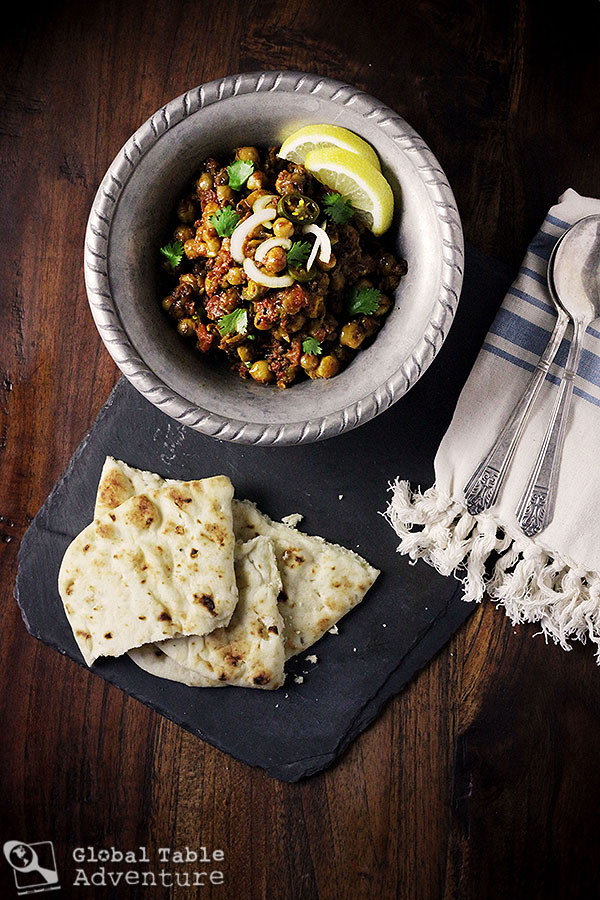 Psst… Be sure to enter the giveway at the bottom of this post!
I want to tell you a story about Chris Guillebeau – a man who traveled to every country in the world.
It took him 10 years.  He's not the first to do it, and he won't be the last. And yet his quest is remarkable.
Let me explain.
From Quest to Calling
I stumbled across Chris' journey a few years back  when he had about three years left in his quest. I read with amusement about his jogging escapades on strange terrain, how airport lounges can double as offices (and triple as bedrooms!), and how he managed to maintain relationships with his family and friends all while exploring the world.
Like many people, I was immediately smitten with Chris' quest.  It's not simply that his journey mirrored my own (cooking every country in the world for anyone stopping by) – but it was the fact that Chris was able to escape the confines of standard travel blogging to become a remarkable life blogger. That is to say, he used his journey as a platform to teach bigger lessons about life, work, and love.
By choosing the unconventional path, he'd uncovered what I was just beginning to learn: Quests  -like visiting every country on earth or cooking every country – will teach you as much about yourself as it does the places you're learning about (if not more).
Testing the theory
Chris had a hunch he wasn't the only one who'd been transformed by a quest. One day he put out a call for reader stories that he'd share in his book The Happiness of Pursuit. Above all, he wanted to inspire more people to live out their dreams. Hundreds of people wrote in, from all corners of the globe.
I was one of those people. To my delight, my story was accepted along with dozens of others.
After several interactions I can tell you this about Chris:
His kindness is staggering.
He gets more done in 24 hours than most people do in a month.
Something he says or writes will probably change the course of your life. Maybe it'll be subtle, maybe it will be big. But something will change.
When you're done, you're still not done.
I just finished reading the book.
I particularly loved the stories that showed people expanding on their quests – like a birdwatcher who went from setting a record in Missouri  (sighting 275 distinct bird species), to eventually seeing more than 500 distinct species a year and then, finally, going for the world record.
I know a good deal about what it takes to set a goal and complete it, and yet I still found myself writing notes in the margins, discovering new ideas, and getting just the kick in the pants I needed to reinvigorate my quest.
After eating every country, I can definitely say that my appetite has been whetted, not sated. I want to learn more, understand better, and continue to share my love of world cuisine. And I want to make it easier for you to do this. Reading his book is helping me put actionable steps to what this will look like.
Edible Memory
The quests we undertake have a ripple effect on our lives. For Chris, traveling gave him a love of Indian culture and especially Chana Masala. He's now a vegetarian and finds comfort in this highly spiced (and often spicy) Punjabi dish.
I like to think of his love for Chana Masala as a symbol of his quest and all the ways traveling the world has changed him. It might seem small at first, but the reality is this: Every time he eats this curry, he can think back to the places he's been and still hopes to see. This curry is everything.
Chana Masala is enjoyed in both India and Pakistan. It is highly spiced and often spicy. A souring agent like mango powder or crushed pomegranate seeds is typically added to the curry. While both are available at Indian markets, I substituted a little extra lemon juice to create a similar flavor. I like the curry even better the day after it's made, once all the flavors have time to mingle (speaking of which, whole coriander seeds have an intense flavor – substitute ground coriander if sensitive or new to curries).
A note on the spicing – one chili pepper makes the mix hot – build up from there if you have a high tolerance.
Serve with naan or homemade roti. Plain yogurt makes a nice side.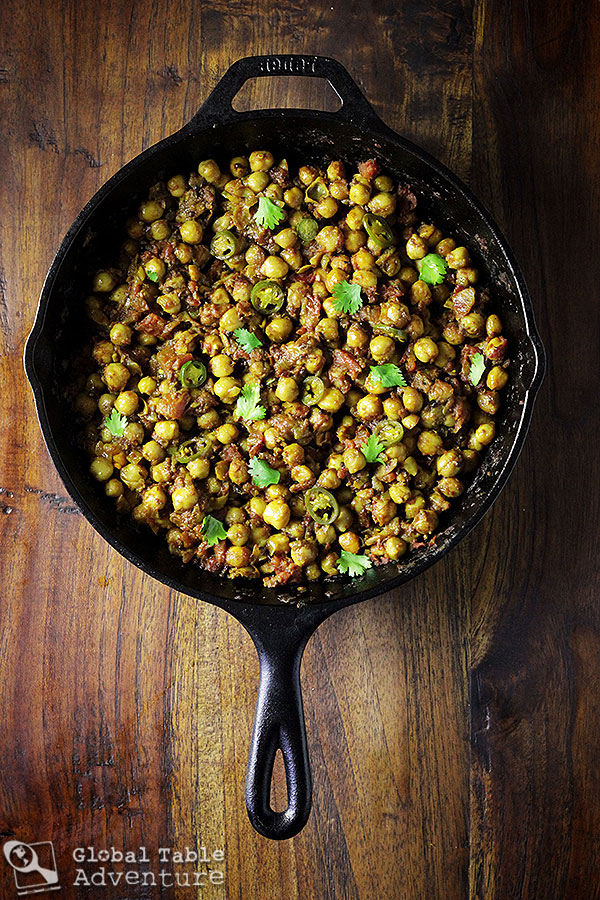 Ingredients:
1 teaspoon cumin seeds
2 teaspoons coriander seeds (or ground coriander)
1/4 cup vegetable oil
1 onion, chopped (reserve a little for garnish)
1 teaspoon ground turmeric
1 tablespoon homemade garam masala
4 cloves garlic, grated
One knob ginger, peeled and grated (about 2 teaspoons)
1 15 ounce can chopped tomatoes
1-3 green chili peppers like serranos (to taste), sliced
Two 15 ounce can chickpeas, rinse and drained
Juice of half a lemon
Garnishes:
lemon slices
onion slices
a handful torn cilantro leaves
Method:
Add seeds to hot vegetable oil in a medium skillet or pot. Cook until the spices sizzle and pop like an old fashioned record player (up to 15 seconds)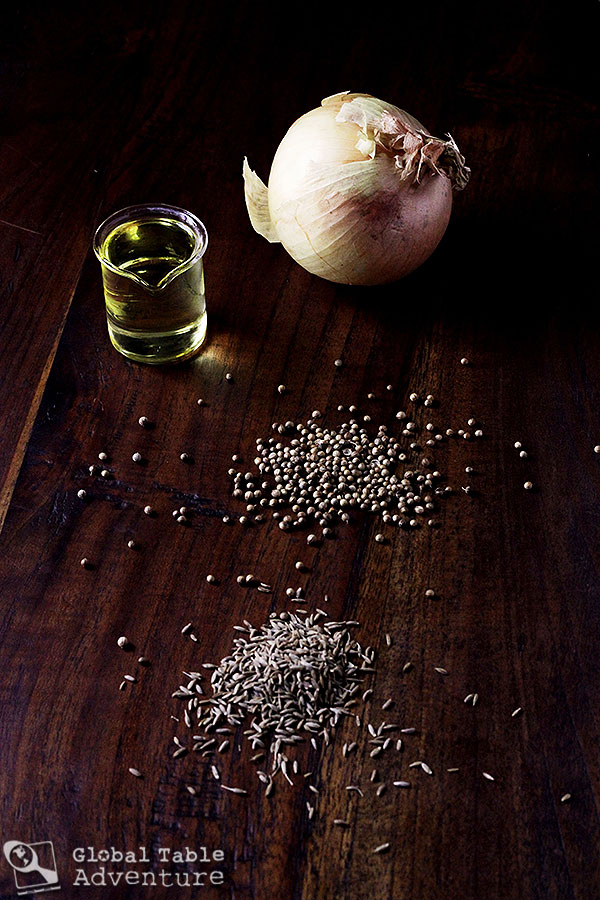 Add onion and cook until soft. Add spices, ginger and garlic and cook for a few moments until fragrant.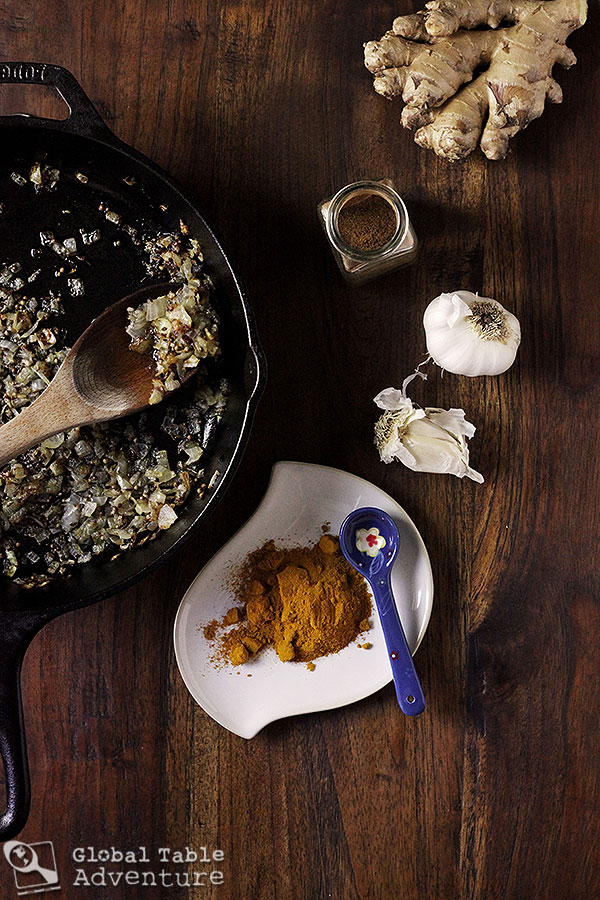 By now your house will smell glorious.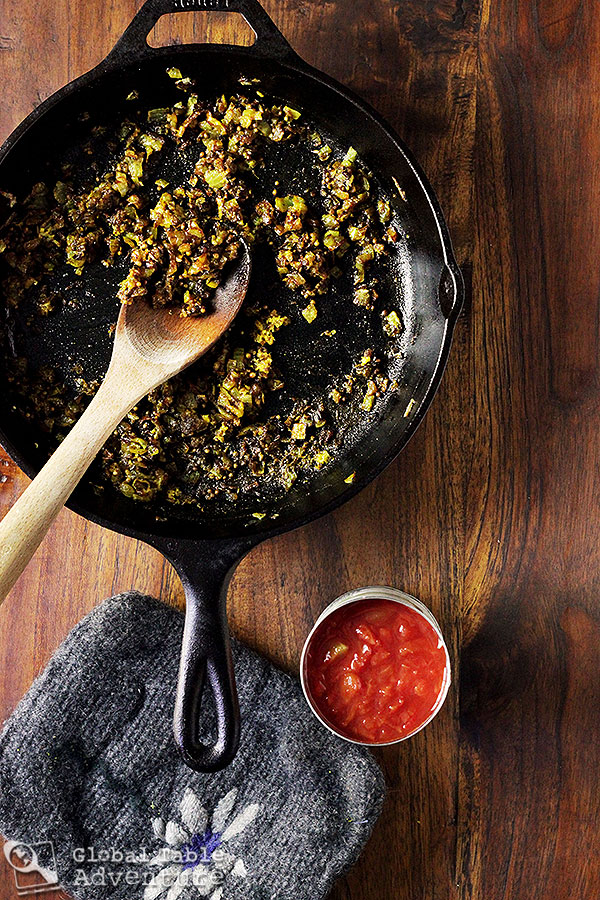 Add the tomatoes and cook until the juices dry out and the tomatoes begin to smell roasted. Add chickpeas and sliced hot peppers. Cover and simmer 10-15 minutes.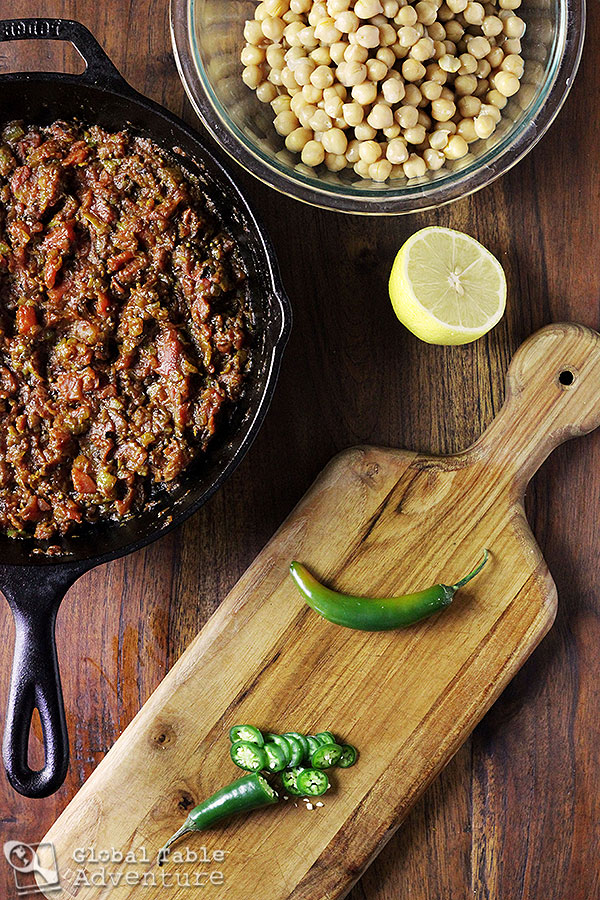 Remove from heat and stir in the lemon juice.  Garnish with cilantro and onion as desired.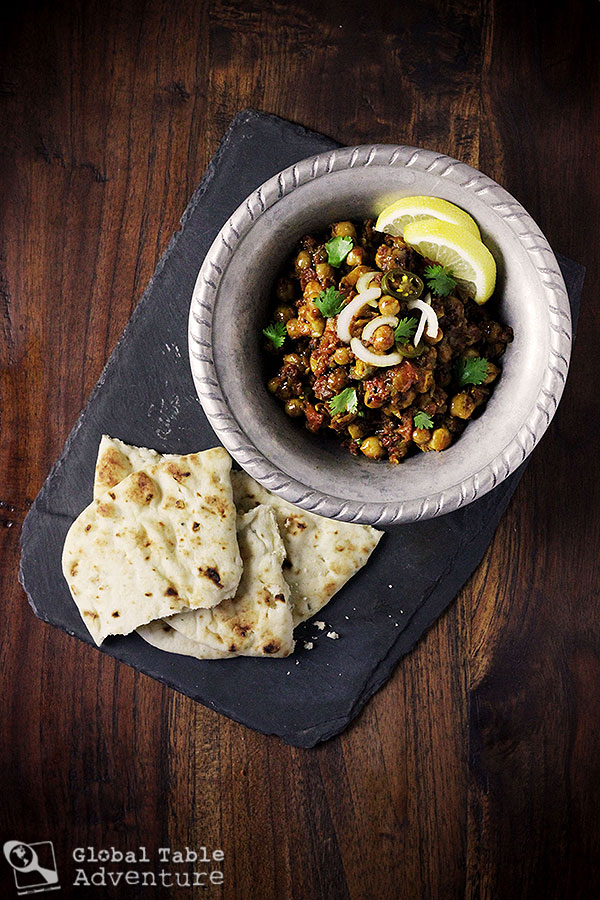 Serve with a nice, soft naan or homemade roti… and add a few spoonfuls of plain yogurt if the heat is too much.
Most importantly? Enjoy with a spirit of adventure.
Since you made it this far…
How about a giveaway? I'd love to offer a copy of The Happiness of Pursuit to one lucky reader. In the comments of this post, tell us what recipe holds a significance for you and why. Then check back next week to see if you're the winner!
xxoo
Sasha
P.S. Here's how much Ava loves the Chana Masala: All the way to her back!