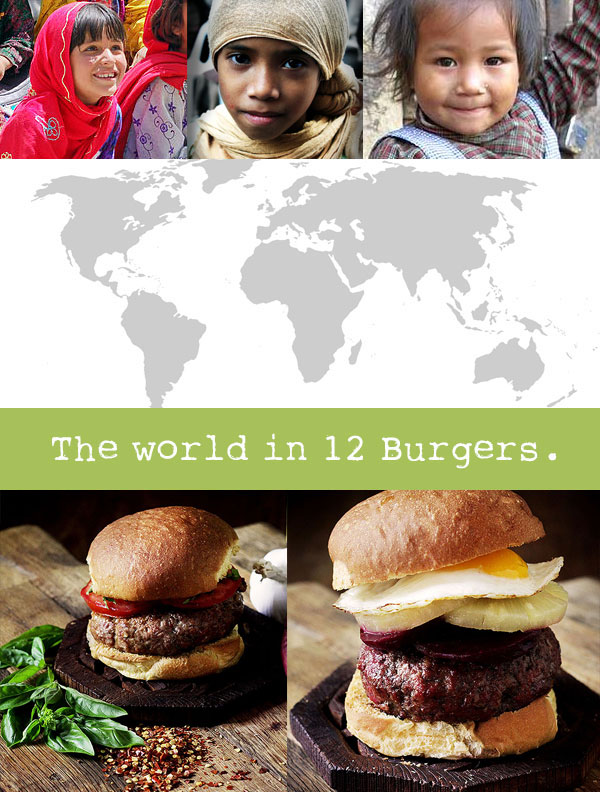 Photos: Afghan girl, by Capt. J. Severns; Filipino girl by V. David, Nepalese child by 

Steve Evans

.
What's cooking in Asia?
Asian food might have you thinking stir-fry and noodle soups, but I'm in the mood for a little imaginative play …
I'm in the mood to make Asian-inspired Burgers.
But first. A warning.
Asia is HUGE.
Not all the flavors are soy sauce and sesame oil!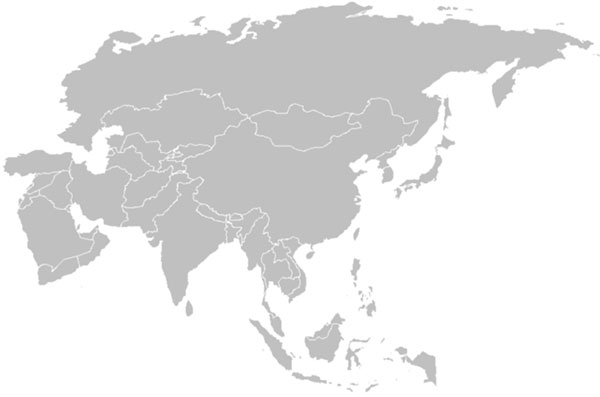 A road map to flavor
We'll start with a burger characteristic of the Middle East – yup – the Middle East is part of Asia, too! Then we'll travel north through central Asia, onto the more "standard" Asian flavors, at which point we'll make a SHARP turn south to hit Oceania… a bonus continent for this round!
As always, these burgers are mere teasers.
If any of them inspire you to explore the continents in more depth, check out more than 650 recipes I made from every country in world. There's something for everyone!
Also, check out the two other editions of this series: Part 1 (Burgers of the Americas & Europe) and Part 2 (Burgers of Africa).
The Middle Eastern | Kofta Burger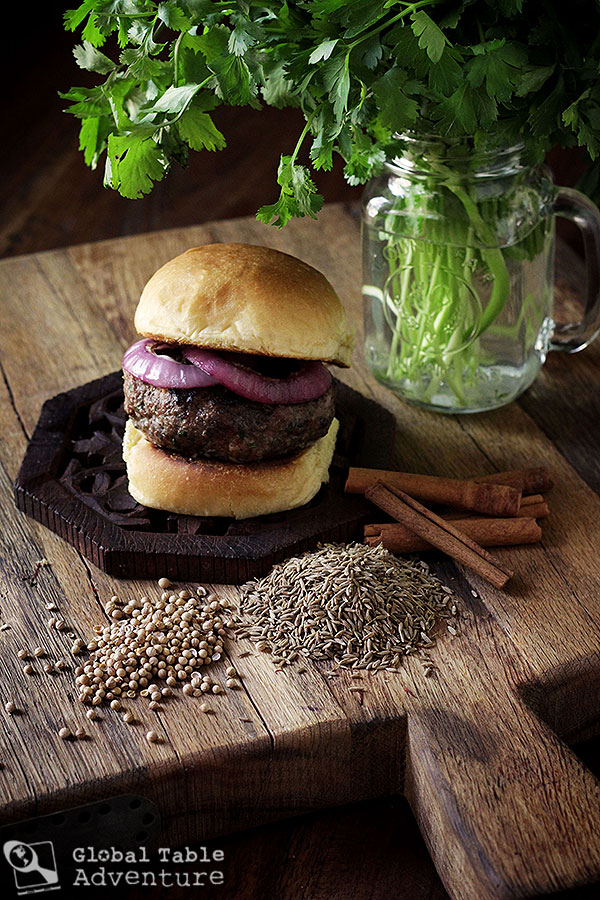 There are so many incredible flavors in the Middle East, but this Kofta Burger captures the essence of them all. Kofta means spiced meatball (often finger-shaped), so the burger is an easy (and logical) adaptation. The flavor profile? Just like the original recipe! Think fresh parsley, cilantro, grated red onion, cinnamon, coriander, and cumin.
Epic, bold and easy.
This is definitely one of the best burgers in this series.
How to make a Kofta Burger:
Combine 1 pound ground beef or lamb with 1 Tbsp fresh parsley (chopped), 1 Tbsp fresh cilantro  (chopped), 1 small red onion  (grated & excess liquid drained off), 1 tsp ground cinnamon, 1 tsp ground coriander, 1 tsp ground cumin, 3/4 teaspoon salt, 1/2 teaspoon pepper. Cook on a well-oiled grill over medium heat until done, flipping once. Serve on a toasted bun and top with grilled red onion.
The Central Asian | Red Pepper and Basil Lamb Burger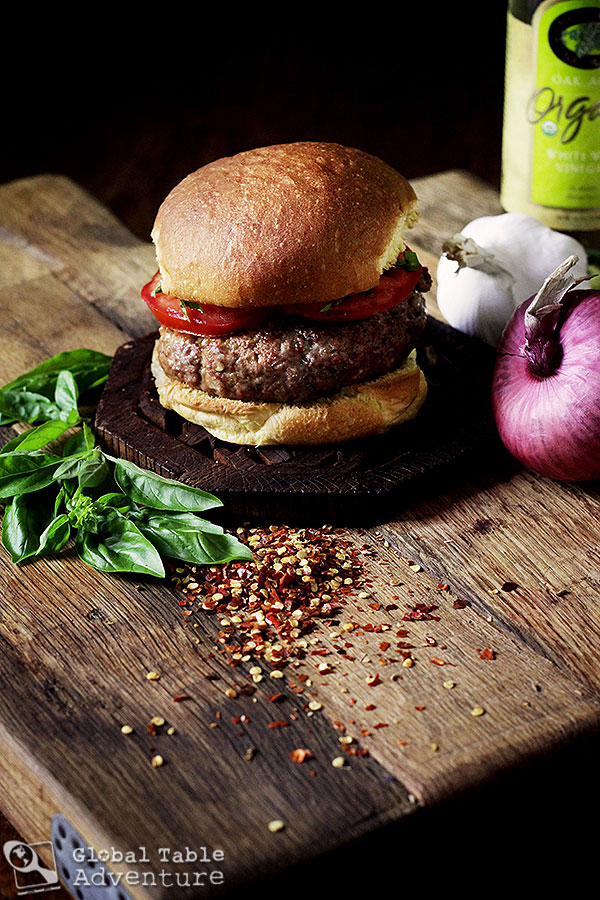 One of the more interesting dishes we tried when my family cooked our way around the world was Lagman Shurpa – a noodle stew from Central Asia with lamb, root veggies, tomato, handmade noodles, a touch of vinegar, basil and red pepper flakes.
We couldn't stop eating it!
So I decided to take inspiration from this wintery soup to make a summery burger. The result is fresh, moderately spicy, and filling… the secret? Give it a little tang with a touch of white vinegar on the bun.
Yum, yum.
How to make a Red Pepper & Basil Burger:
Combine 1 lb ground lamb with 1 small red or white onion  (grated & excess liquid drained off), 2 cloves garlic (crushed), 1 teaspoon red pepper flakes, 1 heaping tablespoon thinly sliced basil leaves.  Cook on a well-oiled grill over medium heat until done, flipping once. Serve on a toasted bun and top with sliced tomato and sirracha sauce for additional heat (optional). For authentic flavor, brush the bun with a little white wine vinegar.
The East Asian | Peanut Satay Burger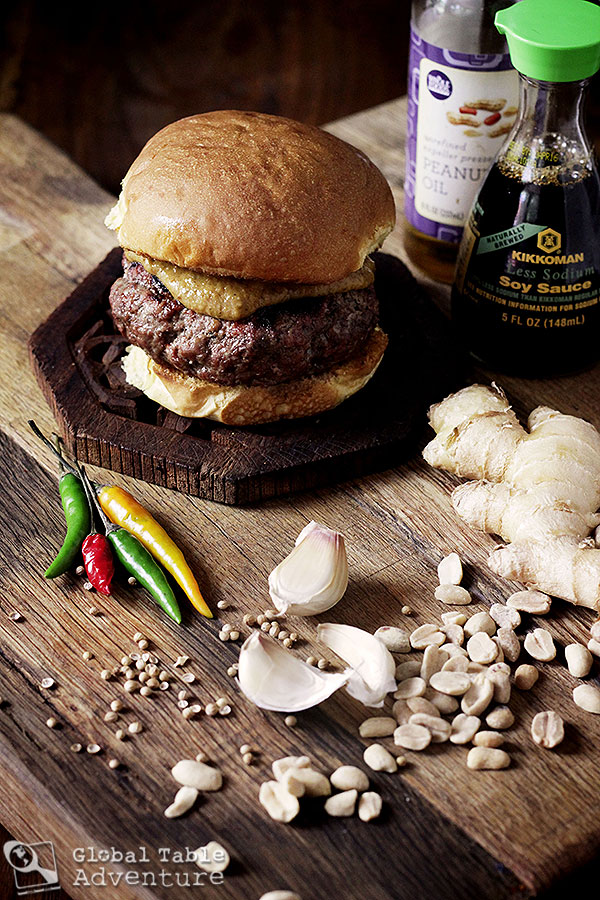 Our East Asian burger is inspired by our Indonesian Beef Satay recipe – I still dream about those flavors! While you can do loads to make the patty taste like Indonesian Satay (like adding a little grated onion, heaps of garlic, ginger, and seasonings like coriander, soy sauce, and peanut oil)… the key to a great Satay Burger is the peanut sauce.
In fact, you can make any burger a satay burger with nothing but a spoonful of delicious peanut satay sauce.  
I have a recipe for an authentic, homemade peanut satay sauce, but there are many great brands readily available at the local supermarket.
How to make a Peanut Satay Burger:
Combine 1 lb ground beef with 1 small onion  (grated & excess liquid drained off), 3 cloves garlic (crushed), 2 teaspoons palm or brown sugar,  1 teaspoon grated ginger, 1 teaspoon peanut oil, 1 teaspoon ground coriander, 1 teaspoon soy sauce or kecap manis (a thick, sweet soy sauce popular in Indonesia), 3/4 teaspoons salt, 1/2 teaspoon pepper.
If you can handle it, fold in some minced Thai Bird chili peppers for heat. One should be more than enough for most.
Cook on a well-oiled grill over medium heat until done, flipping once. Serve on a toasted bun and top with plenty of peanut sauce (here's a recipe).
The Oceanic | Aussie Burger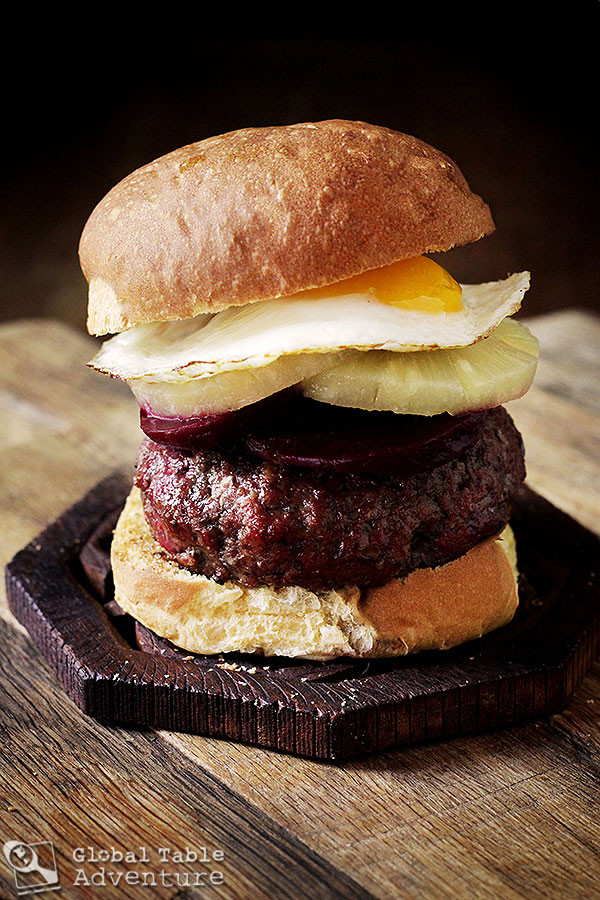 I made an Aussie Burger waaaay back when we cooked our Australian Global Table… and man was it a hit!
With good reason. This burger is all about the toppings… and – unless you've been to Australia – you may think I'm pulling your leg about what they include.
There's sweet pineapple rings, sliced beets (I like to use pickled ones for tang), and a fried egg (keep the yolk runny)! A fat slice of cheese is also standard fare.
The result is sweet, rich, and totally addictive.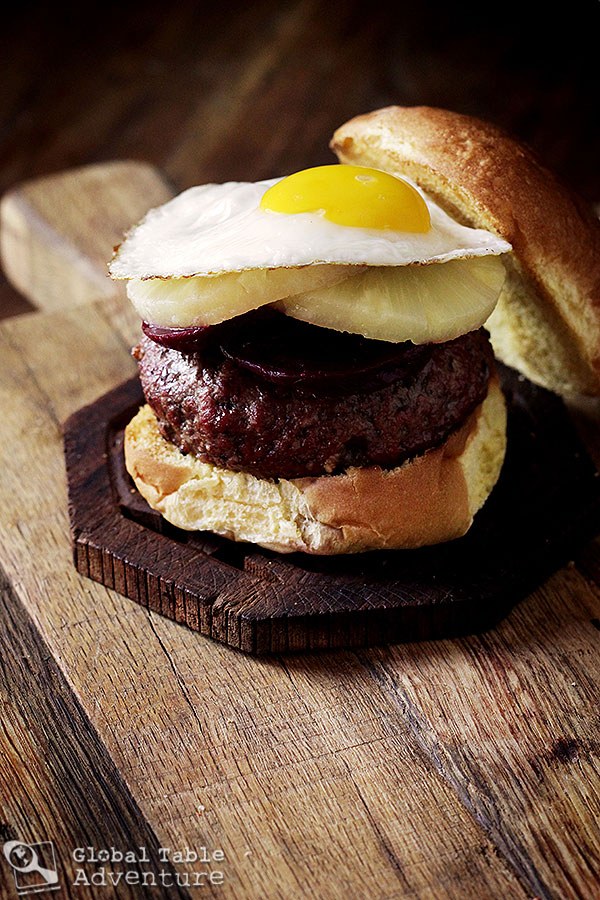 How to make an Aussie Burger:
Top a beef hamburger patty with 1 pineapple ring, 1-2 beet slices, a fried egg, and a slice of cheddar. For more details, check out the original recipe (and behold how much my food photography has changed over the four years since I started this blog – eeeek!).
A note on this week's favorites:
Keith would eat the Middle Eastern all day long. Me? Same. Next favorite? The Aussie Burger. Especially if the beets are pickled! What about you?
Psst…
What do you think? Did I get your part of the world right? What would you do differently?
In PART 1 we explored burgers inspired by the Americas and Europe…
In PART 2 we explored burgers inspired by Africa…
Happy Grilling!
xxoo Sasha
P.S. Share your pics on FB and Instagram with #GTAgrams!