Serves 8
We had great fun with the Aussie Burger at our barbecue. Follow my tips to help you if you are expecting a big group of people. The pickled beetroot is a lot like pickle, so don't be shy!
Ingredients:
8 hamburger buns
8 beef patties (or turkey)
Toppings (all to taste):
cooked bacon
sliced cheddar cheese
red onion, sliced thin into rings
tomato, sliced thin
pickled beetroot (beet), sliced thin
lettuce
pineapple rings
8 fried eggs, sunny side up
Method:
1. Grill beef patties on a hot grill until done to your preference. A minute or two before taking the meat off of the grill, top burgers with  bacon and cheese. Toast buns on the grill.
2. Assemble burger in the order given, starting with bacon and ending with eggs. Enjoy!
TIPS:
How to make fried eggs for a crowd
Oil a sheet pan or cookie sheet. Heat an oiled griddle over medium high and crack eggs on it. Cook until white is set on the bottom, but top is still translucent. Move eggs to cookie sheet. Right before serving place pan under the broiler to set the egg white and warm the yolk. The consumption of raw egg can be dangerous. Do what you want! Australians like their yolk to run all over their burger… just sayin' !!
How to make bacon for a crowd
Preheat oven to 425F. Place bacon strips on a sheet pan or jelly roll pan (something with slight sides to keep the fat from spilling onto your oven floor). You can line the pan with foil to keep cleanup easier. Bake for 15-25 minutes, or until desired crispness is achieved. No splatters! Score…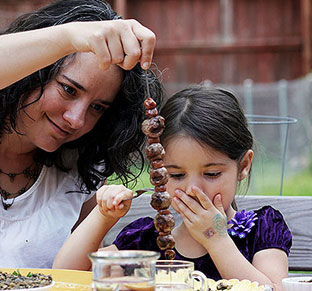 Hungry for more?
Be notified when National Geographic releases my memoir.
Simply fill in your details below.