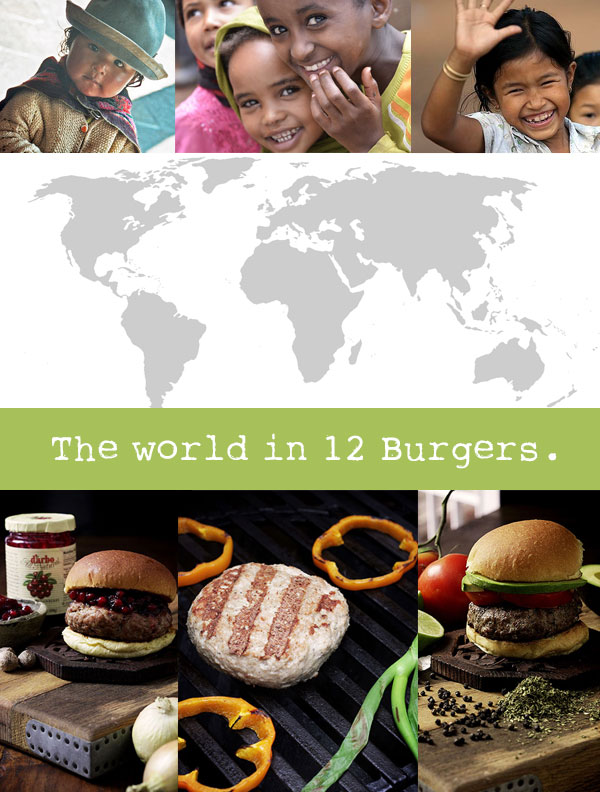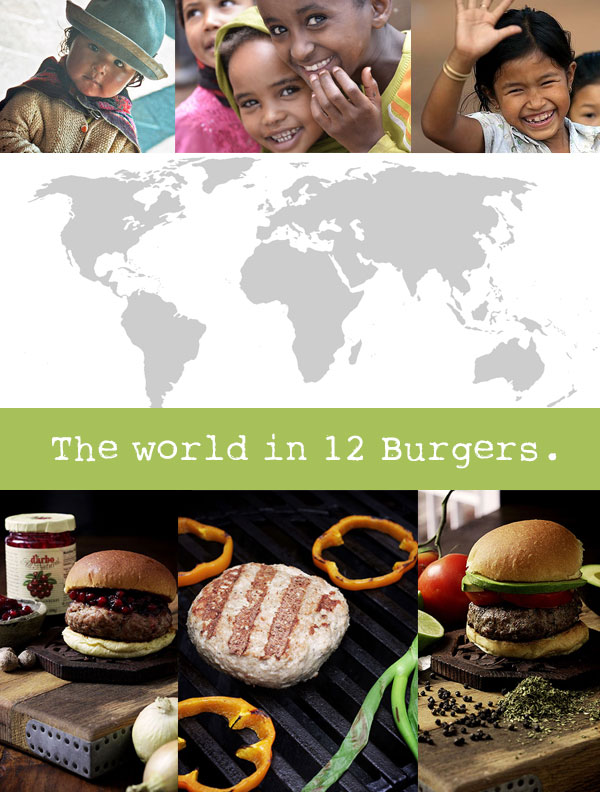 Photos of children by Tabea Huth, Rod Waddington , Christopher Michel.
In honor of father's day, and in consideration of the fact that I hardly ever make burgers despite my husband's passion for them… I give you the world in a dozen burgers – a three part series to be presented throughout the month of June.
First up? Europe and the Americas.  
Next week stay tuned for PART 2 several African burgers (I'm SO excited about these ones).
Finally, we'll complete our world tour with PART 3… burgers inspired by parts of Asia and Oceania… yum and yum.
1. The Caribbean | Jerk Chicken Burger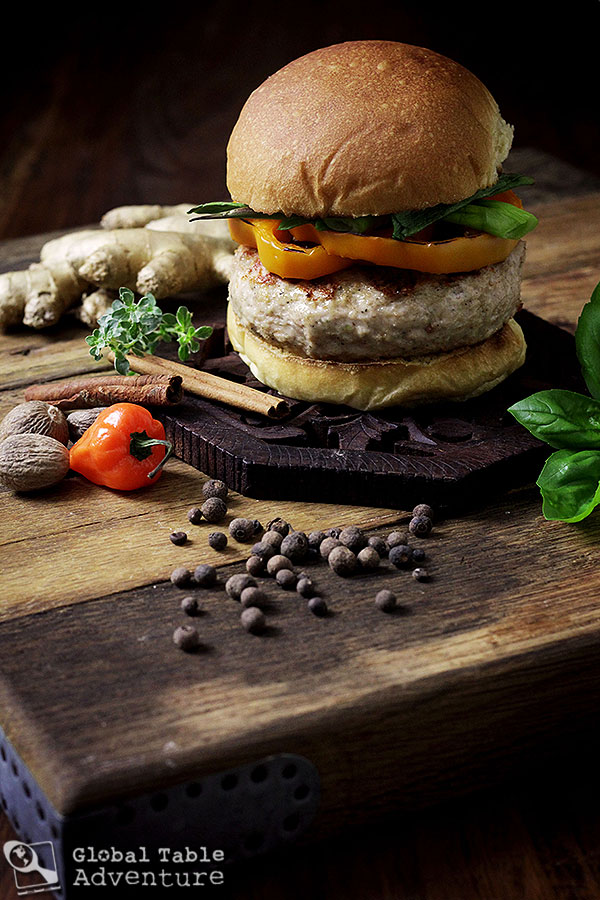 Good Caribbean cooking goes hand in hand with scotch bonnet peppers (a.k.a. Habeneros… a.k.a. a little heat mon). For this burger I took inspiration from the Jerk Seasoning we enjoyed when we cooked Jamaica. This muddy green blend contains enough habenero to make a firefighter sweat, tempered with mild bell pepper, green onion, garlic, ginger, a garden of herbs  (think thyme, basil, and parsley), plus a host of spices (say 'yow' to allspice, cinnamon, nutmeg, and black pepper). There's even a splash of soy sauce and OJ. Thanks to this fierce blend, our Jerk Chicken Burger POPS with flavor. 
Intimidated?
Don't be. Jerk seasoning makes an epic chicken burger. Plus, once you've mixed up a blender of the Jerk Seasoning, you can use any leftovers for a week or two afterwards as a marinade (it's particularly great on chicken, fish, and pork).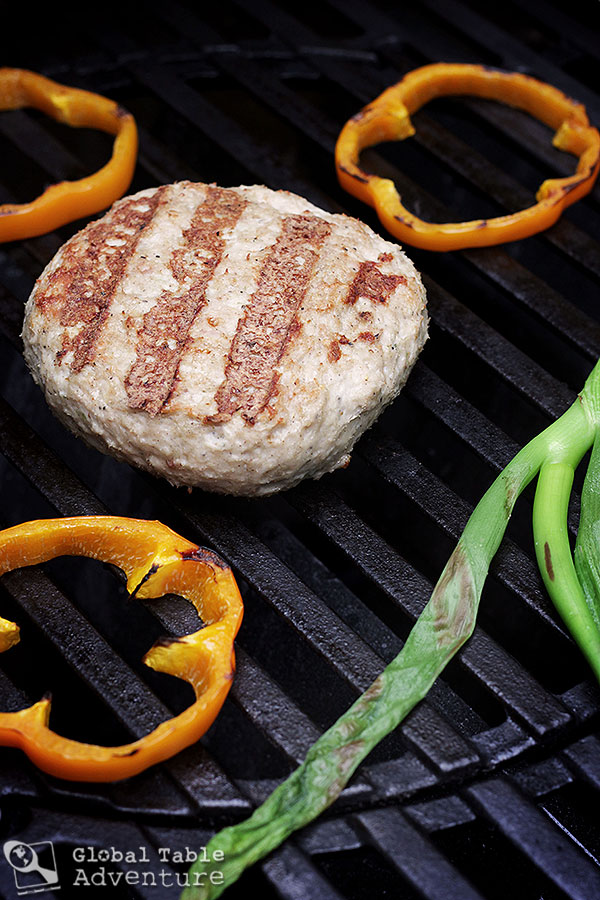 How to make the Jerk Burger:
For mild/medium heat, add 2 tablespoons Jerk Seasoning to 1 pound ground chicken along with 2 tablespoons of breadcrumbs to help bind the mix. For a spicier burger, add more habeneros to your jerk seasoning. Shape into patties with moist hands (this will prevent sticking) and grill over medium heat until done. Top with grilled orange peppers (because they look like habeneros!) and sliced green onion.
Makes 3-4.
2. The South American | Carne Asada Burger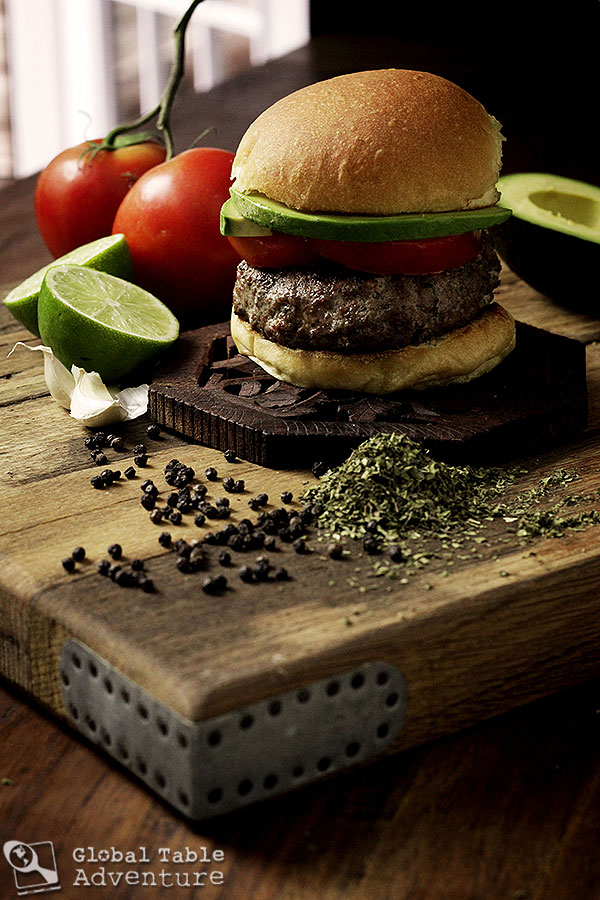 In South America you'll find three things just about everywhere you go: tomato, avocado, and Carne Asada – that spiced, grilled steak served in strips with tortilla and a host of summer-fresh toppings.
Just look at this beautiful selection!!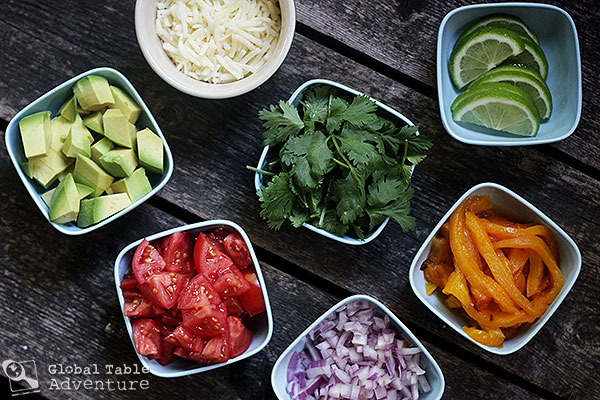 Any of these would be great on your Carne Asada Burger – even the extra squeeze of lime!
To recreate classic Carne Asada flavor, I mixed ground beef with a tangy blend of lime juice, garlic, oregano, and ground black pepper. For our toppings, I chose fresh sliced tomato and avocado – a nod to the incredibly beautiful Bolivian salad we once made on our around the world cooking adventure.
How to make the Carne Asada Burger:
Start with 1 pound ground beef. Add 1 tablespoon garlic powder, 1 teaspoon oregano, the juice of a lime, 1 teaspoon salt, and a half teaspoon pepper. Shape into patties. If the mixture is too wet, add a tablespoon of breadcrumbs to bind it together. Grill over medium heat until done. Top with tomato and buttery avocado slices. Makes 3-4.
3. The European | Swedish Meatball Burger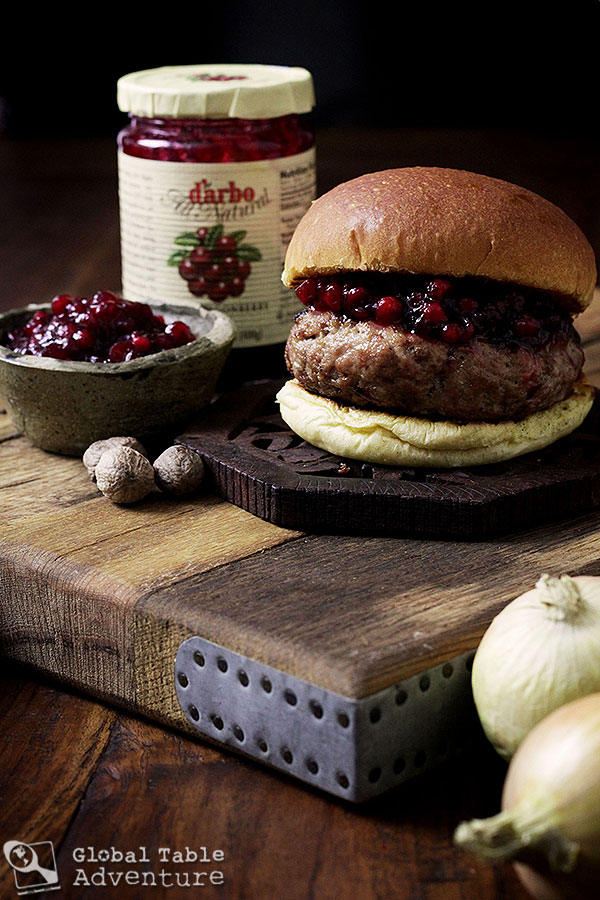 While it's nearly impossible to narrow down all of Europe to one burger, I let intuition – and my heart – be my guide. You see,  I adore Swedish Meatballs the way Doctor Who loves fish fingers and vanilla custard. There's just no explaining it.
But unlike the Doctor's favorite dish, there's actually an entire country that agrees with me about Swedish Meatballs.
Why?
They're tender from a good dose of cream, bursting with flavor thanks to two cuts of meat – beef and pork. Then there's the moist grating of onion and a requisite hint of nutmeg.  The kicker is a tart spoonful (or three!) of lingonberry jam. The jam cuts the meat's richness with sparkle – just like cranberry sauce helps roast turkey.
With  a few precautions, Swedish Meatballs are easy enough to turn into burgers – read on for our tips.
How to make a Swedish Meatball Burger: 
Simply mix together our Swedish Meatball Recipe. Take care to squeeze the grated onion dry before adding it so the burgers aren't too moist. Shape into patties and grill over medium until done (at least 7 minutes on the first side if thick). Trust me – they won't dry out (the cream gives them a tendency to fall apart if turned too soon). The impossibly tender burger makes a delectable showstopper, especially when topped with lingonberry jam. Done and done! Makes 6-8.
4. The Central American |  Jicama Slaw Burger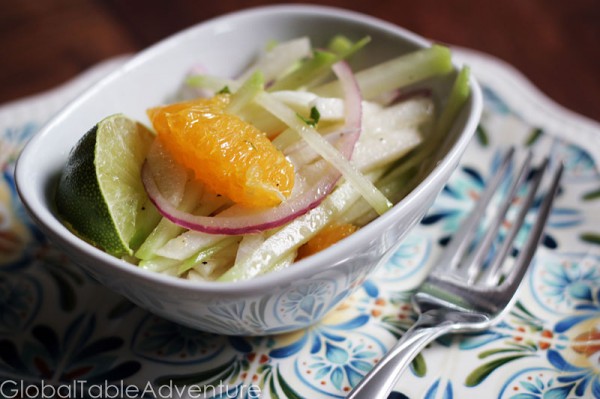 The flavors of Central America are fresh and bright. For an easy global fix: top a standard burger with a Jicama and Chayote Slaw like the kind we enjoyed for Honduras (pictured above). Your mouth will be bursting with fresh lime juice and orange segments. Ah-mazing. Want an even simpler idea from Central America? Think Mexican: try several spoonfuls of homemade guacamole on the bun. Delicioso.
The North American  | Bison Bacon Burger
There's nothing more American than the great Bison. Why not combine the health benefits of this lean ground meat with one of America's favorite unhealthy courses (that's right, courses) – bacon!? It might seem like an oxymoron, but the flavors complement each other and… hello… they're easy, peasy.
P.S. If you like bacon, you need to check out Hungary's ingenious bacon on a stick campfire treat.
Eastern Europe | The Balkan Burger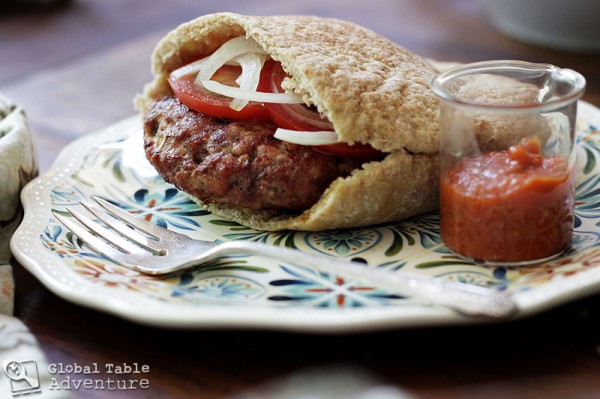 Yum and yum! Balkan burgers are made with beef, pork, lamb, paprika, and more. Delish! Arguably, however, the best part about the Balkan Burger is the avjar seasoning that goes on top – a lovely roasted red pepper spread that I could eat by the spoonful!
What do you think? Did I get your part of the world right? What would you do differently? Stay tuned for the next installment of the series: African burgers, and then Asian Burgers!
xxoo Sasha