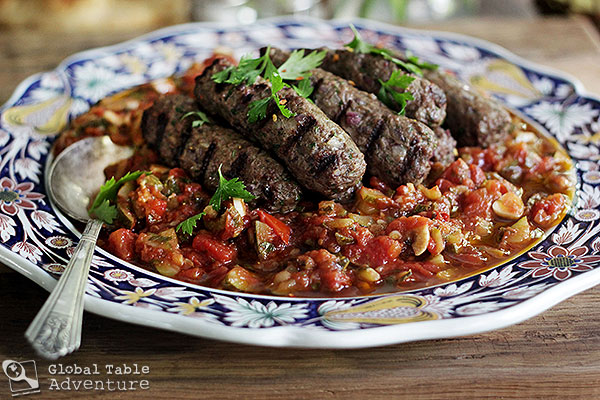 This week we dove into a summery garden spread from Oman. Kofta are grilled hand-formed sausages enjoyed in Oman and neighboring countries. In fact, versions of kofta are enjoyed as far east as India (although these are typically served in meatball form). These Omani kofta sizzle with earthy cumin, warm flutterings of cinnamon, and are rounded out by coriander seed, fresh parsley and cilantro.
The sauce – entirely vegan, by the way – is loaded up with fresh zucchini, garlic, parlsey and such a little sprinkle of mint, noone will know what your secret ingredient is. You can make it as spicy as you'd like with red pepper flakes (or go wild with cayenne, if you must).
P.S. This sauce would be great for a variation on our vegetarian Shakshouka that we made back with Israel. Shakshouka is also enjoyed in Oman.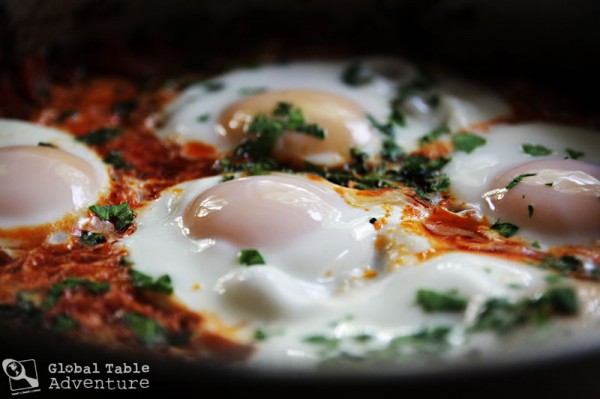 Recipe adapted from Laura Kelley at Silk Road Gourmet, where she journies through the cuisines, histories and cultures of the more than thirty countries that traded goods along that great lifeline of the ancient world.
Ingredients:
For the Kofta:
1 pound ground beef or lamb
1 Tbsp parsley, finely chopped (about a handful)
1 Tbsp cilantro, finely chopped
1 tiny red onion, minced
1 tsp of cinnamon
1 tsp ground coriander
1 tsp ground cumin
Salt/pepper to taste
For the Zucchini Sauce:
3 medium zucchinis
6 cloves garlic, crushed
1/3 cup olive oil
1 large can diced tomatoes
crushed red chili, to taste
handful fresh parsley, chopped (2 Tbsp)
handful fresh mint, chopped (2 Tbsp)
1 tbs of balsamic vinegar
Salt & pepper
Method:
Head to the garden and salvage any fresh herbs you might find there. These, along with a few spices, are your ticket to Oman.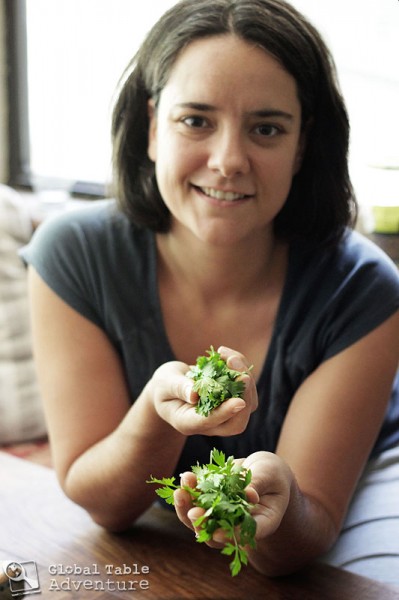 Mix the beef with the parsley, cilantro, red onion, cinnamon, coriander, cumin, salt and pepper. Knead for a few minutes, until the meat clears the sides of the bowl and the ingredients are evenly distributed.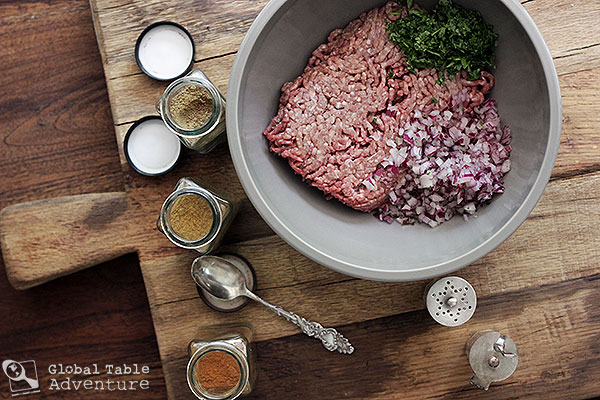 Roll the meat into 8 finger shaped Kofta. Dipping your clean fingers in a little water will help keep the meat from sticking. Cover and refrigerate until needed (at least 30 minutes for the flavors to mellow).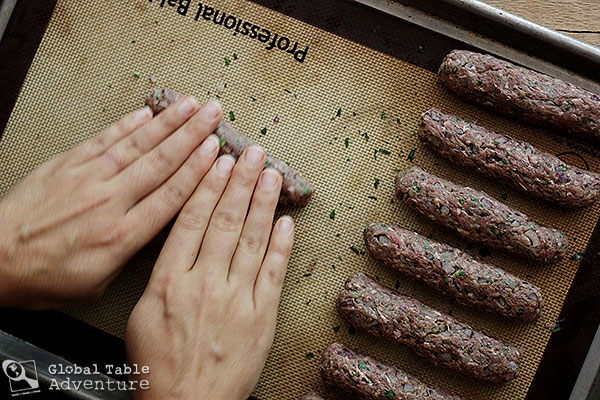 Meanwhile, prepare the chunky, bright zucchini sauce – an entire garden in every bite.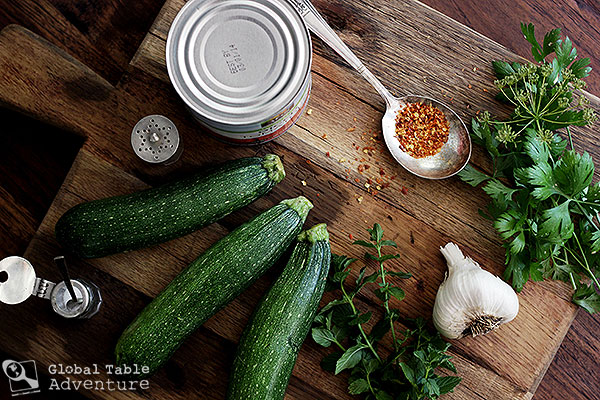 Fry the zucchini and garlic in olive oil until slightly browned. Add on the chili flakes, herbs, diced tomatoes, salt and pepper.  A splash of vinegar brightens up the flavor. Simmer uncovered for just ten minutes. This is a quick sauce, perfect for August. It's lit from within.
In the winter you could cook this at a low, slow bubble while watching the snow fall.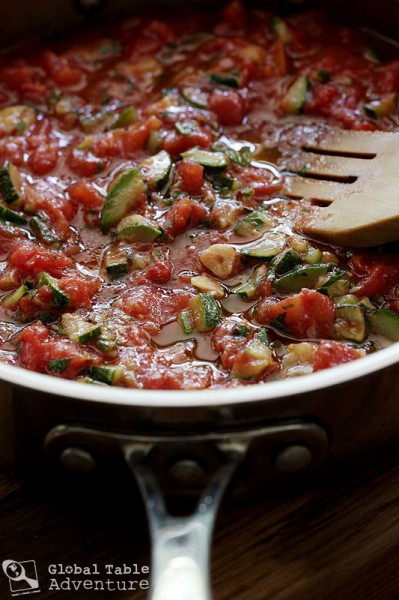 Grill the kofta over medium high heat…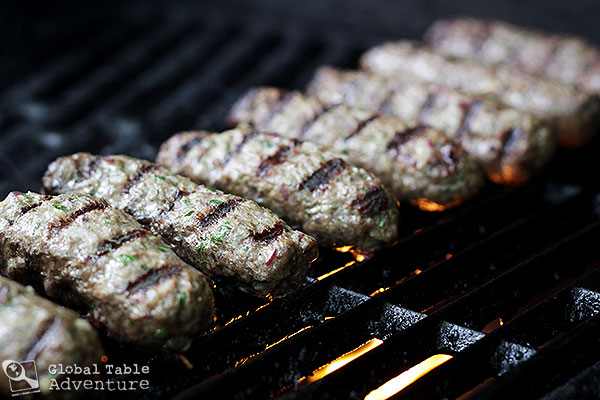 Fill a large platter with the zucchini sauce and pile on the kofta. Garnish with more parsley and serve with rice and flatbread.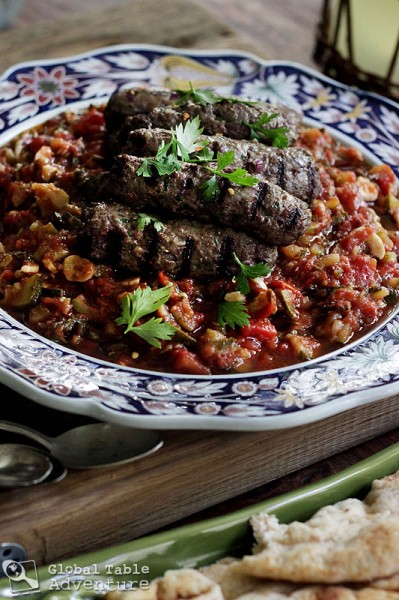 Dig in!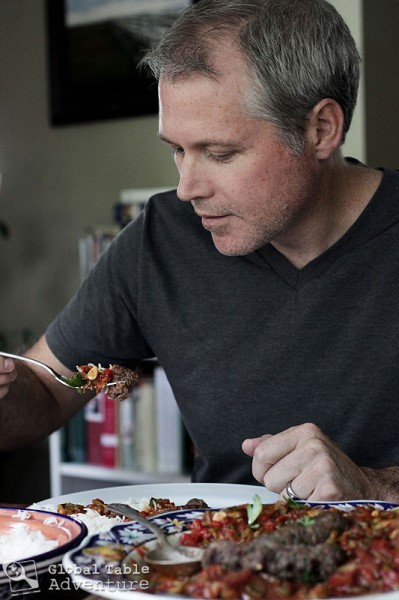 Enjoy the fresh flavors.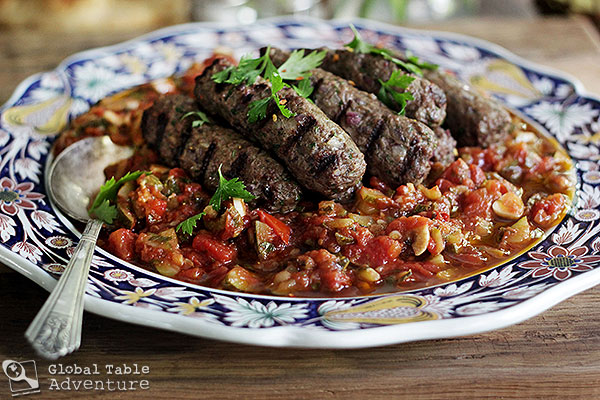 Here, Ava saved you a bite!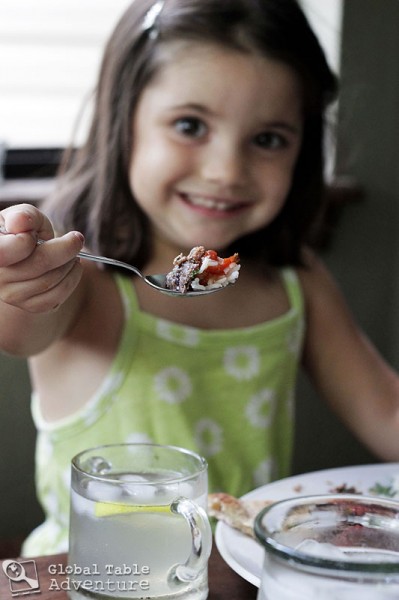 Enjoy by the Omani shore…
…. where the sun is bright and the smiles are easy.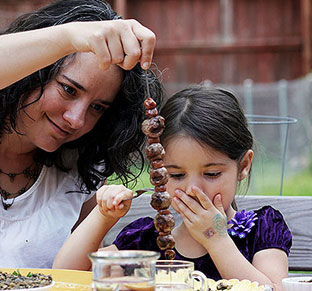 Hungry for more?
Be notified when National Geographic releases my memoir.
Simply fill in your details below.