"Work like an ant and you'll eat sugar."
Yemeni Proverb
I can't decide if the country of Yemen looks like a check mark or a bow tie.  It depends on the map.  Still, every time I thought about how to begin this post, I kept coming back to that check mark – the kind you get when you do a good job on your homework. Probably because Yemen is the third to last country on our list of countries.
Check, check, check.
I can't. believe. it!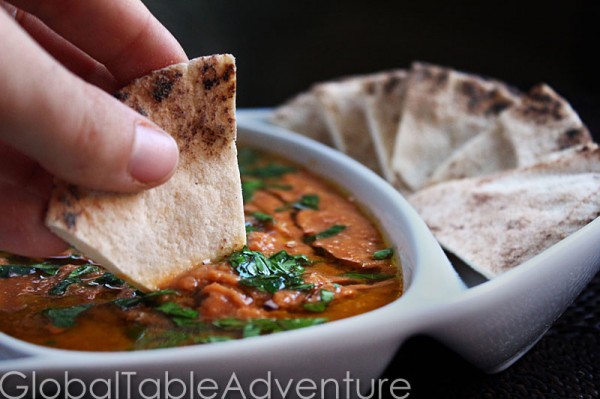 But there is, indeed, more to Yemen than her shape.
This mountainous country is situated on the Persian Gulf,  across  from Africa.  The Yemeni people enjoy ful medames, the breakfast bean dip we sampled for Egypt [recipe], kebab, lentil soups, and lahooh, the leavened "pancake" like bread we enjoyed for Djibouti [recipe].
Shakshouka  [Recipe] is another beloved breakfast item in Yemen, which is popular throughout the gulf and north Africa.
I noticed a lot of yogurt when researching recipes, too, which can be used in drinks or dips. One interesting recipe is called shafout, which is a blend of yogurt, milk, mint, and other herbs which are then poured over the lahooh bread for a healthy summertime meal.
There are many meat and fish stews. They're generally highly seasoned with a spice blend called hawayij. This Yemini spice mix often features cumin, cardamom, turmeric and other spices.
And, speaking of spice, Yemeni food can also be quite "spicy" – as in hot! I noticed most recipes contain green chili peppers, the more the merrier.
After all that heat, it might be nice to cool down with a sweet drink. Yemeni cuisine is known for raisin juice (not, I should add, the same as grape juice) and deliciously spiced coffee (stir in a little ginger powder and a whole lot of sugar next time you brew a pot). Perhaps with a slice of honeyed cake or date balls  [Recipe].