I hover over the dining table, scooping the tapioca and banana mush onto banana leaves to make saksak. The deep green leaves are soft and supple – completely relaxed from a pass over the licking blue flames on my range. I work slowly, eventually rolling each leaf into a rectangle shape, taking care not to spill any filling. I tuck each bundle securely in the steamer and, when I'm done, I click on the burner.
A few moments later, vapors slip out between the pot lid and the pot. Little wisps of banana scented air. The house smells beautiful.
Real life: later that night no one would eat these little rectangles of chewy, slippery banana tapioca dumplings.
No. One.
I had retreated to work on my speech for the Tulsa Global Alliance's Global Vision Dinner (350 attendees – eek!) and left them to eat this Global Table alone. When I check the fridge the next morning, the little green packets are still there. Forlorn. With shifty eyes, Keith claims he didn't see them. Later, I try to give one to Ava. Excited, she asks if they are the towers of sticky rice we did for Malaysia. When she discovers they are not, she runs the other way.
I stare at the uneaten pile of day-old saksak. After a moment a curious thought passes through my mind:
There can be only one winner. 
The words echo in my brain like a rumbling voice over in a scary movie. This is what I was told in school.
I pull a now-chilled dumpling from the refrigerator and peel away the banana leaf. The somewhat rubbery dumpling tastes lovely, like banana pudding.
As I chew and ponder, I hear another voice. This one high and grating.
Everyone's a winner.
The words rattle around my brain as I sit in the bedroom, pondering the failed saksak. This is the message my daughter will get at school: everyone's a winner.
Which is it? Which is better?
Am I a winner because I tried the recipe and liked it?
Or am I a loser because I failed at enticing my family to try it?
In Papua New Guinea, there was once fierce warfare between tribes. The losing tribe members were killed – sometimes eaten – by the winning tribes. Today, the warfare has been herded, funneled, into competitive dancing. This dancing isn't like West Side Story – it is safe, colorful, and fun.
There are elaborate masks and costumes. And, even though no one dies, there are definite winners and losers.
For now.
I wonder what the future will hold. Are we going to continue calling everyone a winner? Or are we going to recognize that sometimes losing happens. And learn from it. And maybe – just maybe – we can get back up again a little stronger from the loss?
THE FOOD
Autumnal Veggies in Spiced Coconut Milk [Recipe]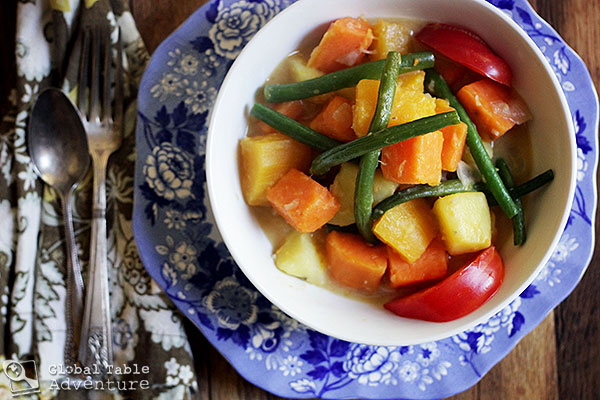 What I loved most about this dish:
This is the kind of food that can carry me into the heart of winter. There's soul satisfying sweetness from the butternut squash and sweet potato. The spiced coconut milk is a thing of beauty. The nibble of green beans and fresh tomatoes are the exclamation points on already happy dinner. Even Mr Picky loved this one, saying he'd eat it again and again. I think it's the lure of all those carbs bathed in gentle spice.
What I loved least about this dish:
Not much. You might want to play with how much coconut milk you use. I'd use quite a bit more if serving over rice, so the coconut milk can mingle with the grains. I went against Papua New Guinean tradition, however, and ate this as a stand alone meal.
Spicy Coconut Shrimp [Recipe]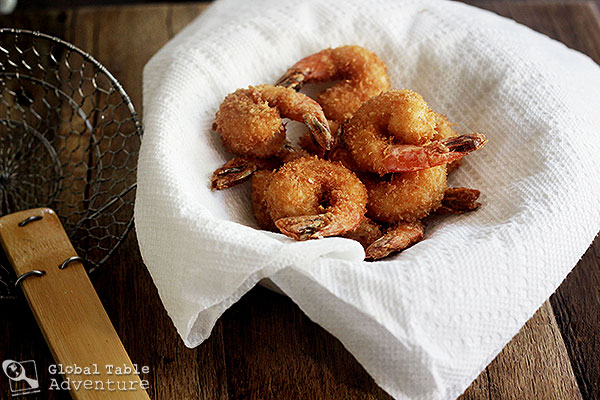 What I loved most about this dish:
Everything. These shrimp were fresh, a bit spicy, and crunchingly great. I enjoyed the beautiful color and the delicate flavor. Mr Picky popped a handful of them back and gave his characteristic, stoic nod of approval.
What I loved least about this dish:
Ava refused to touch this one. She and shrimp have a thing they need to work out somewhere down the line.
Tapioca & Banana Dumplings in Coconut Milk | Saksak [Recipe]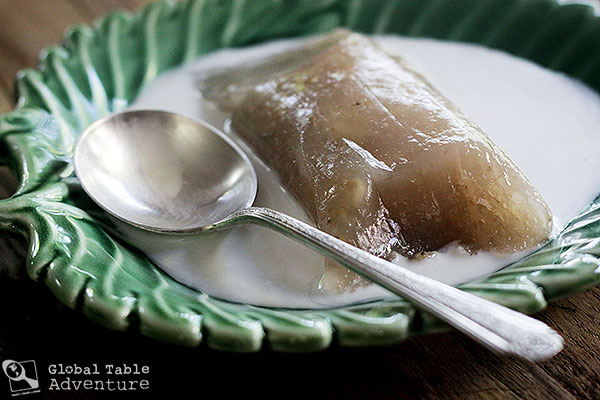 What I loved most about this dish:
These traditional dumplings were as fun to make as they were to eat. I've never had anything like it – it's a world apart even from the batons de manioc we made. The tapioca creates a firm, chewy bar of banana sweetness. While I can't quite figure out how to get my family to eat it, I had fun with it.
What I loved least about this dish:
No one helped me eat this wild dish. I swear, just when I think we're making progress, I'm right back at square one. I'll have to try again with Keith as he claims he would have, if he had noticed them in the fridge.
Ava's Corner:
WEEKLY GIVEAWAY WINNER:
*Winner from this week's Papua New Guinean Menu Giveaway was selected at random by random.org. People gave me so many fantastic ideas for globally-inspired fall dishes that use Saffron Road's signature stocks.  Congratulations to Liz Carpenter, who said:
"Italian Lentil Soup that is a staple in our house as soon as the weather start to turn."
Yum. Please email me by 9/10/12  to claim your shiny prize from Saffron Road, Liz!