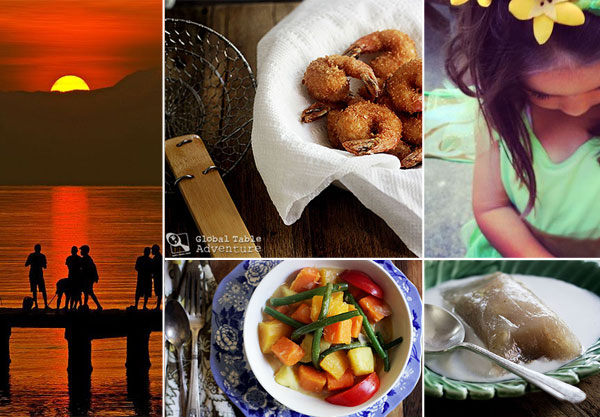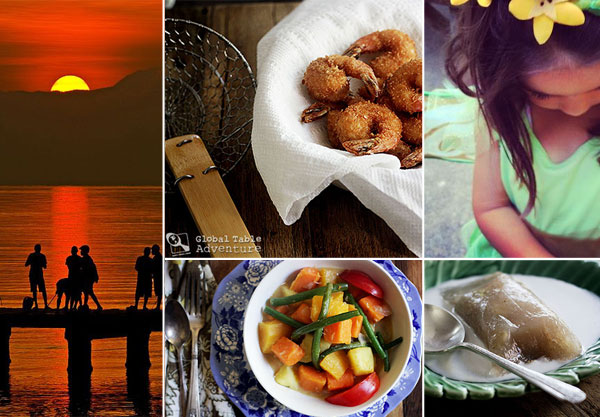 "How can a country of 800 plus languages and 700 plus ethnic groups unite to form a country, impossible but possible for PNG" – Sir Michael Somare, Prime Minister of Papua New Guinea. (Source)
Sir Michael Somare has a great point. How exactly does a group of people so diverse remain unified as a country?
From what I've read, PNG's success has a great deal to do with the freedom it allows these  700 ethnic groups to express themselves, whether by wearing unique clothing, performing culture-specific rituals, or enjoying local music.
PNG makes room for it all.
That being said, the peoples are surely united by one food in particular:  the coconut. Every single dish on this week's Global Table celebrates coconut for one simple reason – PNG loves the coconut. In my research I found it shows up in almost every recipe.
(Update: turns out Brian S.'s trip to the interior of PNG did not feature the coconut, so perhaps this is just a coastal thing).
Considering I can't get my family to agree on dinner most nights, 7,000,000 people agreeing on eating the coconut for breakfast, lunch, and dinner is a mighty fine thing indeed.
As always, all recipes and the meal review will be posted throughout the week.
Autumnal Veggies in Spiced Coconut Milk [Recipe]
This vegan dish is everything good from autumn: sweet potatoes, regular potatoes, butternut squash, and green beans swimming in a pool of ginger and garlic spiced coconut milk, garnished with the last of summer's juicy red tomatoes.
Spicy Coconut Shrimp [Recipe]
Restaurants in PNG fry up crispy, sweet shrimp dredged in shredded coconut and panko bread crumbs. Ours have a happy dusting of cayenne pepper for bite, but if you have sensitive taste buds they can be served with hot chili sauce on the side instead.
Tapioca & Banana Dumplings in Coconut Milk | Saksak [Recipe]
This one you'll have to eat to believe. A dense, slippery dumpling made with banana and tapioca, served in warm coconut milk.
THE GIVEAWAY
Get your fall cooking in gear with this Global Gourmet Gift Basket from Saffron Road.
The gift basket is complete with three premium quality stocks you can use to whip up your favorite fall recipes. There's also an apron, wooden spoon set, measuring cups, and pretty cotton dishtowels. Love!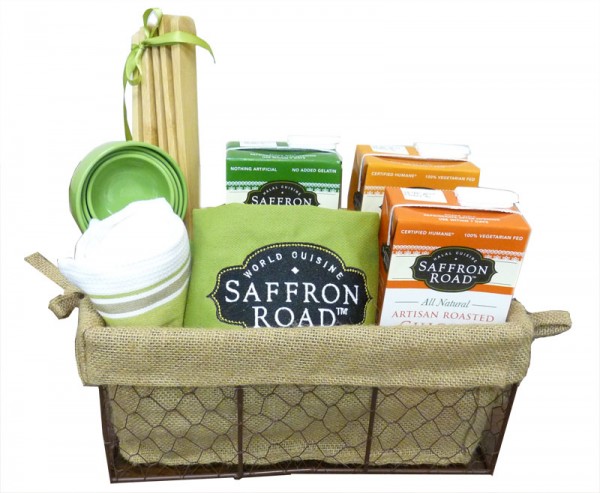 These are the all-natural (yay!), kettle cooked stocks you'll find tucked inside:
UPDATE:
*Winner from this week's Papua New Guinean Menu Giveaway was selected at random by random.org. People gave me so many fantastic ideas for globally-inspired fall dishes that use Saffron Road's signature stocks.  Congratulations to Liz Carpenter, who said:
"Italian Lentil Soup that is a staple in our house as soon as the weather start to turn."
Yum. Please email me by 9/10/12 to claim your shiny prize from Saffron Road, Liz!
TO ENTER:
Answer our Giveaway Question:
What fall dish would you make with the stock and where is the dish from?

Arroz con pollo from Panama? Or maybe your mom's chicken noodle soup from right here in the USA?

There's no right answer, so have fun with this one…
That's it!
Bonus entries will be provided for those that tweet this giveaway with hashtag #globalgiveaway and/or share it on Pinterest and Facebook.
Leave your answer in the comments below. One winner will be chosen at random and announced in the Monday Meal Review on September 10 , 2012. Prize must be claimed by September 16, 2012. Saffron Road is sponsoring this giveaway. They wanted to share some global foodie love with you. Enjoy!