Serves 8
What is a Bâton de Manioc? The pounded flesh of the yucca root, wrapped in banana leaves and steamed for several hours. These dense yuca sticks are great cut up and eaten with stew. They take on the flavor of the banana leaves (which taste like steamed artichoke).
Ingredients:
2 lbs yuca (cassava) tubers
banana leaves or aluminum foil
Method:
1. Peel tubers.
2. (This step is optional in the US) Soak the cassava tubers in a bucket of water for about 3 days. Rinse off.
3. Using a grater, shred the tubers into a large bowl. Be careful NOT to shred the tough fibers in the center, as these are unfit to eat.
Then, using a pastry cutter (or potato masher), pound into a paste.
NOTE: If you have a large enough mortar and pestle, you can use this as well.
4. Place about 1/4 cup of the paste onto a banana leaf.
5. Fold into 1″x4″ packets. Tie closed. (The traditional size is 2″x12″, but my largest pot would not accommodate this)
6. Steam for 6 hours.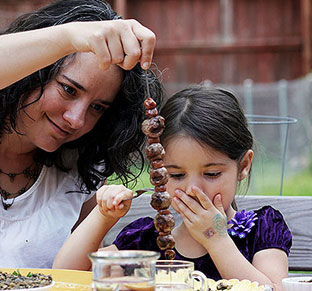 Hungry for more?
Be notified when National Geographic releases my memoir.
Simply fill in your details below.