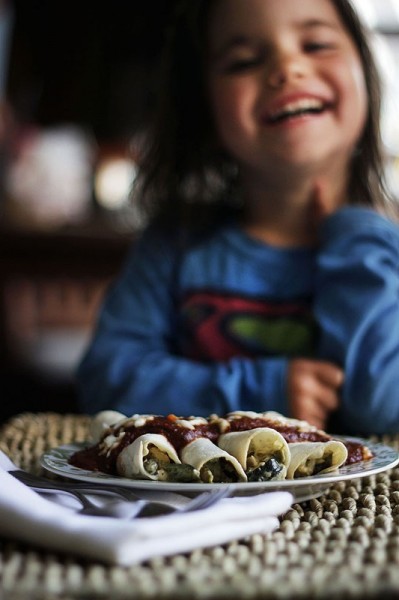 After letting you all decide our fate for this week's Global Table in polls, I am happy to present the menu – your menu. Each item won lovingly – with no close seconds. These are nibbles for rainy days, sunny days, and everything in between. You'll use your grill and your blender. You'll open wide and you'll dance on the roof.
Well, maybe not on the last item… but you should.
When was the last time you danced like a cat on a hot tin roof?
Are you ready for Mexico?
Rajas con Crema [Recipe]
Just when you thought you'd run out of ideas for peppers, comes this Mexican favorite. Often eaten for breakfast, Rajas con Crema is a simple but incredible mixture of char-grilled poblano peppers, ooey gooey cheese, and Mexican crema.
5 Step Mole Poblano [Recipe] 
This is authentic mole – including the chocolate and 5 million other ingredients – but simplified into five easy-to-remember steps.
Strawberry Almond Horchata [Recipe]
Cool off with this creamy drink made with rice, almond, and regular milks, cinnamon, vanilla extract and up to a bushel of beautiful juicy strawberries.
*All recipes and meal review will be posted by Monday morning.