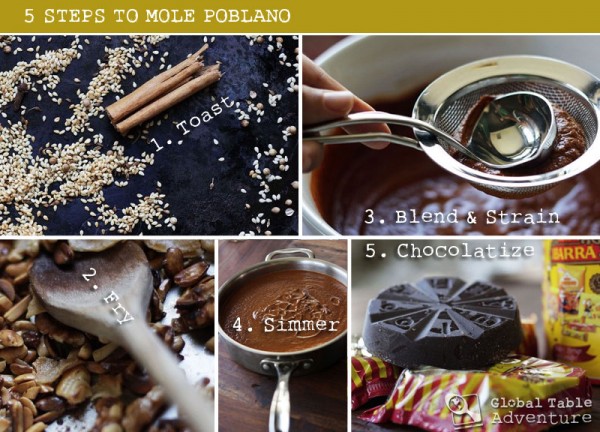 I'll be honest. On the onset, learning how to make Mole Poblano sounded a lot like learning how to knit a wedding dress. Outrageously epic, but not entirely something I had the skills for. In case you've never heard of it, we're talking a Mexican recipe from Puebla that has a million, gazillion ingredients (ok, really just about two dozen), many cooking phases, and centuries of history behind it.
Yikes.
After staring at dozens of recipes, drinking several cups of tea, and more than a little sleep lost, I broke mole poblano down into 5 basic steps.
Deep sigh. Smile. This feels better.
Five steps are manageable.
So, my goal today, is to make you Mole happy. To encourage you to give it a try.
Because if you do, you'll be in Mexico with every bite.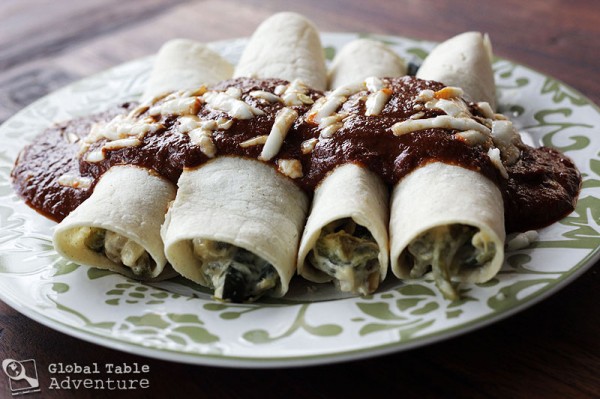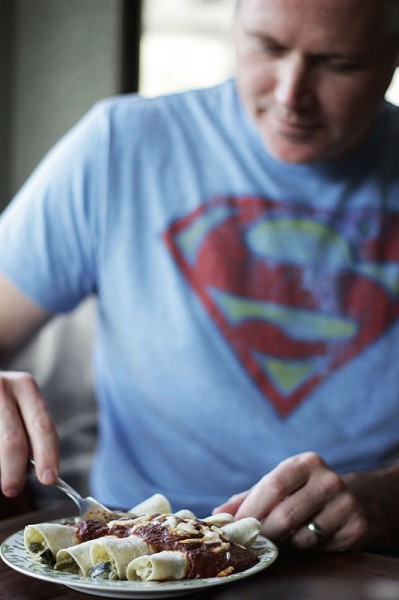 NOTE: This Mole Poblano is vegan, although you can serve it on whatever you'd like – veggies, meats, etc. Traditionally it is served with turkey and made with turkey stock.
Makes 6-7 cups
Ingredients:
These ingredients get toasted:
1 Tbsp sesame seeds
1 inch stick cinnamon
1/4 tsp anise seed
1/4 tsp coriander seed
3 whole cloves
6 guajillo chilies
6 ancho chilies
3 pasilla chilies
1/3 cup raisins
1 onion, peeled and quartered
1 small head garlic, unpeeled
1 lb tomatillos
1/2 lb roma tomatoes
These ingredients get fried:
2 Tbsp vegetable oil
1/2 cup almonds
1/2 cup walnuts
1/2 cup peanuts
1 corn tortilla, torn into small pieces
These ingredients get added as you go:
soaking liquid from the chili peppers
2 cups stock (vegetable or chicken)
1/2 tsp dried thyme
1/2 tsp dried oregano
salt
3 ounces Mexican drinking chocolate (1 Ibarra round)
Method:
I'm going to help you all the way through this thing, step by step. 
Hold on to your life vest.
Bring a friend.
And a goblet of wine.
Here we go. 
Step 1: Toast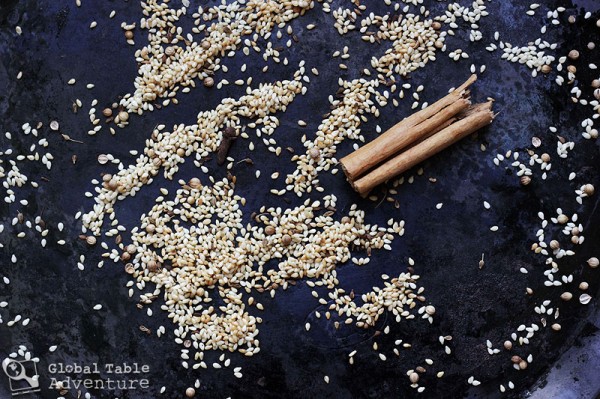 Cook each of the "toasting" ingredients over medium-high in an ungreased comal or skillet (do not use nonstick). Do this in batches, starting with the spices (sesame seeds, cinnamon stick, anise seed, coriander seed, and whole cloves). They typically take less than a minute.
The house will fill up with the smell of "amazing."
Once cooled, grind the spices in a spice mill or mortar and pestle along with the oregano and thyme.
Continue the toasting with the dried chili peppers and raisins. You want the chili peppers to char and even release a bit of smoke. When done cover them with boiling water and let soak about 30 minutes.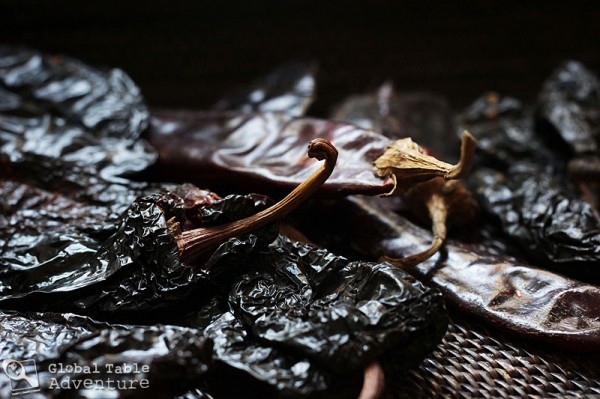 Next, work on toasting the onion, garlic, tomatillos and tomatoes. Turn the ingredients often and remove them when needed – some will cook quicker than others. (Don't forget to peel the garlic once cooled to the touch).
The goal is to get all ingredients charred and delicious.
These are about halfway to happy…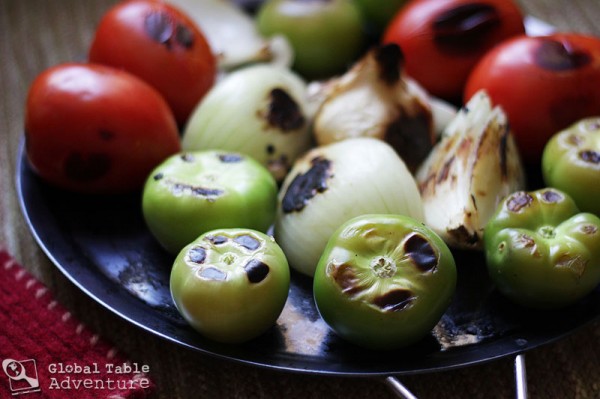 … and so are you!
Step 2: Fry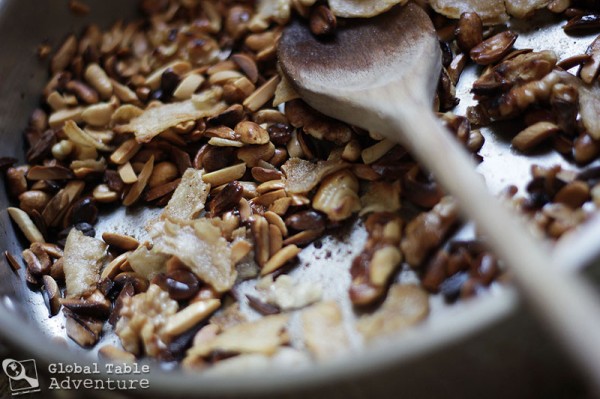 Now, heat up the oil in a large skillet or pot and fry the nuts and corn tortilla until deeply browned. Ideally use the same pot/skillet you'll use to cook the mole in later. Do not rinse pan – that nutty oil will add great flavor to the mole.
Step 3: Blend & Strain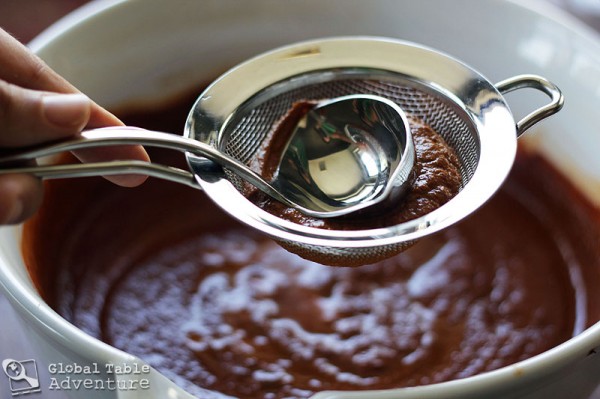 You'll want to blend this sauce in batches, because there isn't room for all this goodness in a standard blender.
First Blending: remove the chili peppers and raisins from the soaking liquid and add to your blender along with a 1/2 cup of the soaking liquid.  Puree as smooth as possible.
Second Blending: (no need to rinse the blender) blend all the toasted and fried ingredients along with 2 cups of chicken stock. Blend until very smooth, scraping as needed.
Press through a strainer with the back of a ladle.
Step 4: Simmer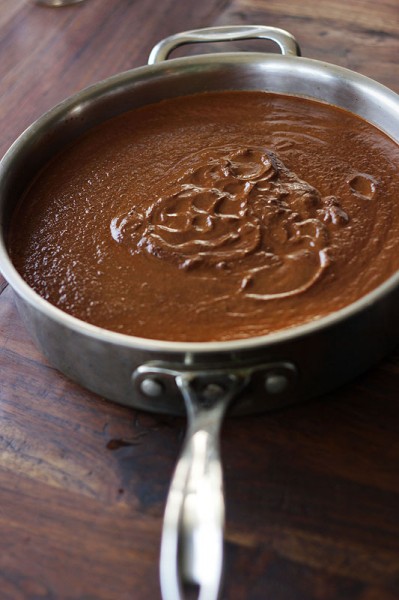 Friends, we're in the home stretch.
This is the part where you get to sneak a taste and a second goblet of wine.
Because this step is easy, peasy: gently simmer the mole sauce in the same skillet as you toasted the nuts. Cook this way for at least 20-30 minutes. Some recipes cook it for several hours (in which case you'd need to thin it with some stock, as needed).
I'll leave that up to you and your goblet of wine.
Step 5: Chocolatize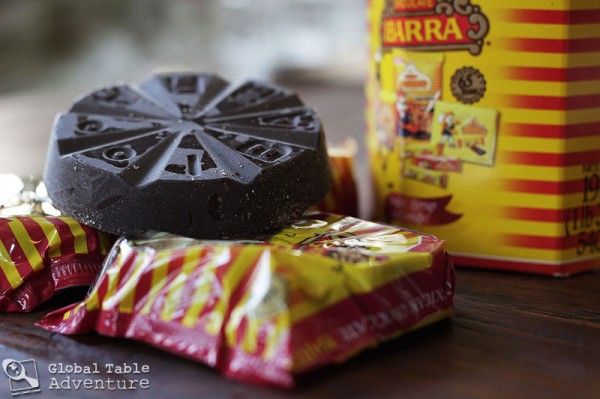 Hello. Every recipe should have this step.
Seriously.
In the last 10 minutes of cooking, stir in the chocolate. Let dissolve completely. Season with salt, as needed.
That's all there is to it.
You did it! You made Mole. Welcome to Mexico…
How to use your homemade mole sauce
Now the fun part – you can use this Mole on just about anything (be sure to freeze leftovers in 1-2 cup portions for future meals). You may need a little extra stock to thin it for use, if desired.
Here are some ideas:
1) Crock Pot Mole
Pour 1 cup of mole over 1 lb of boneless skinless chicken thighs or turkey in your crock pot. Cook on low all afternoon, until tender. You can also just make this in a covered saucepan, simmered for about 45 minutes (cooking time may be increased for turkey and other large cuts of meat).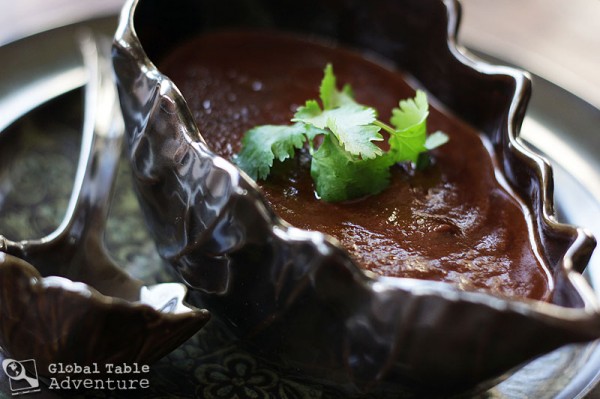 2. Quick Enchiladas
Warm up corn tortillas on an ungreased comal or in the microwave until tender and easy to roll up (without cracking). Fill with cheese, rajas con crema (recipe will be up soon), or the crockpot chicken. Place on a plate. Pour the hot mole over the top and sprinkle with cheese. I found a cheese called "chincho enchilado" at the Latino market that was perfect.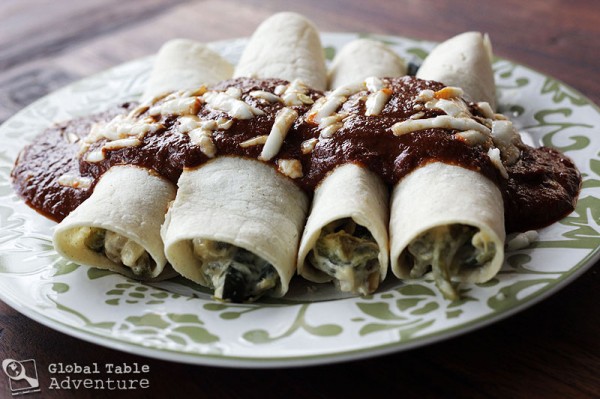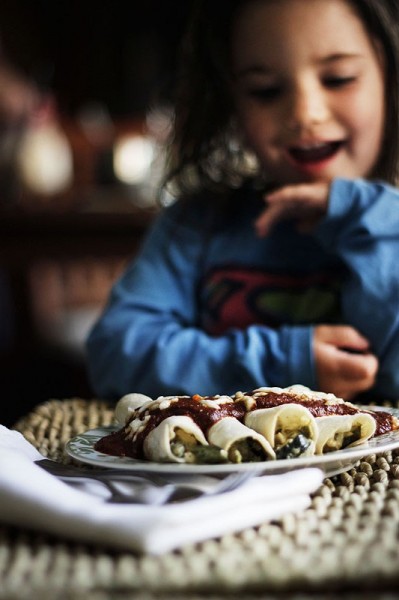 3. Messy (authentic) Enchiladas
Repeat the same steps as for the quick enchiladas, except layer them in a casserole, smother with mole sauce and cheese, and bake at 350F until the cheese is melted and slightly browning.
Here are two, just for you: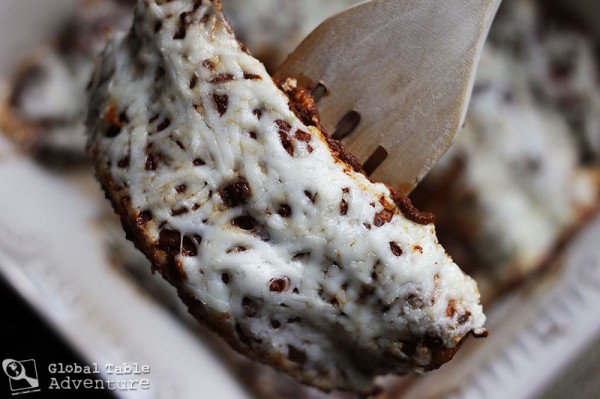 Ava can help you cut them, if you'd like!
She's been working on her skills.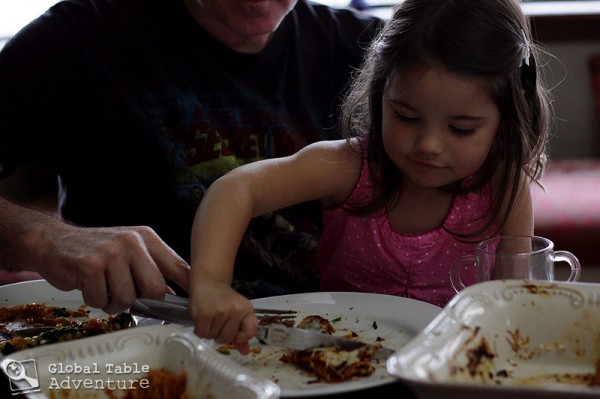 Mexico is at your fingertips!
Enjoy with a view. Something unexpected.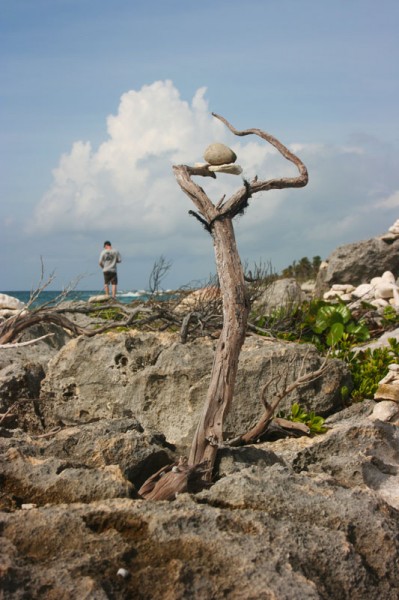 Smile.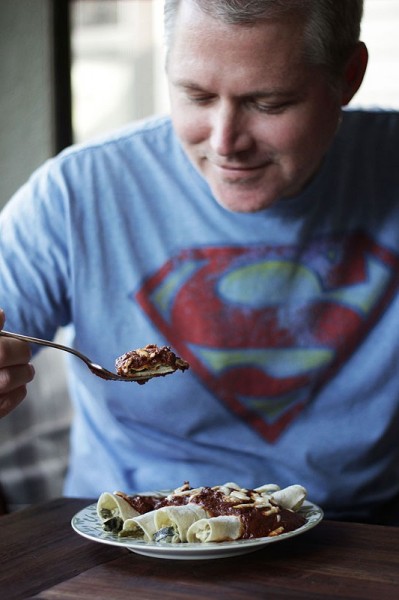 Laugh.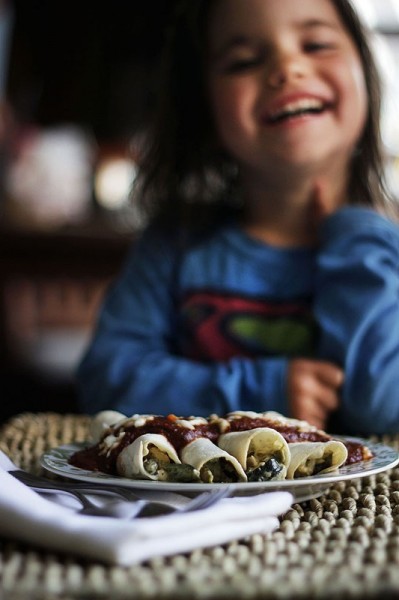 Enjoy!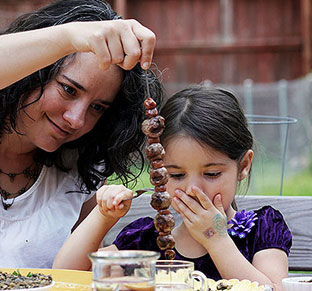 Hungry for more?
Be notified when National Geographic releases my memoir.
Simply fill in your details below.