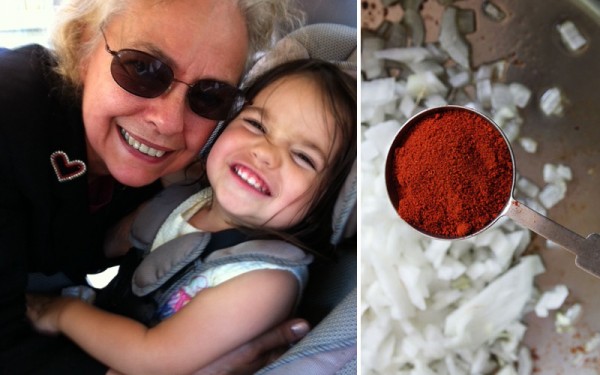 Ava calls my mom Grammie Sue, but it really comes out more like "miss you," which is exactly how we're feeling today. Living far from my family was okay when I was single, but became excruciating once Ava was born. It's like Keith and I have a home filled with starlight and each day she glows and smiles and spreads joy all over the place. Not being able to share that on a regular basis feels like a crime.
After a completely lovely visit, Mom flew back to Boston in the "ahww-pwane," as Ava calls it. We're all sad to see her go, but the memories of this happy meal – straight from our Hungarian heritage – will keep us until the next time.
What would you like to try?
Chilled Cherry Soup [recipe]
Traditionally served as an appetizer in Hungary, Chilled Cherry Soup is tart, slightly sweet, and rounded out with earthy cinnamon and the slightest hint of red wine.
Chicken Paprika [recipe]
Chicken stewed with loads of paprika, chopped onion and finished off with a not-so-small, really-rather-giant blob of sour cream.
Campfire bacon kabobs (Cigany Szalonna) [recipe]
Thick chunks of bacon, skewered and grilled over a campfire or conventional grill. As the fat renders, it drips onto rye bread, which is then eaten with radishes, onions, and tomatoes.
Palacsinta (Hungarian crêpes) [recipe]
Thin crêpes spread with apricot jam and crushed walnuts. The palacsinta are then stacked and dusted with powdered sugar for a decadent dessert or breakfast.
*All recipes and the meal review will be posted by Monday morning.