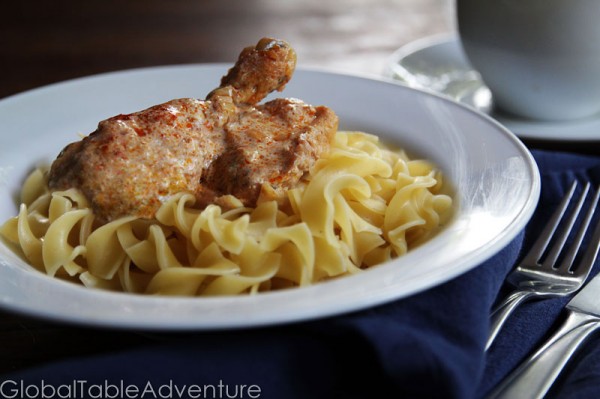 "Whose recipe is this? No, no, no. Much more paprika! Heap it on!"
And so the Adventure to recreate a favorite childhood supper began.
I say this is mom's chicken paprika, but it didn't start out that way. I had a basic recipe and then asked for her help to execute it. As we simmered along, however, mom tossed corrections my way – saving me from disaster and cluing me into how she would have made it, if she was the one wielding the wooden spoon.
I promise you – although Chicken Paprika is not much to look at (especially if you add chunky chopped onions, like I did), it tastes amazingly creamy and – if you use good, half-sharp paprika – surprisingly spicy. Serve with buttered noodles for a completely addicting bite of Hungary. You can also roll shredded bits of the chicken inside Hungarian Crêpes (palacsinta) [recipe] and coat with the sauce – a great way to use up leftovers.
Ingredients:
One 4 lb chicken, cut into pieces (or 2 lbs assorted chicken pieces)
2 Tbsp oil, or as needed
1 onion, chopped
1 cup chicken broth
2 Tbsp half-sharp paprika
salt
1 1/2 cups sour cream
Method:
First things first, find a chicken to bone. This is the way an old Hungarian family would do it. Slice it up into legs, wings, and breast. Keep the carcass to make chicken stock.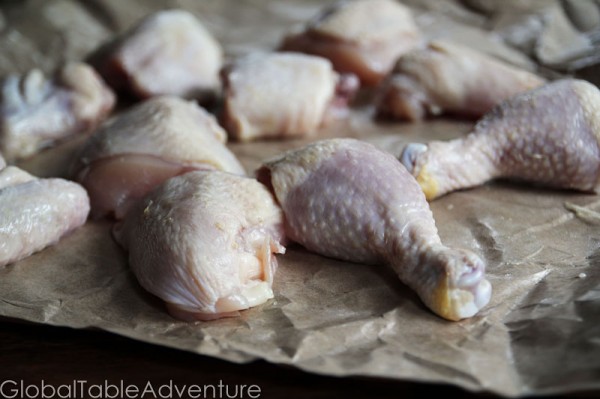 Next, brown the chicken in batches. Use hot oil.
My mom would like to tell you that this is definitely not brown enough. She might even have yelled "Burn it!"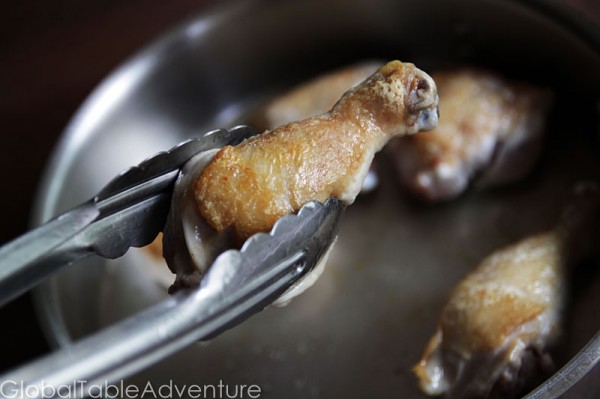 So, with that being said, remove the chicken once it is much browner. Pour off all but a tablespoon of fat. Set the chicken aside while you brown the onions.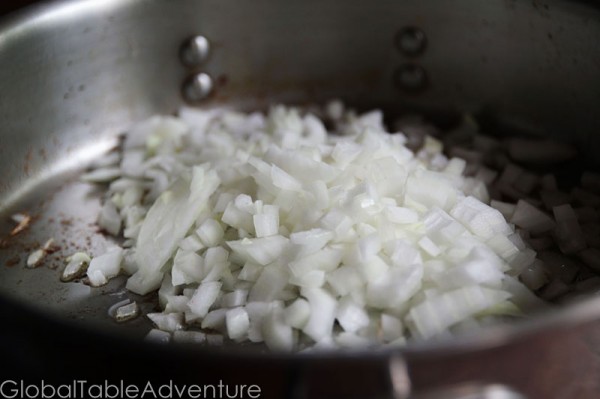 While they're cooking, add in some paprika.
"More! More! Much more." mom says.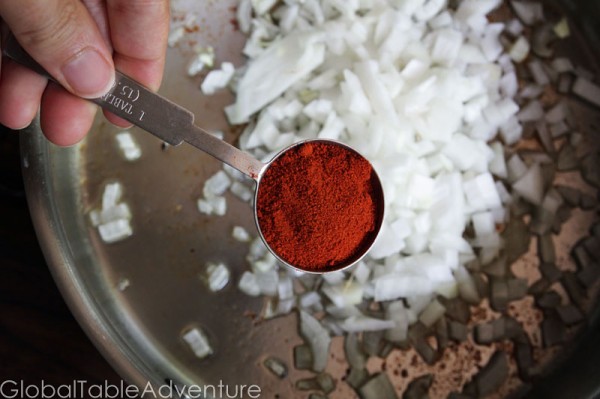 Once everything is brown and toasty and your mouth is watering, pour in the chicken stock…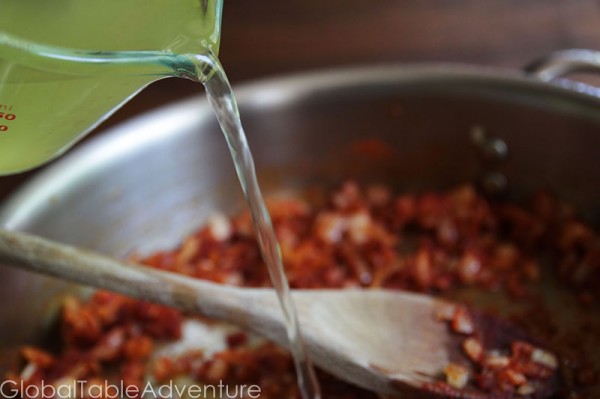 and return the much, much, much, browner chicken to the pan. (She'll never let me live this down). Season with salt.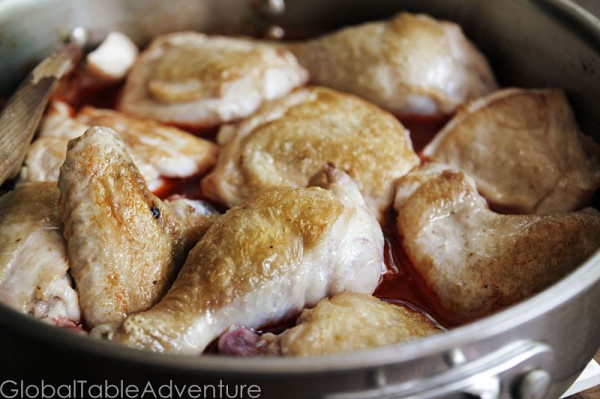 Let simmer, covered, for about 45 minutes, or until the chicken is falling off the bone.
While it's cooking, shut your eyes and imagine you're laying in a field of poppies, staring at clouds dance across the sky.
Ah, beautiful Hungary. Thank you for that daydream.
When 45 minutes are up, turn off the burner and remove the chicken to serving platter/bowl. Whisk the sour cream into the cooking liquid to make a pale pink sauce. Check the seasonings and add more salt if necessary.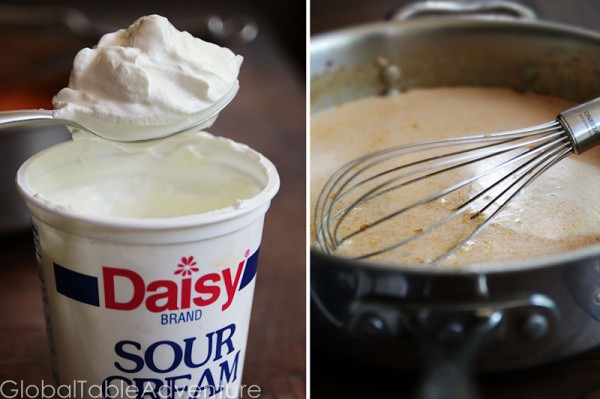 Pour sauce over chicken. Serve over buttered noodles. You could also shred the chicken and roll it up in Hungarian Crêpes, a.k.a. palacsinta [recipe].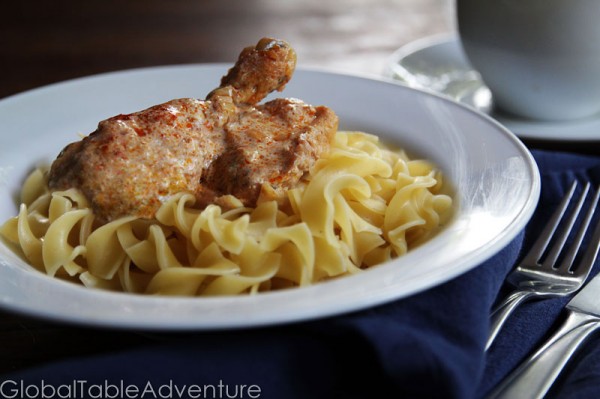 Ah, the joys of tender, succulent, spicy, creamy chicken.
Don't think, just dive in.
And ladle on more sauce for the noodles.
Thanks Hungary!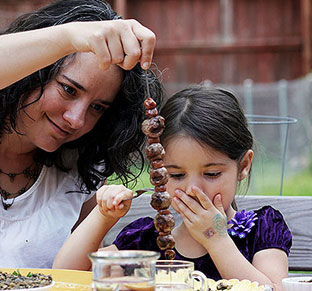 Hungry for more?
Be notified when National Geographic releases my memoir.
Simply fill in your details below.