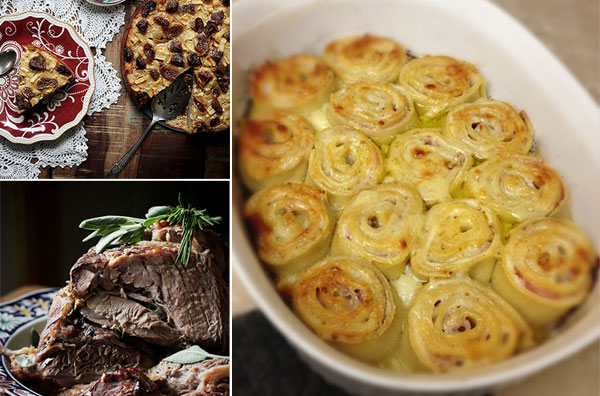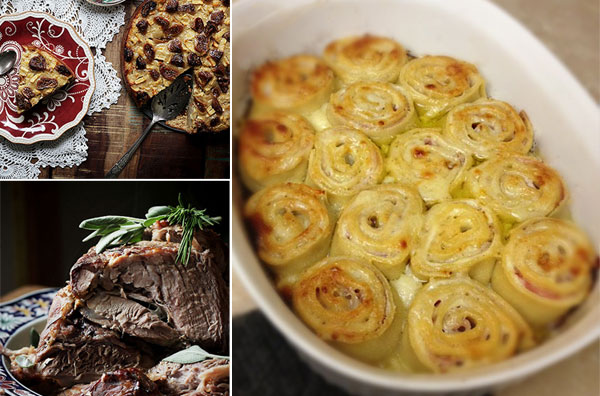 Here's something you might not have known: Abraham Lincoln was made an honorary citizen of San Marino in 1861. This made him happy, as he believed that San Marino demonstrated how a "government founded on republican principles is capable of being so administered as to be secure and enduring." (Read the whole letter)
What he doesn't mention in his letter to his "Great and Good Friends" is their food, likely because he never had the opportunity to sample it. Personally I believe that any "secure and enduring country" has to have great food.
Thankfully, San Marino delivers like a champ in this department.
This menu is a little like cooking Italy all over again (northeast Italy, anyway)… but with a flair distinctly Sanmarinese. Each bite of this menu is comforting, rich, and perfect for the curious stovetop traveler on a wintertime journey through the rugged mountains. You'll notice a lot of milk, from the bechamel to the pork roast, as well as typical ingredients like polenta, honey, and dried figs. Consider serving this menu with some asparagus or artichokes for a bit of color. Cheers, my Great and Good Friends!
All recipes and the meal review will be posted throughout the week.
Swallow's Nests | Nidi di Rondine [Recipe]
Take everything you love about cinnamon rolls and lasagna… and combine it into an addicting casserole of epic proportions. Our version is stuffed with bechamel, sliced ham and emmentalier cheese, although vegetarians could easily swap out the ham for spinach and mushrooms for an equally delicious meal.
Pork braised in Milk and Fresh Herbs | Maiale al Latte [Recipe]
Turn a simple Sunday roast into a  bite of San Marino by slow-cooking it in a bath of milk, rosemary, sage, garlic, and bay leaf.
Fig & Honey Apple Polenta Tart | Bustrengo [Recipe]
An incredible blend of apples, dried figs, honey, polenta, olive oil, and fresh orange and lemon peel. As one astute diner mentioned "This is what fruit cake tries to be."
Weekly Giveaway:
Last week's giveaway was so popular, we're doing it again!
I'm glad I'm not the only one dreaming of a world-shaped cookie cutters, spice snow globes, and the perfect peppermill.
Take another shot at our Global Gift Guide…
Here's how it works.
1. Pick any item you like off the Global Gift Guide.

2. Don't tell me what the item is, but leave a comment on this post telling me why you need it or what you'll do with it. (This could get funny).

3. Share the contest on Facebook, Twitter, and/or Pinterest.
That's it! 
Winner will be announced December 17, 2012. Prize must be claimed by December 24, 2012.
UPDATE! Giveaway Winner:
Congratulations, Leslie! You won your heart's desire off of our Global Gift Guide.
The color of the sky and the heart of the tree… hold a osso buco for me and thee.
Enjoy your …. well, I'm not sure what!! Contact me by December 24, 2012 to claim your prize!

P.S. Click here to read the product descriptions and link to merchants.