What being a grown up has taught me:
There's no way to turn couch surfing into exercise.
I cannot be a mermaid for a day, no matter how hard I will myself to grow a tail.
Superman isn't going to swoop down out of the sky and carry me away with him. Heck, he can't even find a phone booth these days.
That being said, there are lots of good things I've learned as a grownup.
Making my daughter guffaw makes my heart happy
Eating around the table with loved ones is worth a pile of dirty dishes.
There are superheroes in every day life, like my husband who quietly shovels our neighbor's drive when he thinks no one is looking.
And now… thanks to the tiny country called San Marino… I've finally learned that I can have the best of two worlds: lasagna and cinnamon rolls.  The dish is called Nidi di Rondine, or Swallow's Nests. Think fresh sheets of pasta spiraled like a cinnamon bun, but layered with bechamel sauce, cheese, and ham (and a pinch of nutmeg). Then the whole shebang is baked on a bed of more bechamel sauce, under a sprinkling of Parmesan, for an ultra creamy casserole.
The beauty of Nidi di Rondine is how each portion spirals in on itself like a rose or bird's nest or… or… a giant food hug. The casserole makes a particularly stunning contribution to a dinner party potluck and is a great conversation starter.
Vegetarian? leave out the ham and include just about any vegetable you can think of, like spinach or mushrooms.
In a hurry? Try using ricotta instead of bechamel and fresh lasagna sheets from your grocer's refrigerator section.
Even more in a hurry? Our neighbors made a version with puff pastry instead of pasta and cooked the casserole at 400F for 20 minutes. They even topped it with a little tomato sauce.
Bottom line? No matter how you roll it, Nidi Di Rondine wants to be a part of your life.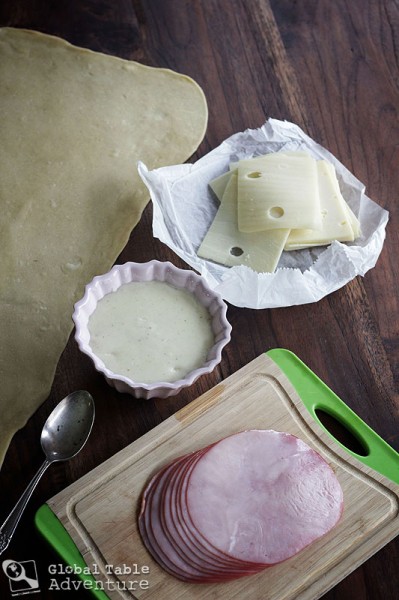 Makes 15-18 nests.
Ingredients: 
1/2 batch Homemade pasta dough, or store-bought sheets of fresh lasagna
Bechamel sauce:
2 Tbsp butter
3 Tbsp flour
1 1/2 cups whole milk
1/8 tsp nutmeg
salt
Filling:
8-10 oz thin Ham slices
8-10 oz very thin cheese slices (like emmentalier or mozarella)
1/2 cup parmesan to spoon on top of each nest
2-3 Tbsp olive oil
Method:
Let's go to a special castle in San Marino, where the swallows swoop and gentle breezes tuft along the mountainside. This is the perfect place for a daydream. A perfect place to make Nidi di Rondine, or Swallow's Nests.
Can you see me waving from the window?
Start by making the homemade pasta. Set it aside to rest for 20 minutes.
Meanwhile, make the bechamel: melt the butter in a pot. Whisk in the flour and nutmeg until completely combined, then whisk together with a little milk. Keep adding milk a little at a time until a smooth, thick sauce forms. Set aside.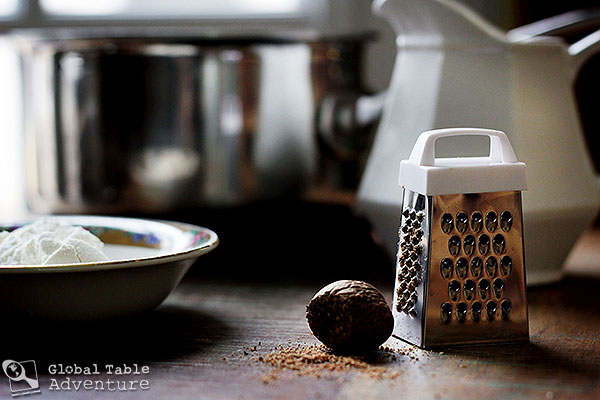 Next, roll out the pasta dough into a large rectangle (remember we're just using half a batch)…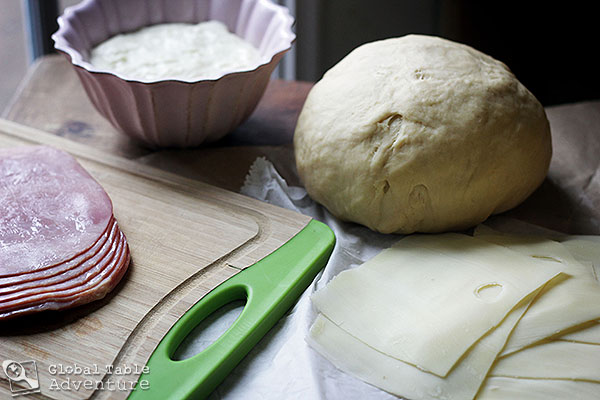 My rectangle was about 14″x21″ or so (bigger is fine)
Top with half the bechamel sauce… then ham, then cheese.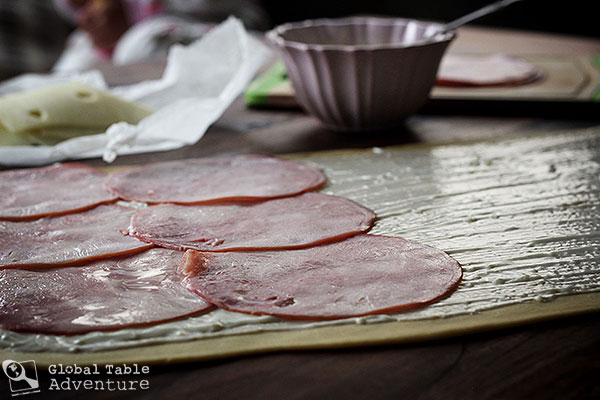 Tip – use really thin slices of cheese…have the deli counter slice it for you.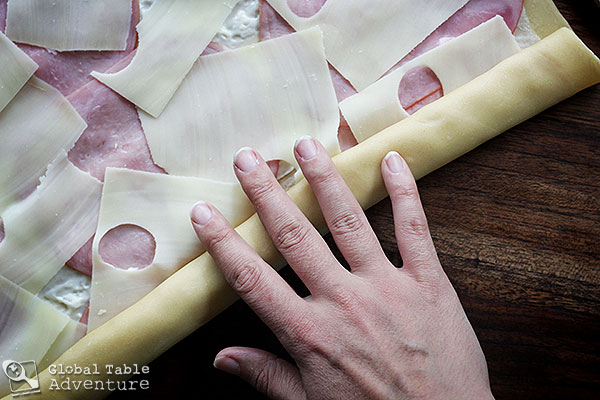 P.S. This is what you do if you realize you don't have enough ham and cheese slices… checkerboard it up!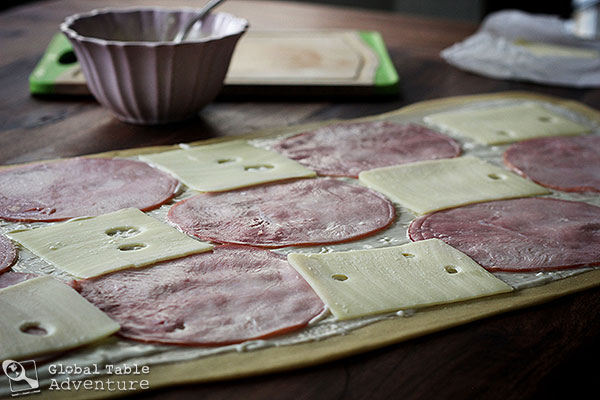 But ideally, yours would be covered all over with cheese. Shredded cheese works, too.
Then roll up into a long tube. Freeze for about 30 minutes (this will make it so easy to slice). If you need to slice it in half to fit in your freezer, go for it.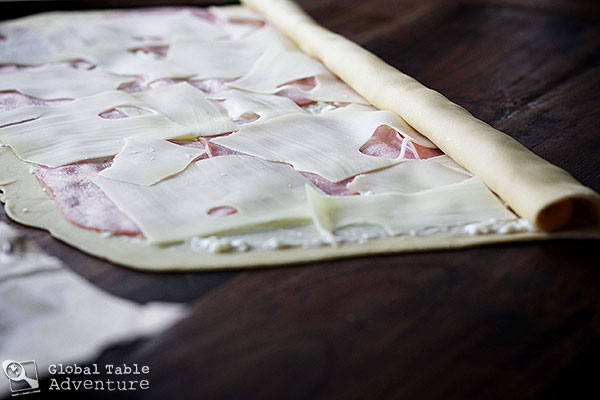 Now we're ready for the fun part.
Preheat the oven to 325F and oil a casserole liberally. Spoon in the remaining half of the bechamel sauce.
Remove the pasta roll from the freezer and slice to make individual nests. The best way to make them equal sized is to slice the roll in half, then half again, and so on.  (mine ended up being about 1 1/2 inches high).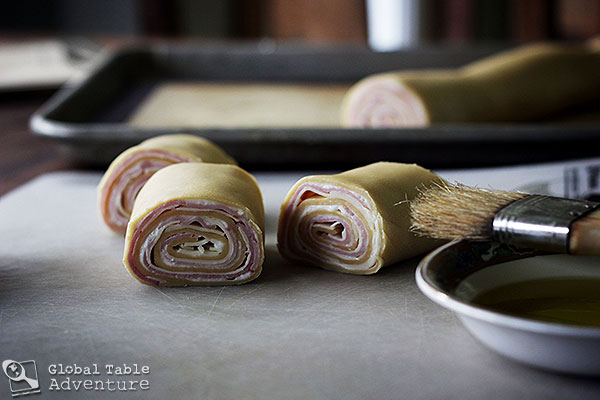 Brush the sides with olive oil so they don't stick to each other and then place, cut side up in the casserole. Top with 1/2-1 tsp grated Parmesan per spiral and bake at 325F for 45-50 min…
TIP: The less Parmesan you add to the spirals, the easier it will be to see their lovely design.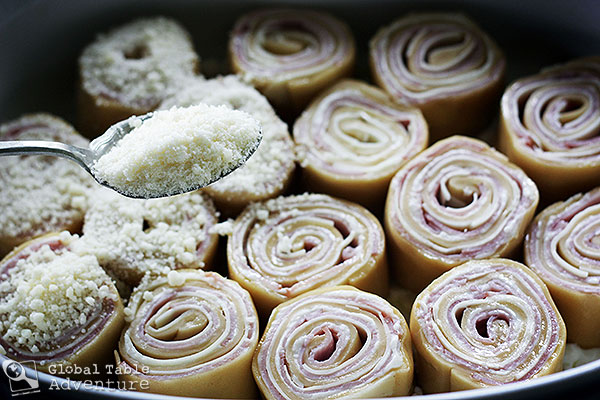 Unbelievable…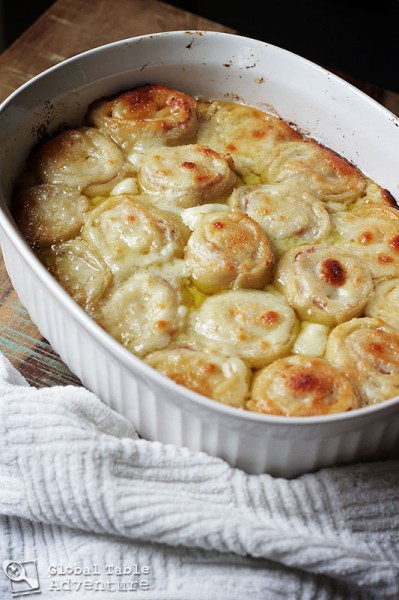 … and just like that, San Marino has my heart.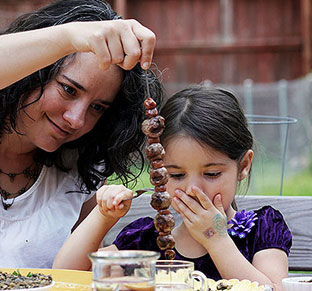 Hungry for more?
Be notified when National Geographic releases my memoir.
Simply fill in your details below.