We all have mountains to climb  (or, since this is the Philippines' week at the Global Table, we all have volcanoes to climb).
To cook the Philippines, I rolled two dozen lumpia shanghai, simmered pork adobo with a house-cleansing formula of vinegar and bay leaf, and slurped on bubbly, ooey, gooey sago at gulaman. And none of it was easy.
Every step of the way, I felt like I was trudging on the steep side of a cold volcano.
Until I got to the vista.
You see, this week's cooking was made difficult by the fact that I had something else on my mind: I was scheduled to speak in front of 350 people at the Global Vision Dinner presented by the Tulsa Global Alliance. What an honor! What a treat! And, considering I'd never spoken to more than 35 people at one time, I was incredibly nervous.
My shaking hands and bad dreams told me, this was an opportunity for growth if I ever there was one.
So, I practiced the speech walking home from Ava's school in the morning. I practiced while rock climbing at my gym. I even held a cellphone to my ear at the park and practiced while sitting on a bench, watching Ava play on the playground (Oh, the things we do to not seem crazy…).
Over the last year and a half, I've been so focused on figuring out what family means to me, that I've all but forgotten about me – the individual. On the night of the performance I stood in front of this amazing crowd, not knowing what to expect from them or myself.
The crowd sprawled out in front of me. It was the most wonderful vista. Just little ol' me, staring out at the world. Yet, instead of being overwhelmed, I felt as though I was with friends. As I told them how much I believe in our ability to create peace and love by cooking the world, the fear fled.
As they say in the Philippines, "To a fearless person, no fence is high enough." (Sa taong walang takot, walang mataas na bakod.)
To that, I say yes.
We can get there.
We can tackle any fence – climb any volcano – if peace is on the other side.
Lumpia Shanghai [Recipe]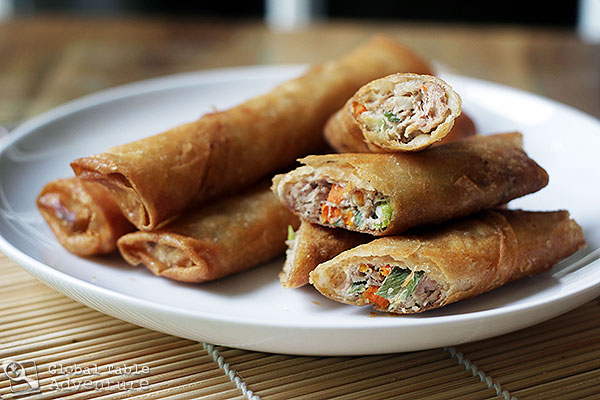 What I loved most about this dish:
Lumpia Shanghai are crispy, with a razor thin crust which just begs to be nibbled again and again. The veggie-studded pork filling inside made the entire family hungry, with little Ava and Mr Picky both clamoring for more. The most fun? Rolling these up with Ava and deciding (together) which veggies to include.
What I loved least about this dish:
Ava would not have tried this except for the fact that she helped me make them. Over the last year she has consistently shaken her head "no" at anything resembling an egg roll. Until now. There aren't too many tricks, except making sure the meat cooks through. They take a while to turn deep golden brown all over, so let them cook as long as needed for even color.
Filipino Braised Pork Adobo [Recipe]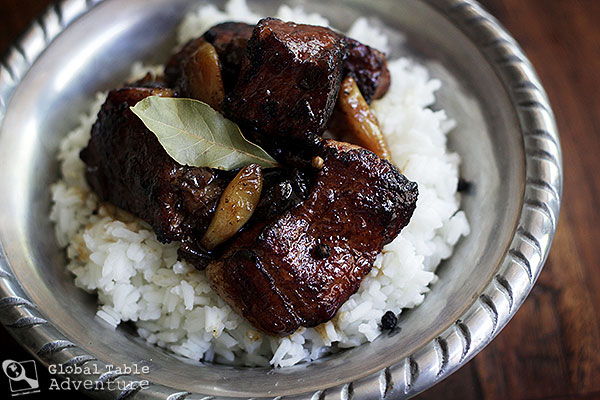 What I loved most about this dish:
This was finger lickin'… the key to a lovely Sunday dinner in Autumn. The flavor is heavy on the vinegar with a splash of soy sauce and brown sugar. I especially loved the little bursts of heat from the black peppercorns. The family liked it, too, although they might have enjoyed it more if I had used a bit more brown sugar to balance the tang. But then it wouldn't be adobo…
What I loved least about this dish:
I made a mistake the first time and prepared adobo with pork loin (a dry cut of meat) – never again. It's a million times better when prepared with a nice fatty cut like pork shoulder, ribs, etc. The marbling will help the meat fall apart in the most addictive way.
Tapioca & Jello Sipper | Sago at Gulaman [Recipe]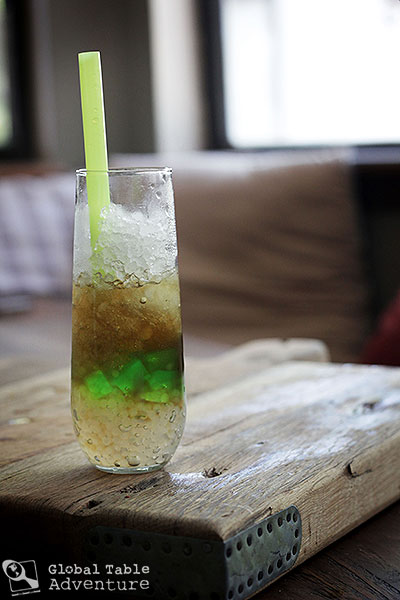 What I loved most about this drink:
This is a great party drink – it tastes great, looks festive, and will be all anyone will be able to talk about. You can customize the flavor with any jello you like – our pandan jelly made the drink super special. Next time I'm going to try the mango. Ava had a blast with the jello (although she still won't eat it) and looking at the tapioca (although she still won't touch the stuff). I loved it.
What I loved least about this drink:
Ava tried this twice, but wasn't crazy about the textures. I think if we continue to offer it as a fun drink, she may eventually go for it.
Ava's Corner
GIVEAWAY WINNER
*Winner from this week's Filipino Menu Giveaway was selected at random by random.org. There were so many fantastic ideas for globally-inspired baking dishes.  Congratulations to Katherine, who said:
"I would make embutido (Filipino style meatloaf) in those beautiful bowls! Also, love that this week's cuisine is Filipino!"
Yum. Please email me by 10/8/12  to claim your mixing bowls, Katherine!