If you like windmills, green pastures, unusual architecture, a dollop of Indonesian culture, and being way, way below sea level, then our week at the Dutch Global Table is for you. But first, let's start with the basics. We have lots of names to keep track of. The country goes by the Netherlands and Holland (Holland being reserved for when her territories are also being referred to). Regardless, her people are called the Dutch and 25% of their land is below sea level and twice that no more than 1 foot above sea level, giving the country yet one more name: "The Low Country."
It's funny to be spending a week on the food of Netherlands during 101F days, since this isn't really her element. In fact, there's a wintery-crunchy-leaves-snowy-skies sort of feel to the place which is reflected in the food. Most Dutch food is hearty and homey – sausages, potatoes, soups, stewed meat (hachee), and thick brown gravies. They are known for a fantastic potato salad, loaded up with all manner of goodness [Recipe]. Great cheese and butter also come from this region. For vegetables, favorites include Brussels sprouts, kale, cauliflower, and cabbage. Carrots and onions are mashed with potatoes – this is called hutspot.
Even with all that hearty food, a nice summery meal is still possible. On the balmy summer days, one might make a meal of potato salad with chopped veggies, steamed asparagus wrapped in ham, or even fish (sometimes battered and fried as with kibbeling, other times served pickled as with herring).
There is a huge Indonesian influence on Dutch cuisine as well, thanks to former colonial days. You'll find glutinous rice used in various ways, most notably in a rice and custard pie of sorts called rijstevlaai from southern Netherlands. There's also dishes like nasi goreng [recipe], which we made when we cooked Indonesia. This vegetarian fried rice is loaded with sweet shallots, kecap manis (apparently the predecessor to ketchup), and topped with a beautiful fried egg.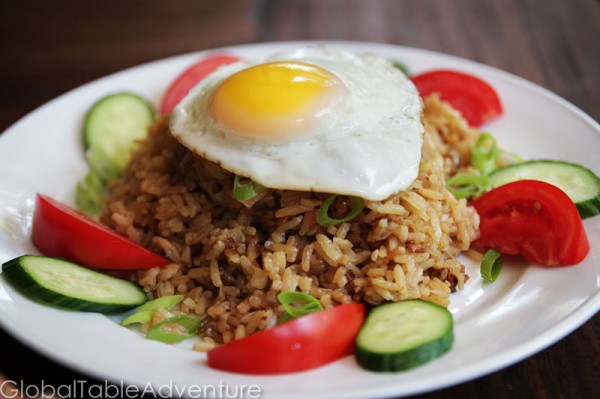 When it comes to sweets, the Dutch have a few fun tricks up their sleeves. There are tons of apple fritters, pies, and tarts, but one of the all-time favorite breakfast sweets is hagelslag, served as  buttered bread loaded up with a "hailstorm" of high quality chocolate sprinkles [Recipe]. Chocolate doesn't have to be in sprinkles to be enjoyed, however, as chocolate milk and hot chocolate are beloved as well. And on Saint Nicolas Eve (December 5) children often find the first letter of their name in chocolate as a gift, supposedly from Saint Nicolas himself.
If chocolate isn't your thing…. well… there's still a ton of options. For starters, there's gingerbread [recipe] and Ontbijtkoek, or Dutch spice cake  [Recipe], which is used in elaborate celebrations for the Queen's birthday. Think cake hanging from strings for all to eat.
Cake on strings. Hanging from the sky. For all the people.
Let them eat cake, indeed.
Thirsty? Wash it all down with a beer (anyone up for a glass of the famous Heineken?)