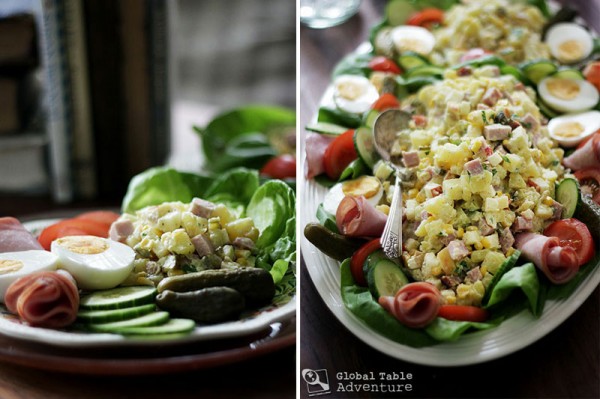 If I were to make a potato salad, it would not be loaded up with mayo, nor would it be heavy as a brick 0r as fresh as Frankenstein. No. My picnic table would have something far more glorious: I would make this Dutch potato salad.
She's full of bright, juicy apples, smoky cubes of ham steak, sweet corn, and tiny, salty gherkin slices. She's an entire meal, surrounded by tender lettuce, hard-boiled eggs, cucumbers, tomatoes, more gherkins, and whatever else you'd like to nibble on.
Radishes? Sure. More apple slices? Absolutely. Steamed asparagus? That's totally Dutch. Swap the ham for beef? Yes, yes.
Want to eat your potato salad in a lettuce wrap? Do it with a smile!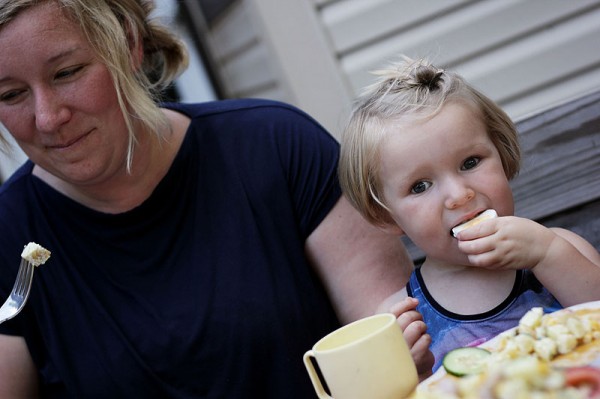 When all is said and done, and you look down at your plate, you'll find a fairly healthy meal.
This is the perfect platter for any party. I can see it at a baby shower or bridal shower luncheon.
And, of course, as an easy summertime dinner.
Perhaps in the company of some rabbits.
Some Dutch rabbits.
Or maybe just at your Dutch home.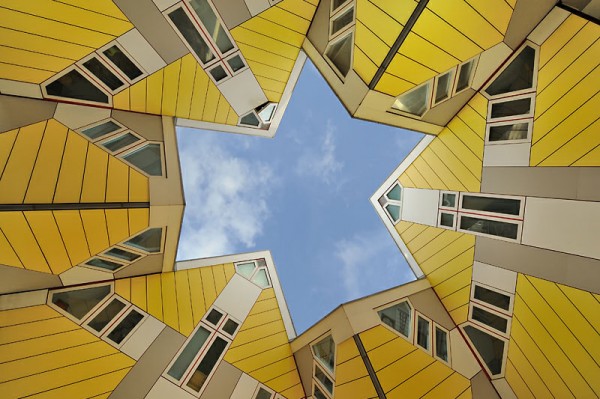 Inspired by D is for Dinner which, incidentally, gave me the idea to serve the cake on a rope. 
Serves 6
For the potato salad
1 1/2 lbs yukon gold potatoes boiled & diced
2 apples, diced (I used jazz)
5 gherkins, diced
3/4 lb ham steak, diced
1 can corn, drained
handful parsley, chopped
Dressing:
2 Tbs white wine vinegar
1/2 cup mayonnaise
salt & pepper
Accompaniments:
3 Hard boiled eggs
1 head Bibb or green leaf lettuce
2 Tomatoes, wedged
1/2 a cucumber, sliced
gherkins, as desired
6-8 slices deli ham, rolled
Method:
Let's go to the Netherlands via Stovetop Travel. I love the country side myself… first stop? Let's pick some potatoes.
Now, weigh and wash the farm off your potatoes. Place them in cold, salted water and bring to a boil. Cook until tender.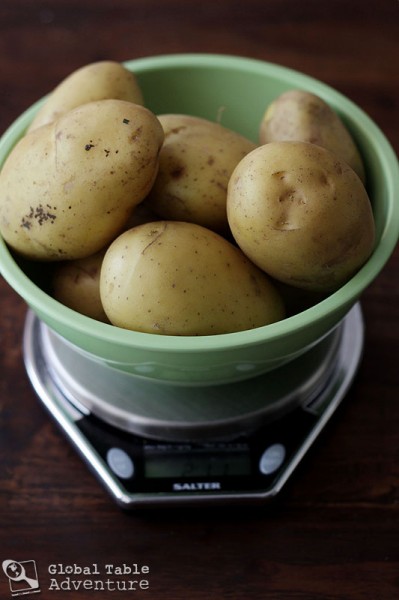 Meanwhile, dice up the apples, gherkins, and ham steak. I've been told that vegetarians like to swap cheese for the ham.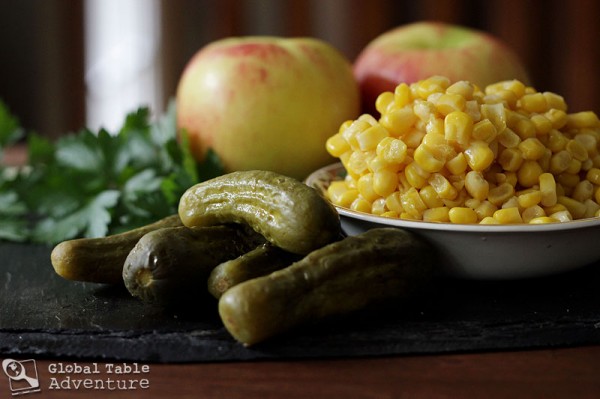 Add everything to a large bowl, along with the parsley. Look at these beautiful colors.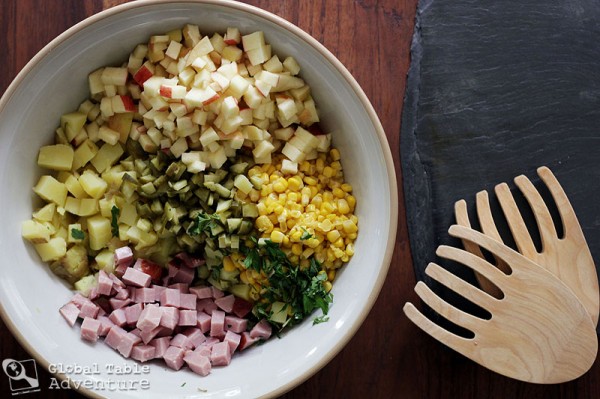 Now to get it all mingled and happy, mix with the vinegar, mayo, salt and pepper. You can eat it just like this, but I highly recommend…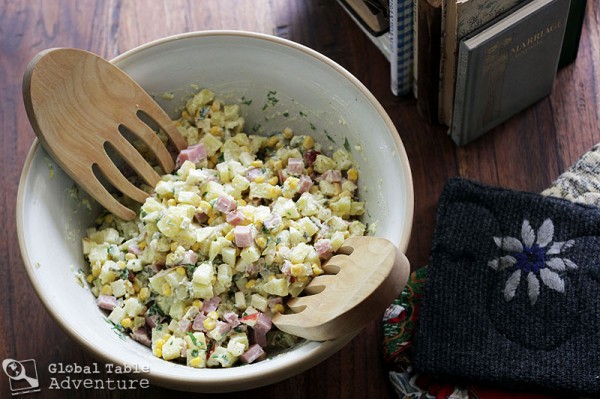 … turning this meal it into an epic dining phenomenon. To do so, lay down some lettuce around the edge of a large platter, slightly overlapping. Then spoon on a mound of  potato salad. Finally, have fun decorating the edges with all manner of veggies. The more…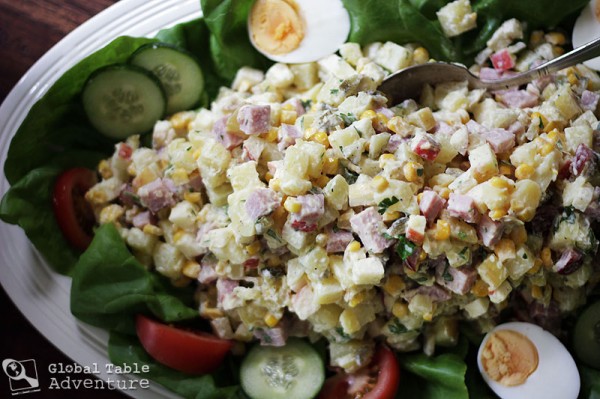 … the better. Mr Picky wants to let you know that ham rolls are always appreciated (just buy cold cuts and roll 'em up)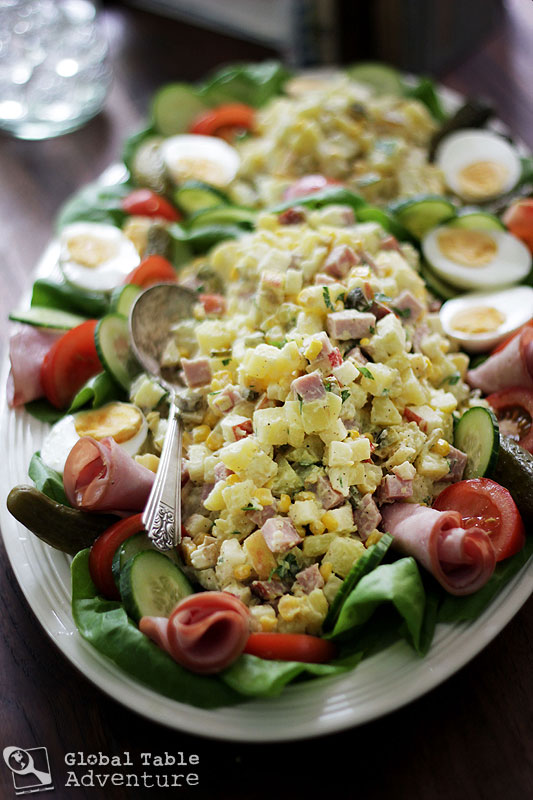 At lunchtime, let everyone make up their own plates and enjoy the casual fun of it.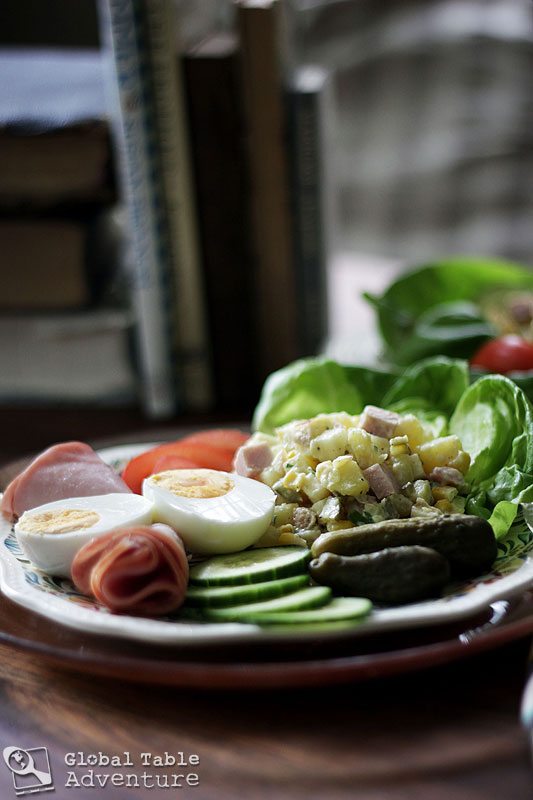 Now that's a happy potato salad.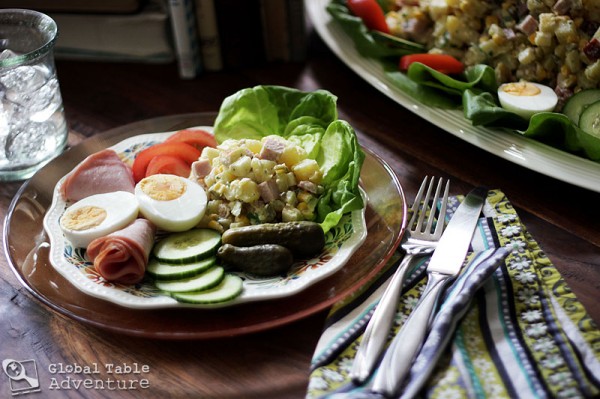 Enjoy your Dutch picnic!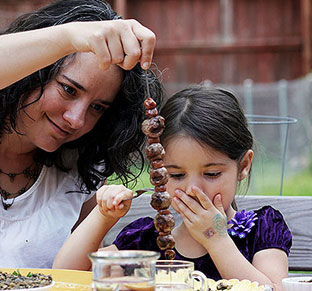 Hungry for more?
Be notified when National Geographic releases my memoir.
Simply fill in your details below.