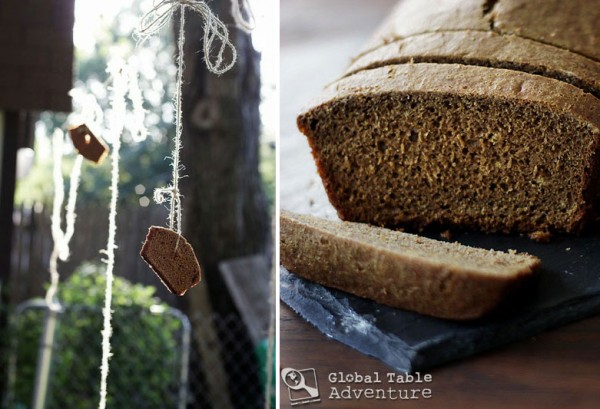 This spice cake creates so much joy, it should come with trumpets and streamers. Cake on a rope. So simple, and yet so brilliant. Every child will tell you: this is the stuff dreams are made of. All over the Netherlands, the Dutch nibble on swaying ropes of cake in honor of the Queen's birthday. No hands allowed. This wildly popular event is called a koekhappen. Weather permitting, many lucky children enjoy a koekhappen on their birthday as well.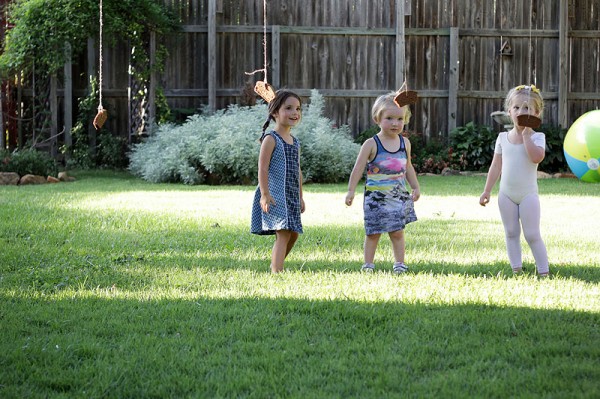 One of our readers, Sylvia, told me a bit more about the Koekhappen:
Koekhappen is a great game for kids. A birthday game, but an old-fashioned game as well that is done everywhere in Holland on Queen's Day. The Royal family usually visits a specific few towns/villages in a certain region on Queen's Day alternating them every year and celebrate the Queen's Birthday. It's still a day of many traditional games, singing and showing (local) talents. Certainly do this 'koekhappen' with Ava. Go for it and enjoy!
Here's Ava, desperately trying not to eat the cake before I get it tied up. She's pretending to be a windmill.
She was surprisingly patient for an almost-three-year-old.
The cake itself, called ontbijtkoek, is a simple spice cake that reminds me of gingerbread. You won't spend much time cooking (there isn't even an egg to crack), so more time can be spent outside trying to catch the wiggling, bouncing pieces of cake. This just might be the solution for those hot summer birthdays, where frosting is an issue.
P.S. If, for some crazy reason, you decide not to string your ontbijtkoek up outside, you can serve it with some butter, butter and cheese. While it's not traditional, I think it would also go well with whipped cream or even creme anglaise. But, really, who wouldn't want to do this…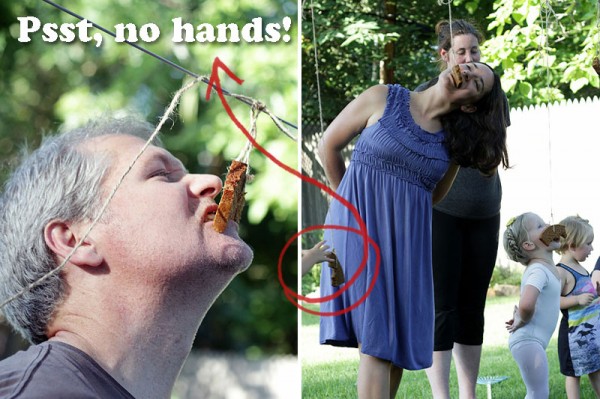 P.S. Bonus points if you decide to use blindfolds, you know, because eating a cake swaying on a rope isn't hard enough.
P.P.S. Apparently whistling is a thing, too… as you can see from this video, noone can seem to do it after eating a slice of ontbijtkoek.
Adapted from My Dutch Baking Blog
Ingredients:
1 cup rye flour
1 cup all purpose flour
1 Tbsp baking powder
1/2 cup brown sugar, packed
1/3 cup molasses
1 cup of milk
pinch of salt
The spices:
1 Tbsp ground cinnamon
1/2 tsp ground cardamom
1/2 tsp ground ginger
1/4 tsp ground nutmeg
1/4 tsp ground cloves
Method:
This is a super simple, dump-and-go recipe. All you have to do is mix everything and pop into a preheated 300 degree oven for about an hour. And then you just have to eat it, while dangling on a wibby wobby string.
The cake, not you.
So, here we go.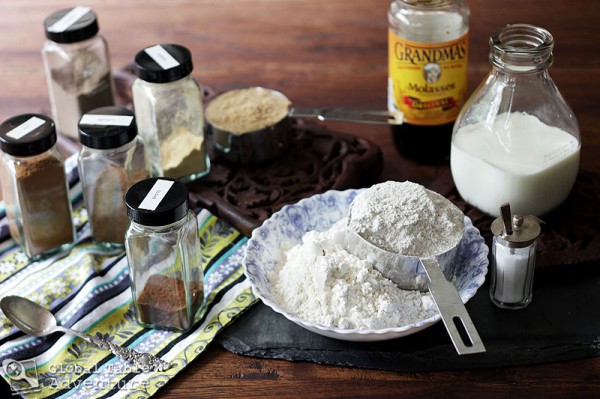 Whisk everything together in a large bowl.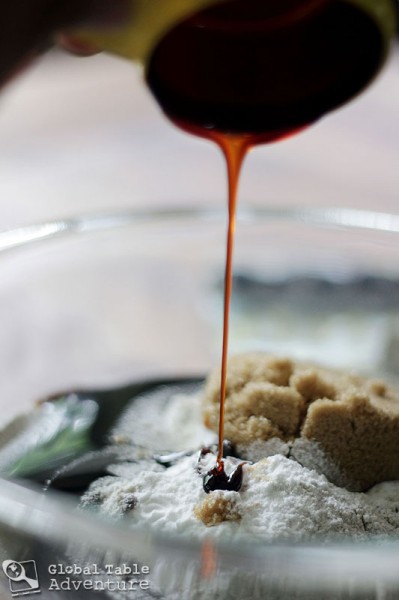 Until a pretty, tan batter forms.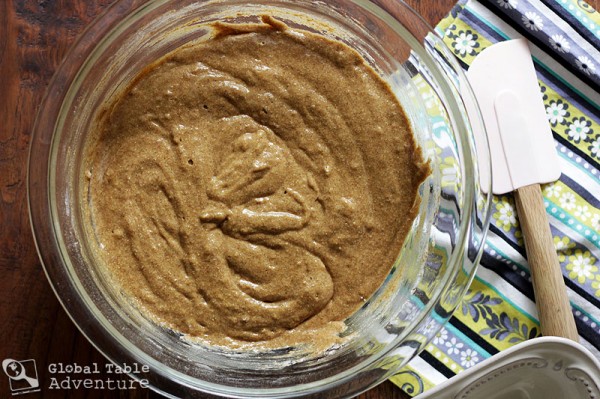 Pour into an oiled (or buttered) loaf pan.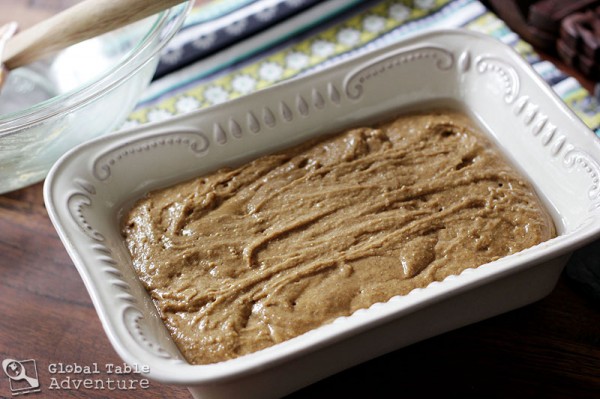 Bake at 300F for one hour, or until a toothpick comes out clean. Let cool completely.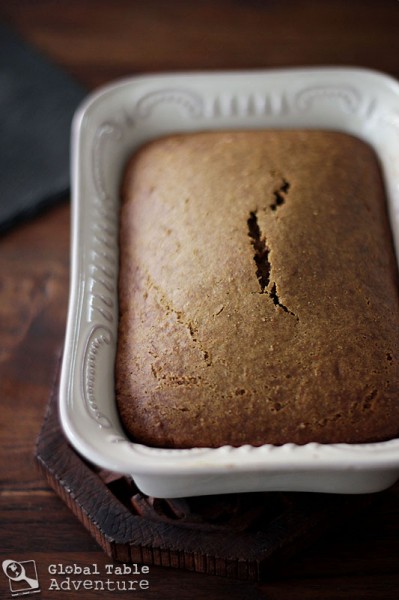 Meanwhile, go for a hike through the Dutch countryside and enjoy the crisp blue skies.
Now for the fun!
To string up your cake you'll need a line (we used our laundry line) and then several different lengths of string or twine to thread through the cake.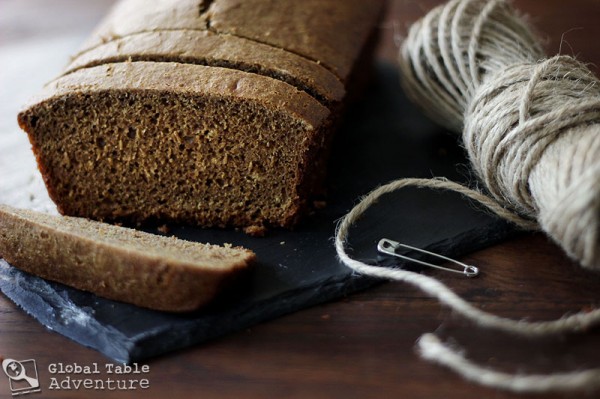 Some people like to use scissor tips to poke holes in the cake. I preferred to just push the twine through the cake after attaching it to a safety pin. The hole is smaller and the process is neater.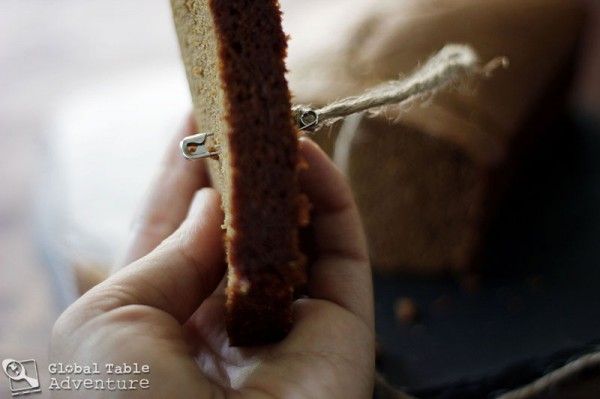 Then you tie it in a loop.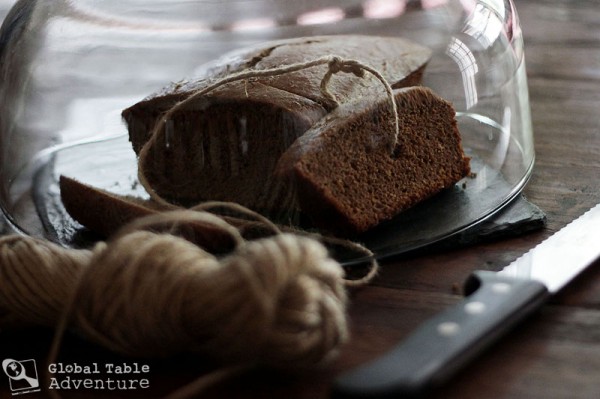 After I made that sample, we waited until our friends came over to do the rest. It was a fun group activity and the kids were fascinated.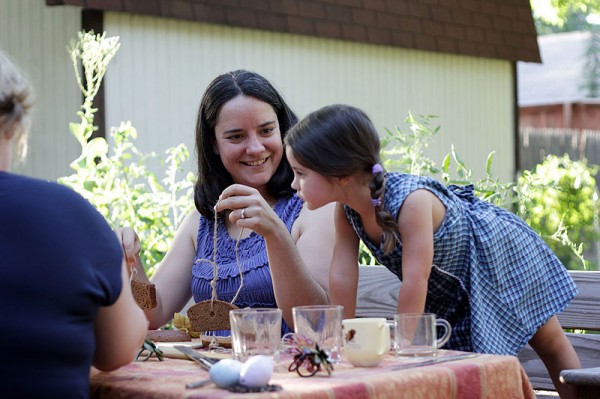 As was I.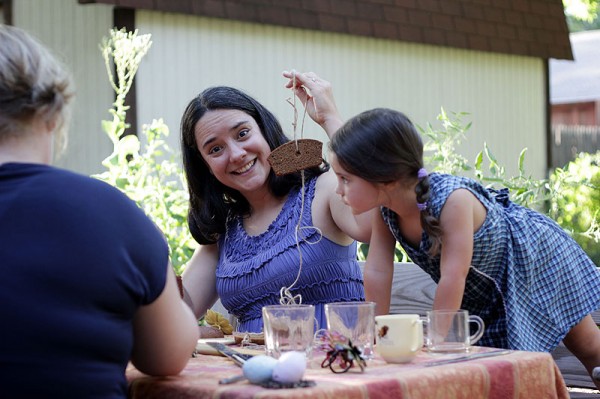 They didn't move from their spots for the entire cake-stringing. Total focus.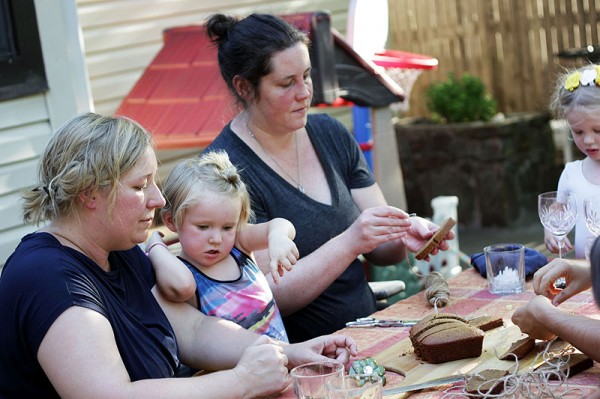 Next, we began tying the twine to the laundry line at varying heights.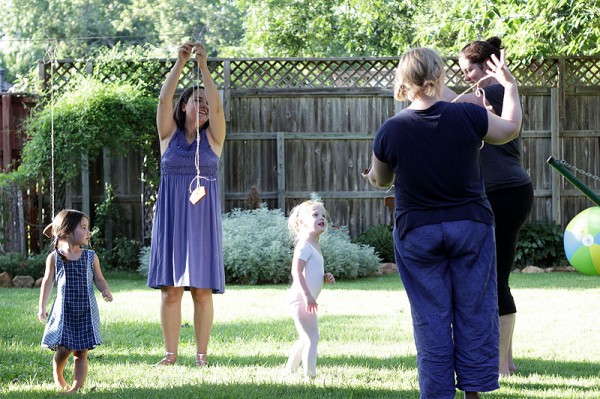 While there was a lot of talk about keeping our hands behind our backs, reality played out a little differently.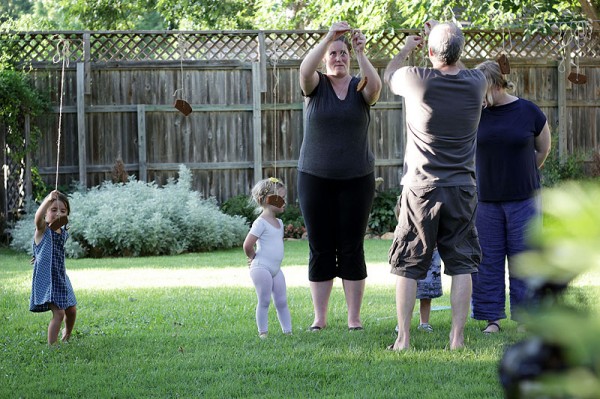 The excitement builds…
"now?"
"what about now?"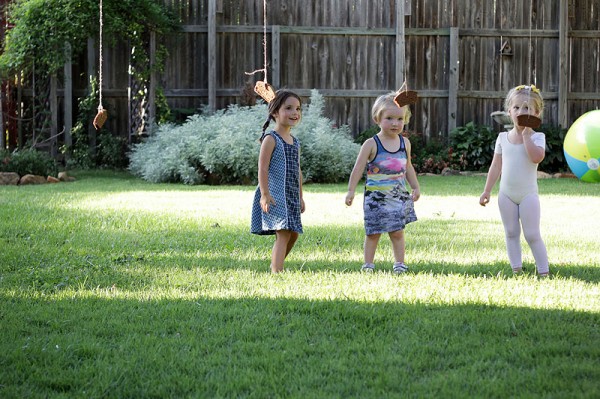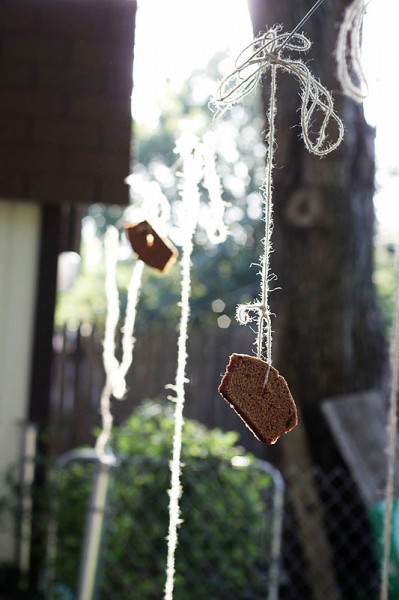 Finally the last cake was hung and the time came…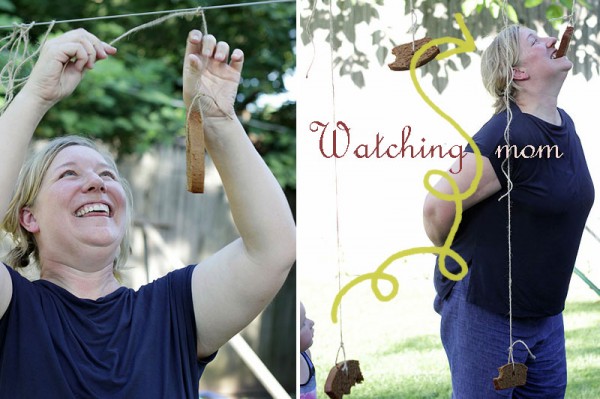 Hands behind the back!
Een, twee, drie…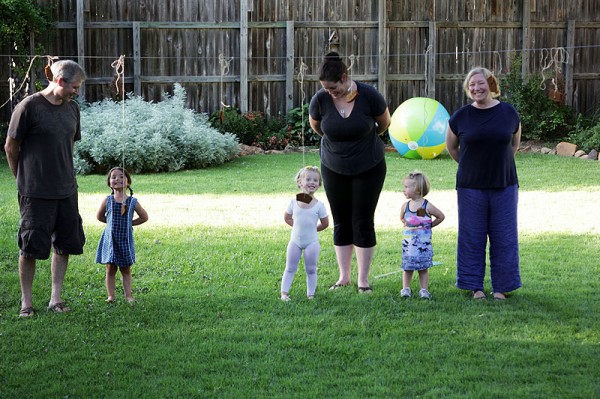 … go!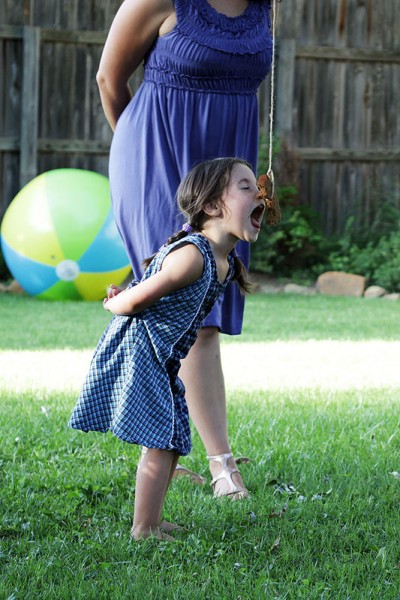 It wasn't easy for the kids…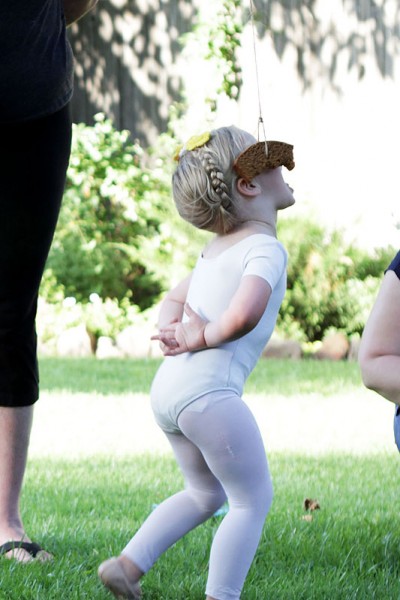 Hands were often employed.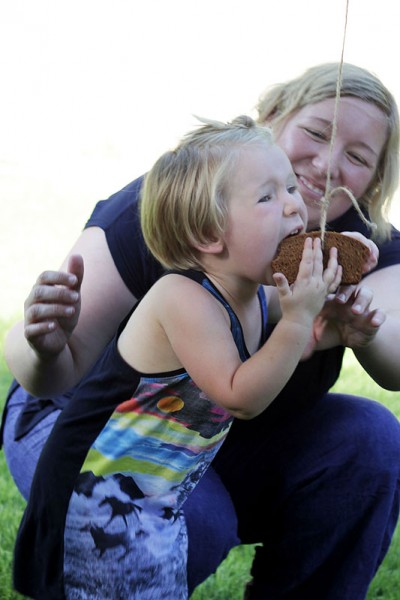 But in the end, they each ate their entire slice.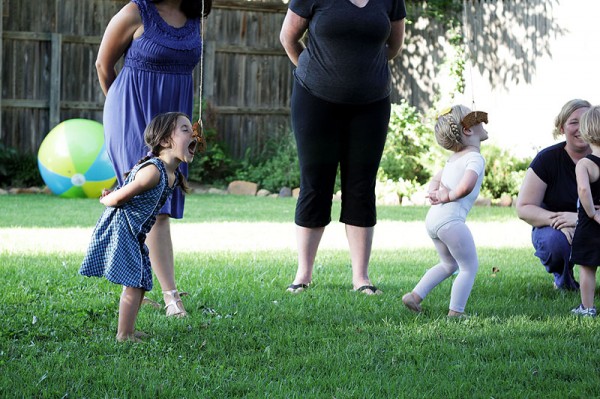 As did the adults!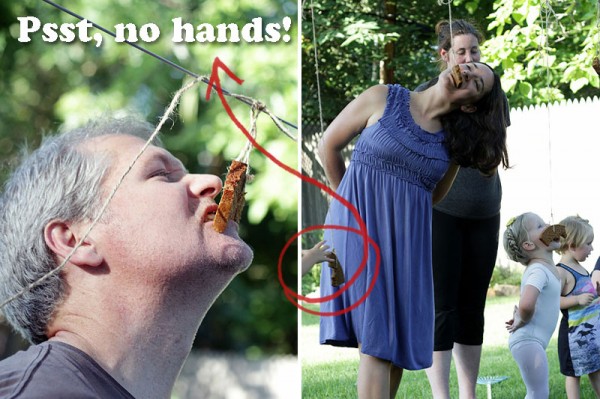 So what are you doing this weekend? Is there a koekhappen in your future?
If so, can we come?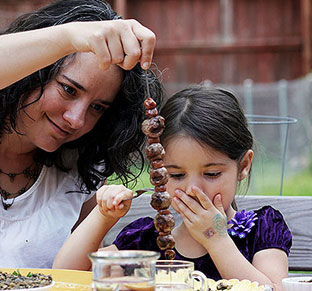 Hungry for more?
Be notified when National Geographic releases my memoir.
Simply fill in your details below.