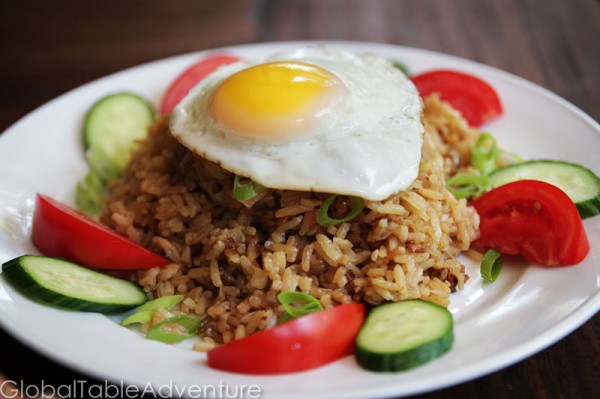 Serves 2-4
Let's get up and greet the day like an Indonesian. Stretch your arms to the sky. Touch the earth. Pile your plate with fried rice.
And cow's eyes.
Now, don't get me wrong.
I don't mean a cow's cow eyes. I mean fried eggs. That's simply what they call them in Indonesia.
As far as breakfast goes, Nasi Goreng is incredibly satisfying. Especially if you eat it on top of an 8th century Buddhist monument.
And why not? With stove-top travel, we can go wherever we want.
Note: This recipe is best made with day-old rice. If you cannot take the time for this, cool your rice in a thin layer on a cookie sheet in the fridge. You should be able to use it after an hour or two. You're basically looking for it to be dry to the touch. Moist rice will not fry up right – it will get mushy. Also, I left out the chili pepper so Ava could eat it, but locals would often add sliced red chili pepper to this recipe.
Ingredients:
1 1/2 cups dry jasmine rice cooked and refrigerated overnight
2 Tbsp vegetable oil
2 large shallot bulbs, minced (or 1 small onion)
4 large cloves garlic, minced
chili pepper, minced to taste (optional)
1/8 cup kecap manis (or to taste)
Accompaniments:
1 cucumber, sliced thinly
2 tomatoes, sliced in wedges
2 green onions, sliced thinly
1 egg per person
Method:
Off we go. First, whip up a batch of rice and refrigerate overnight. Then fly over to Borobudur, the 8th century Mahayana Buddhist monument in Indonesia.
Settle into a peaceful, cozy spot to watch the sun come up.  As the sun lifts, watch the strange sculptures come to life.
Incredible.
In a minute I'll show you what's inside those stupa domes.
For now, let peace settle into your bones. Take inventory. How are you? How do you feel? If you notice your tummy rumbling, prepare a happy batch of Nasi Goreng, Indonesian fried rice. It's the breakfast of Indonesian champions. You'll be glad you did.
In a large pan or wok, heat up oil over medium high. Toss in the shallots and garlic. You can also add hot chili peppers, if you're using them.
Cook until soft and beginning to brown.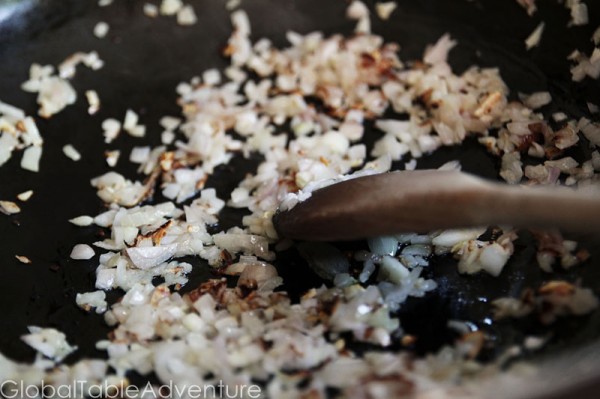 Pour on the kecap manis – sweet, sweet soy sauce available at Asian grocers. You'll want to swim in this stuff. But you can't, because it's thick, like molasses.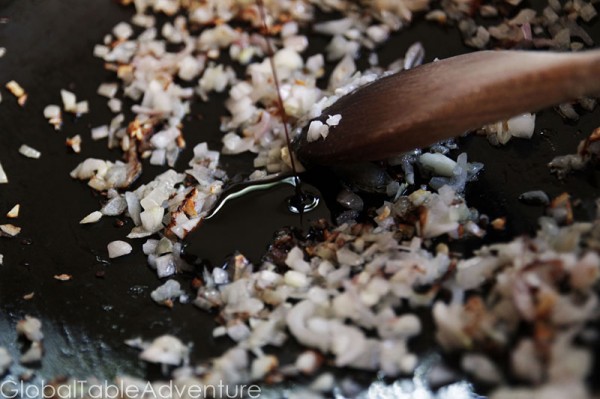 Pile on the glorious, cooled rice, breaking up any clumps as needed. Fry in the oil while stirring.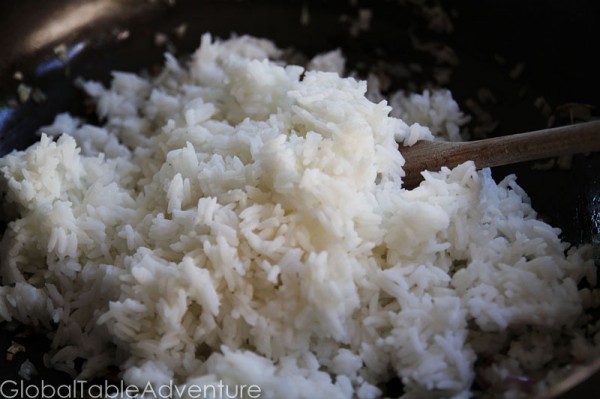 The sun should be all the way up by now. As you cook, look around and enjoy the scenery. What a magical, timeless view… silken mountains, mossy trees, latticed monument.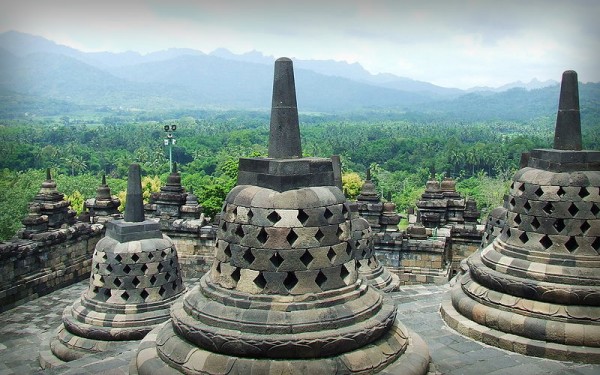 Appreciate the view. Just don't burn the rice.
You're done when the rice is evenly coated with the sauce and little crispy bits begin to form, making each grain of rice irresistible.
Taste and adjust seasonings, as needed. Perhaps a bit more kecap manis? You decide.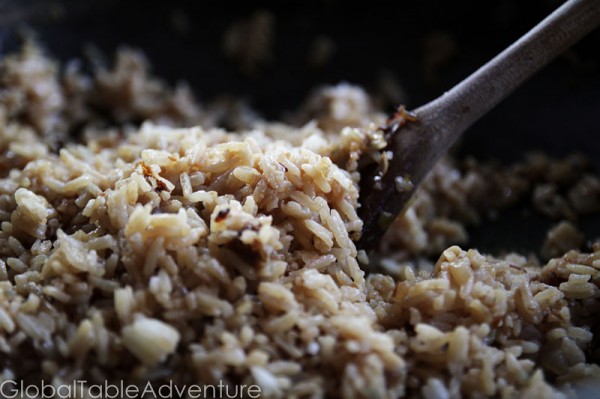 Now for the healthy part. Nasi Goreng is typically served with cucumber, green onion, and tomatoes. These tomatoes are from our garden. Red, red, red.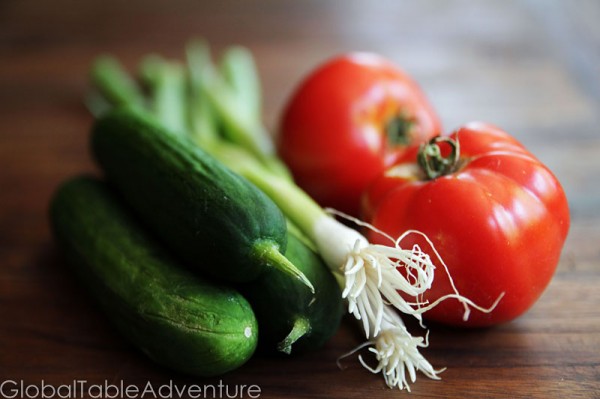 Oh, and now for the "cow's eyes." I like one cow eye per person (yes, these are words I never thought I would utter).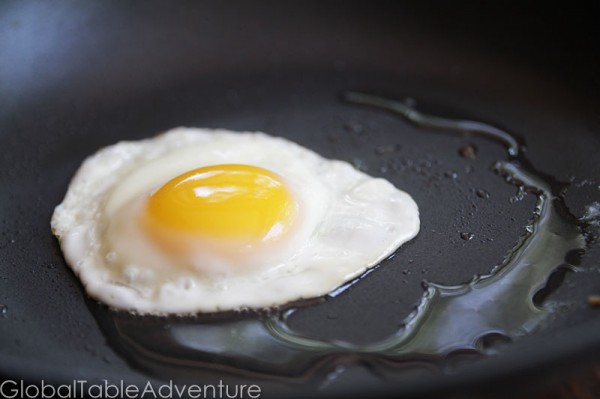 Assemble everything and…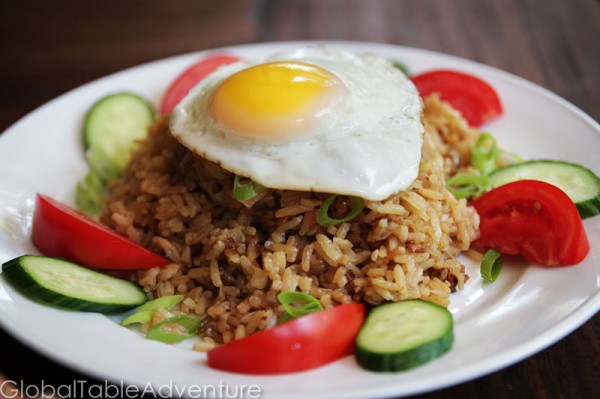 … take your vibrant, happy dish to a special spot. Keep hiking – up, up, up – until you find it. Perhaps you'd like to sit inside one of those stupa domes and share your meal with a stone dining companion?
Me, too.
For your reference, that Buddha man has 503 buddies just like him at the monument, inside stupa domes, so you can take your pick.
Thank you, Indonesia!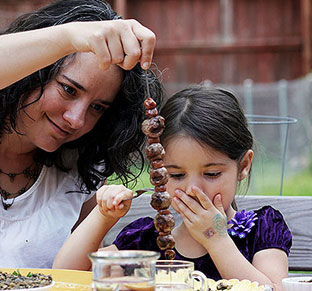 Hungry for more?
Be notified when National Geographic releases my memoir.
Simply fill in your details below.