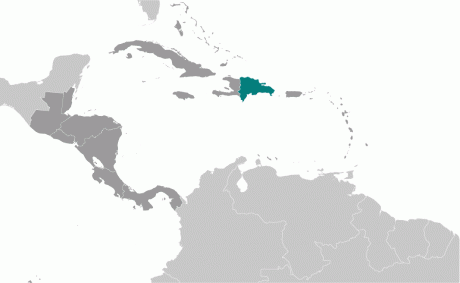 Fancy a trip to the Alps? The Dominican Alps? That's right. Smack dab in the heart of the Dominican Republic, far away from the 'all inclusive' resorts and pristine beaches,  are the tallest peaks in the Caribbean. Clinging to their sides are cool wooded forests composed, primarily, of pine trees. In the spring, a dedicated hiker may even be rewarded with clusters of sweet strawberries.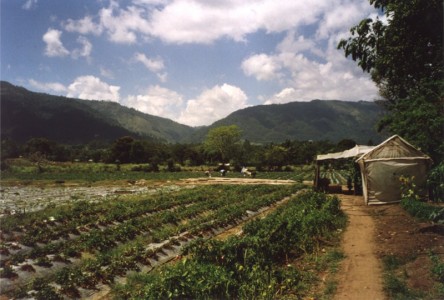 I never thought learning about the D.R. – situated on a tropical island – would make me homesick for New England, but there it is. I'm ready for the first flight back.
In case you aren't a fan of fresh evergreen scents, you can swim in the billowing pools of Dominca's waterfalls, or simply sit back and do nothing but sip on a cup of café con leche (coffee with milk) – a dream to end all dreams, as I sit here in a wool sweater, toes frozen, watching snow roll past my window.
Speaking of coffee, let's talk about food. If you look in any Domincan's fridge you'll find a container of Sofrito/Sazon [Recipe]. This is a seasoning blend that can be made of most anything (depends whose fridge you are peering into). Basic ingredients can include peppers, onions, parsley, cilantro, garlic, tomatoes, tomatillos, and more. The recipe is less important than the application – Domincans use Sofrito as a seasoning base for soups, roasts, and even as a marinade. Chicken is a great example -if the Sofrito is left chunky it creates nice texture to the dish [Recipe]. Similarly, if you add a bunch to beans [Recipe], you'll have instant depth of flavor.
Oh, but we can't walk away from the Dominican Republic without talking about dessert. Fresh fruit, flan, and sweet cakes all top the list. Like many latino communities, evaporated and condensed milks are incredibly popular, as in the infamous Tres Leches Cake [Recipe]. While it is best known in Mexico, this cake can be found all over the Domincan Republic. But, I must warn you. The Dominican version is absolutely unctuous – loaded up with coconut milk and rum…  a Caribbean spin worth tasting.