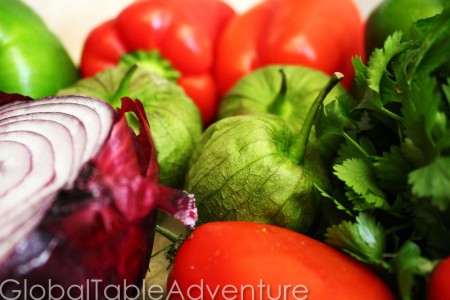 Makes about 5 cups
Are you haggard in the kitchen? Overwhelmed at the thought of cutting up a bunch of fresh vegetables on a week night, but aware that – if you don't – dinner is going to be b.l.a.n.d.? Dominican Sofrito (also known as Sazon) is your answer. Make a batch once or twice a week and you'll have a great, healthy seasoning base that will amp up any dish.
NOTE: In the Dominican Republic, sofrito can be made any number of ways. At the lovely web site Dominican Cooking you will find three examples that are completely different from each other (one even has radishes in it!). The moral? No Sofrito is better than your sofrito – make it the way you like it! Here's the way I did it…
Ingredients:
1 green pepper, cut in large chunks
1 red pepper, cut in large chunks
1 red onion, cut in large chunks
3 green onions, sliced
2 tomatillo, quartered
2 roma tomatoes, quartered
1/2 bunch cilantro, roughly chopped
1/2 bunch parsley, roughly chopped
6 cloves garlic, quartered
salt and pepper (optional)
Method:
In a few moments your kitchen will smell like a vegetable garden… get your senses ready for the barrage of freshness!
Mr Picky says "It's fresher than the Fresh Prince of Bel-Air"
I don't know what I am going to do with that man.
Roughly cut up all ingredients.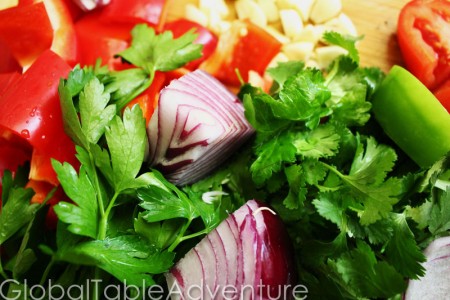 Toss the wettest ones in a large food processor (I have an 11 cup one) and give them a couple of quick pulses. This moistness will help process the rest of the ingredients. I did the tomatoes and tomatillos.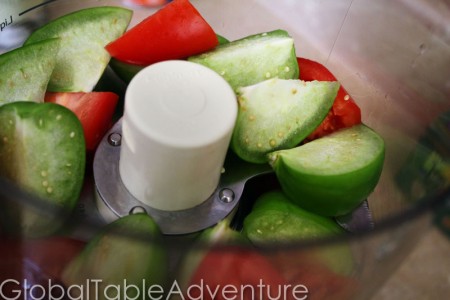 Next, add the herbs – parsley and cilantro.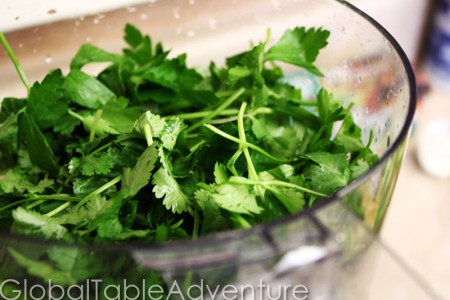 Then, add as many of the other ingredients as you can fit.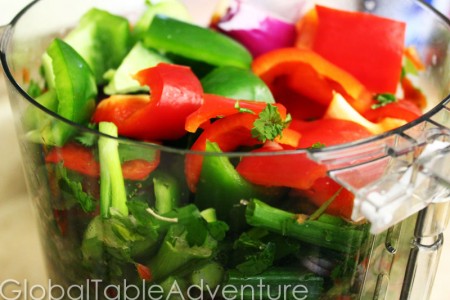 Give the processor several whirs and stirs. Keep adding whatever didn't fit before and pulse until you get a coarse blend. Some sofritos are really chunky, some are like a paste. You decide.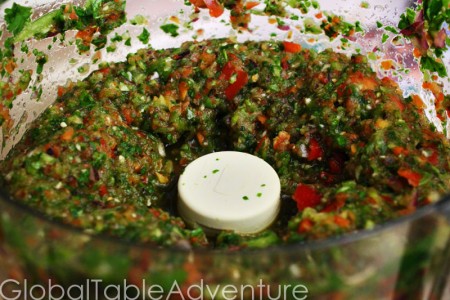 Season with salt and pepper if you like, but I prefer to season the dish it goes in, in order to have more control.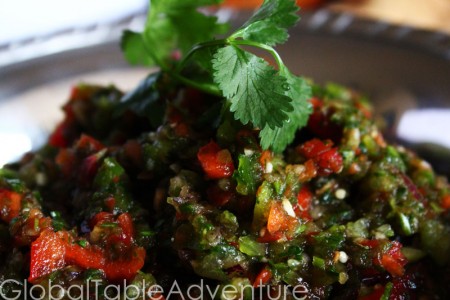 Refrigerate and use as needed. I used mine up in about 4 days and it tasted great, even in the end.
We have two dishes that utilize this seasoning – Dominican Stew Chicken (Pollo Guisado) & Stewed Kidney Beans (Habichuelas Guisadas)
They both taste completely different, yet completely amazing.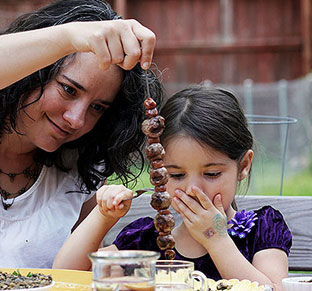 Hungry for more?
Be notified when National Geographic releases my memoir.
Simply fill in your details below.